February 18, 2021

Fleet Visibility and Control Enhanced in Carrier Transicold's eSolutions Telematics Platform for Refrigerated Operations
Carrier Transicold's eSolutions™ telematics platform for remote monitoring of refrigerated trucks and trailers has been improved with features for greater functionality, including a new web-based dashboard that provides critical fleet information for better decision making. The eSolutions platform helps refrigerated transporters operate more efficiently by improving visibility of their cold chain assets and intelligently providing a centralized data stream about transport refrigeration units (TRUs).
---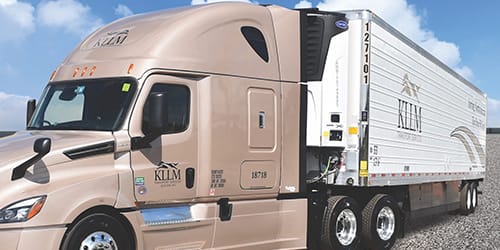 KLLM Adds 1,400 Carrier Transicold Refrigeration Units with eSolutions Telematics and Solar Charging Systems
The eSolutions™ telematics platform is being adopted by KLLM Transport Services through its latest addition of 1,400 new Utility trailers refrigerated by Carrier Transicold units. A Top-3 refrigerated carrier, headquartered in Richland, Mississippi, KLLM is adding the technologically enhanced trailers as part of fleet modernization and expansion.
---


eSolutions Cellular Capabilities Well-suited for Long Haul
Carrier Transicold's eSolutions™ platform has been optimized for 4G LTE cellular networks to assure long-term reliable service in the years ahead.
"Telecom carriers are planning their process of 'sunsetting' older network technologies to open more of the limited cellular communication spectrum for 4G LTE and 5G service," said Steve Reynolds, manager, Telematics Business Unit, Carrier Transicold. "The gradual phasing out of earlier service is a progression that has been with us since the earliest analog systems rolled out more than 30 years ago. Cellular technology has simply continued to evolve, providing advantages of faster, more reliable service."
---

Dialog Remotely with Your TRU for Better Asset Management
When you combine refrigeration system monitoring with GPS and notification capabilities, as is possible with the eSolutions™ system from Carrier Transicold, interesting and highly useful things can happen in terms of fleet management. It's like opening a dialog with your refrigerated assets. The possibilities are virtually limitless, and Carrier Transicold has specialists dedicated to working with fleets and their supporting dealers to help them harness all the potential that the eSolutions system has to offer.
---
To subscribe to eFLASH, click here.
If you know someone who would like to receive eFLASH, simply send this page link and tell them to subscribe.