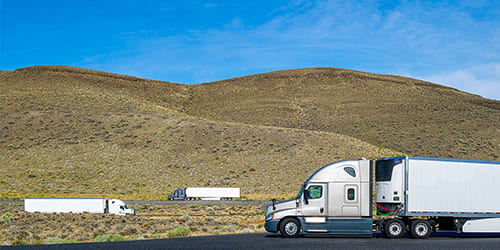 Dialog Remotely with Your TRU for Better Asset Management
When you combine refrigeration system monitoring with GPS and notification capabilities, as is possible with the eSolutions™ system from Carrier Transicold, interesting and highly useful things can happen in terms of fleet management. It's like opening a dialog with your refrigerated assets. 
Here are just a few basic examples:
Arrival/Departure Notifications: Geofencing capabilities can be tapped so users are alerted when units arrive or depart customer locations or distribution centers. This results in better utilization, greater accuracy for scheduling and improved customer service.
Real Time Alarm Alerts: Fleets can be notified automatically when events happen to an asset, such as significant temperature deviation from set points, low battery and fuel warnings, changes in operation mode and power settings. If the alarm is critical, the system can smartly locate the nearest Carrier Transicold dealer.
Maintenance Cycles: The system adds a comprehensive reporting capability to document and monitor engine hours, compressors, evaporators, temperature probes and other vital parts of each asset. This helps to ensure full operating functionality and to provide guidance when it is time for preventive maintenance.
Utilization Strategies: Utilization information showing which assets are where and when they were last used can help fleets to best to manage each asset in any given geographical region or territory.
The possibilities are virtually limitless, and Carrier Transicold has specialists dedicated to working with fleets and their supporting dealers to help them harness all the potential that the eSolutions system has to offer.