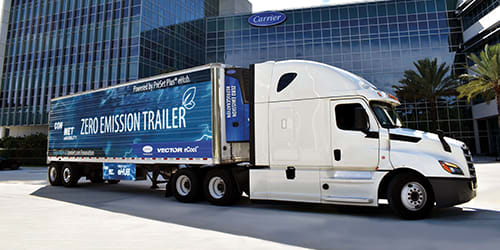 Carrier Strengthens Electric Transport Refrigeration Capabilities through Strategic Alliance with ConMet
Further expanding its electrification capabilities through a new alliance with ConMet, Carrier Transicold is adding wheel-based power generation to support trailer refrigeration via the new Vector eCool™ system.
Currently in commercial evaluation, the Vector eCool system charts a new course for North America's refrigerated fleets, giving them an unprecedented opportunity to cut fuel consumption and emissions, achieve compliance in a changing regulatory climate and push beyond sustainability goals for a cleaner tomorrow.
"Teaming with ConMet allows Carrier to deliver more sustainable solutions to its customers, helping companies green their fleets and supporting their Environmental, Social & Governance (ESG) goals," said Tim White, President, Refrigeration, Carrier.
At the core of this new trailer system is the Vector™ refrigeration unit, which uniquely uses E-Drive™ all-electric refrigeration technology to chill and freeze efficiently with reduced maintenance requirements. Its electric operation is ideally adaptable to the new power solution from ConMet's eMobility division – the PreSet Plus® eHub™ system. During coasting and braking, regenerative energy is created by the lightweight modular in-wheel motors of the eHub system to power the electric Vector refrigeration unit.
From its inception, the Vector platform's onboard power plant has been a high-performance generator coupled to a diesel engine. However, use of the PreSet Plus eHub system and battery storage changes the paradigm and offers the potential to eliminate the engine and generator. The Vector eCool™ system produces "free" electricity without the fuel consumption, emissions and noise associated with trailer refrigeration unit engines.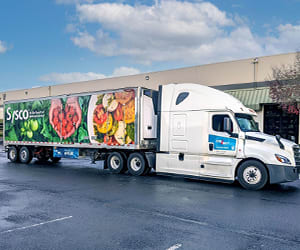 As part of the commercial evaluation program, Carrier Transicold and ConMet eMobility recently supplied Sysco Corp., the global leader in foodservice distribution, with the power generation system for a multi-temperature trailer based at Sysco's Riverside, California, operation, a location at the forefront of the company's electrification efforts.
"Sysco is proud to partner with ConMet and Carrier to deploy their innovative, zero-emission refrigeration solutions," said Neil Russell, Senior Vice President of Corporate Affairs and Chief Communications Officer, Sysco. "This is an important step in advancing our overall emission reduction strategy, while helping our industry move toward more sustainable transportation solutions and ensuring critical access to reliable temperature control technology."
"Electric technology can deliver lifecycle cost benefits for sustainable transport refrigeration units and supports Carrier's goal of reducing our customers' carbon footprint by one gigaton by 2030," said Mike Noyes, Vice President and General Manager, Truck Trailer Americas, Carrier Transicold. "We're pleased that companies like Sysco see the benefits of performance and fuel-savings for themselves."
Watch for updates on the Vector eCool system and other electric technologies for transport refrigeration, including truck and light commercial vehicle applications, in future editions of eFLASH.