Driving the Future with Sustainable Cooling Technology 
Carrier Transicold is advancing its portfolio of zero-emission transport refrigeration solutions for North America with the release of a refrigerated trailer system that sustainably creates its own power using leading-edge energy recovery and storage.
At the core of the new trailer system is Carrier Transicold's Vector™ refrigeration unit, which uniquely uses E-Drive™ all-electric refrigeration technology to chill and freeze efficiently with reduced maintenance requirements. Its electric operation is ideally adaptable to a brand new power solution – ConMet's PreSet Plus® eHub™ system, which utilizes innovative in-wheel motor technology to capture and store clean, regenerative energy.
A New Generation System
From its inception, the Vector platform's onboard power plant has been a high-performance generator coupled to a diesel engine. However, the new Vector eCool™ system offers the potential to eliminate the engine and generator, producing "free" electricity without the fuel consumption, emissions and engine noise typically associated with conventional trailer refrigeration systems.
With the new Vector eCool system, electricity now can be provided by ConMet eMobility's eHub™ system, an in-wheel electric motor application that repurposes energy from coasting and braking. This new technology creates ample power to run the Vector unit emissions-free. Carrier Transicold announced its alliance with ConMet on Jan. 26, 2022. The alliance supports Carrier's Environmental, Social & Governance goal of helping to reduce customers' carbon footprint by one gigaton by 2030.

Key benefits



ZERO EMISSIONS

No engine/No emissions. When parked, run the refrigeration system via stored battery power, eHub regenerative energy, or shorepower.




SUSTAINABLE

Low-GWP refrigerants and regenerative energy make for a greener fleet.




EFFICIENT 

E-Drive maximizes efficiency while reducing maintenance associated with conventional diesel refrigeration units.




QUIET  

Eliminates diesel engine noise, resulting in noticeably quieter operations.
For more information about the Vector eCool, click on the flyer image below.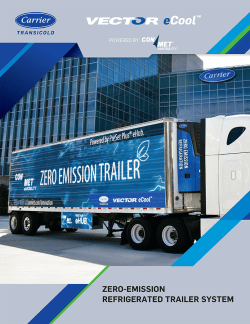 Sustainability for Our Generation and the Next
The new zero-emission refrigeration system charts a new course for North America's refrigerated fleets, giving them an unprecedented opportunity to cut fuel consumption and emissions, achieve compliance in a changing regulatory climate and push beyond their sustainability goals for a cleaner tomorrow.
Sign up for updates
To periodically receive news, information and other updates about Vector eCool developments, please click the link below.