London's Famous Farmiloe Building Gets Top-Notch Carrier Air Conditioning Solution
LONDON, UK -
London's celebrated Farmiloe Building, often used for film and fashion shoots due to its exemplary Victorian architecture, has been equipped with a state-of-the-art Carrier air conditioning system as part of a major refurbishment and extension. Carrier is part of Carrier Global Corporation (NYSE: CARR), a leading global provider of innovative heating, ventilating and air conditioning (HVAC), refrigeration, fire, security and building automation technologies.
Originally built as a headquarters and warehouse for lead and glass merchant George Farmiloe & Sons, the building includes a spectacular glazed atrium with exposed wrought-iron beams and panelled offices. The project involved back-to-brick renovation of the original 150-year-old building, restoration of the iconic Victorian façade and creation of a new-build modern extension.
Comfort cooling for the 60,000-square-foot site uses a combination of high efficiency Carrier Idrofan 42NZE four-pipe fan coil units (FCUs), exposed thermal mass, and cast in air ducts supplying passively heated and cooled air to each fan coil unit. This combination helped enable the building to achieve a Building Research Environmental Assessment Method (BREEAM) rating of Excellent.
Consultant Skelly & Couch specified the Carrier fan coils for use in the building's perimeter-based heating and cooling system, with senior engineer Katharine Scott working alongside director Mark Skelly.
"The system was designed to be fully concealed or boxed-in, matching the high quality finish of the building," said Mark Skelly, director, Skelly & Couch. "The Carrier units meet the specific requirements of the project well, and provide the energy performance and low noise operation required.
"The system had to be designed to operate using the temperature ranges delivered by the part heat pump-based water system and the phase change coolth store, so that the carbon reductions outlined in the London Climate Change Plan could be achieved, without the need for renewables."
The modern addition to the Grade II-listed Victorian landmark, also owned by Aberdeen Standard Investments, is set to become the UK headquarters of a global live entertainment company and ticket provider.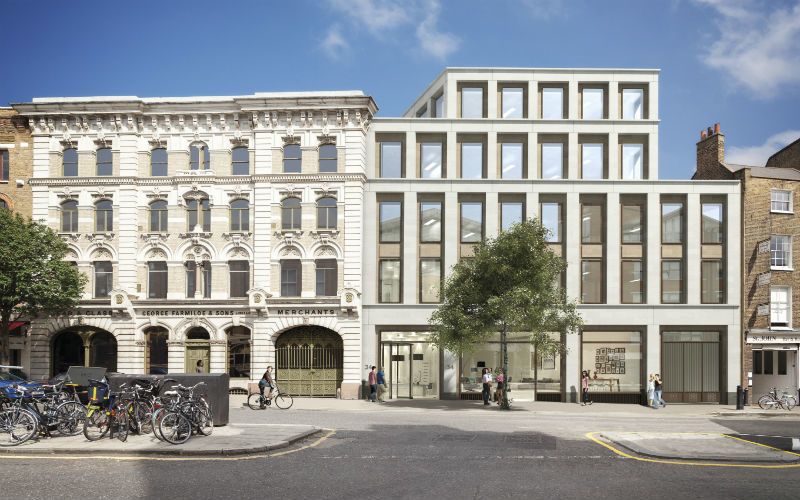 The high efficiency air conditioning in the newly refurbished Farmiloe Building includes 190 Carrier Idrofan 42NZE fan coil units.