Carrier's AquaForce Vision 30KAV Crowned Chiller Product of the Year at ACR News Awards
LONDON, ENGLAND -
Carrier's AquaForce® Vision 30KAV ultra-low global warming potential (GWP) high-performance, compact process chiller, recently won Product of the Year in the Chiller category at the ACR News Awards 2023. Carrier is part of Carrier Global Corporation (NYSE: CARR), global leader in intelligent climate and energy solutions.
Launched in March 2022, the chiller has been designed to minimise energy consumption and impact on the environment while maximising performance and ease of installation and maintenance. It is optimised for industrial processing, such as food manufacturing, pharmaceuticals, chemicals, plastics, metal industries and other applications that require ultra-reliable cooling.
For mission critical applications, the AquaForce Vision 30KAV offers an ultra-fast capacity recovery option. In the event of an interruption to the chiller's power supply, the option enables immediate restart following power restoration with 100% capacity recovery within 60 seconds. This minimises the risk of damage to the process or products being cooled.
"On behalf of Carrier and our partners, we are delighted to have received this independent recognition for Chiller Product of the Year at this year's ACR News awards, judged by a panel of industry experts," said Paul Smith, Director UK and Ireland, Commercial HVAC, Carrier. "Our 30KAV chiller, and the extended range of 30KAV industrial chillers, enable customers to meet the requirements of industrial applications up to 1,300kW and has a reduced footprint to save space and improve installation speed."
The AquaForce Vision 30KAV air-cooled variable-speed screw chiller operates on hydrofluoroolefin (HFO) refrigerant R-1234ze, which has a GWP index below one. Innovative, efficient solutions such as AquaForce Vision 30KAV support Carrier's aim of reducing customers' carbon footprint by more than one gigaton, part of its 2030 Environmental, Social & Governance (ESG) Goals.
For more details about the AquaForce® Vision 30KAV, visit the product page.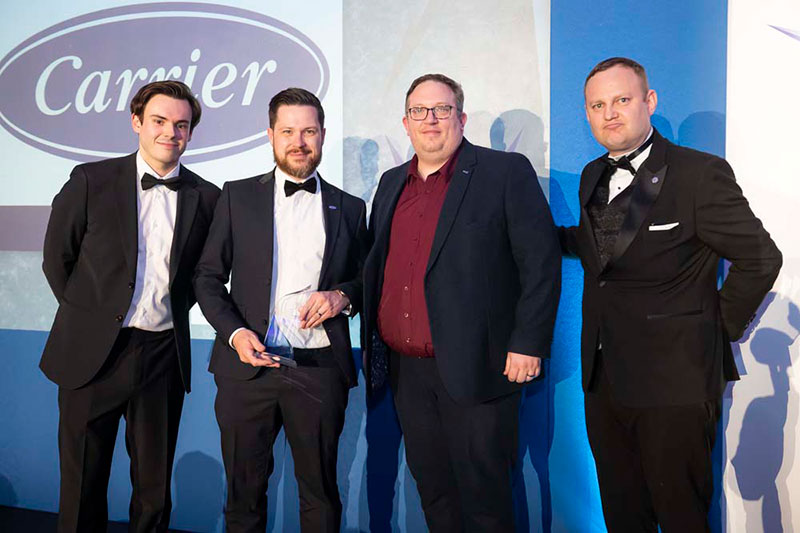 Oliver Sanders, Head of Sales, Carrier and Mat Hopwood, Head of Sales, CIAT (both middle) receiving the Chiller of the Year award.
Image courtesy of ACR News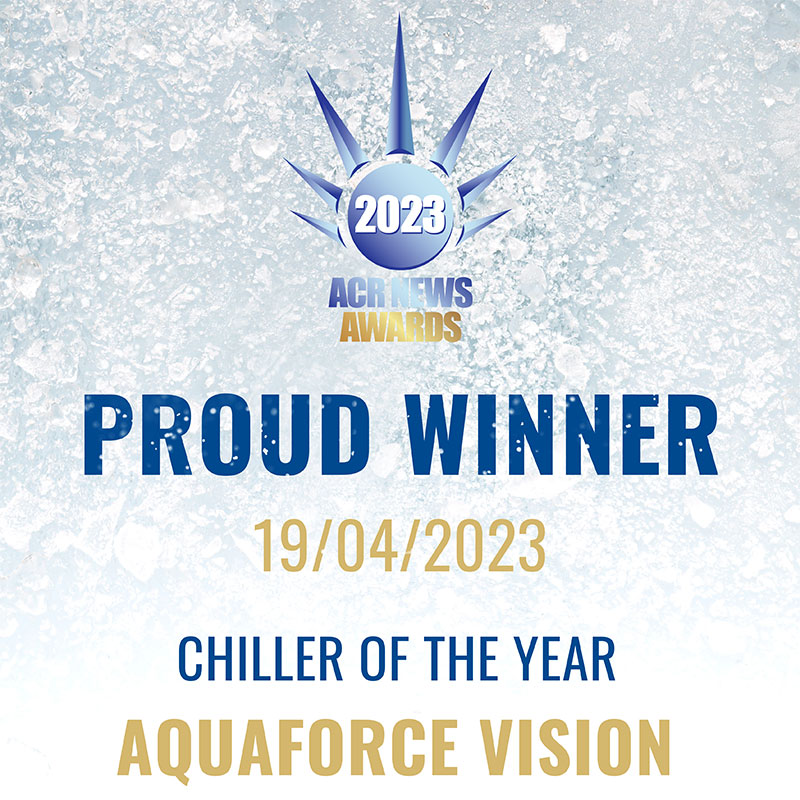 Proud winner – Chiller of the year.