Carrier AquaSnap Heat Pumps Selected for Major School Decarbonisation Project in London and West Midlands
LONDON, UK -
More than 180 Carrier AquaSnap® 61AF air-to-water heat pumps are being deployed in 60 schools in Southwark Diocese and Barnet in London, and Dudley in the West Midlands, reducing carbon emissions and cutting energy bills.
The multi-million-pound project is funded under the UK's Public Sector Decarbonisation Scheme (PSDS) to decarbonise heating in schools and other public buildings. Carrier is part of Carrier Global Corporation (NYSE: CARR), the leading global provider of healthy, safe and sustainable and intelligent building and cold chain solutions.
Carrier AquaSnap® 61AF air-to-water heat pumps were selected for the project by Asset+, one of the UK's leading independent Energy Performance Contractors. The project involved close collaboration between project partners Asset+, Carrier, and installer OMNI Heat and Power Ltd.
"A key project challenge has been ensuring electrical loads at schools were not exceeded," said Richard Hall, Senior Project Manager, Asset+. "Heat pumps cut overall energy consumption and carbon emissions by displacing gas heating very efficiently, however they do add an additional electrical load. Headroom in relation to school power supply is often a constraint on site, and we had to plan loads carefully to ensure limits were not exceeded."
"Carrier heat pumps are highly efficient, which is a major advantage in this area, while other low-energy and renewable technologies being installed, such as photovoltaic solar panels and LED lighting, contributed to reducing power loads," Richard Hall added.
Carrier AquaSnap® 61AF air-to-water monobloc heat pumps are specifically designed for domestic hot water production and heating in new and refurbished buildings. Generating a water temperature of up to 65°C, they are based on high-efficiency, quiet-running scroll compressors and have a compact footprint and low profile, saving valuable space on site. The unit has an extended range allowing it to continue operating when outside temperatures fall to as low as -20°C.
For contractors, the plug-and-play design enables quick and easy installation and commissioning on site. Simplified electrical and pipework connections with side panels that can quickly be removed for easy access are also features that aid in installation.
"We are delighted to be part of this decarbonisation project and playing our part in contributing to the UK's national effort to achieve net zero carbon by 2050," said Lynn Anderson, Headteacher, Trinity St Mary's CE Primary School, Wandsworth.
"As a school, we have a particular responsibility to the next generation not only in educating about the importance of caring for our environment, but in taking active steps where possible to make a difference. Installation of the heat pumps is a great example to be able to use in our teaching. The installation team have done a brilliant job on site, and on behalf of the school I would like to thank them for their professionalism and helpfulness throughout the project."
Innovative, efficient solutions such as AquaSnap heat pumps support Carrier's 2030 Environmental, Social & Governance (ESG) Goals of reducing customer's carbon footprint by more than 1 gigaton.
For more details on Carrier 61AF heat pumps, visit our air-to-water heat pumps web page.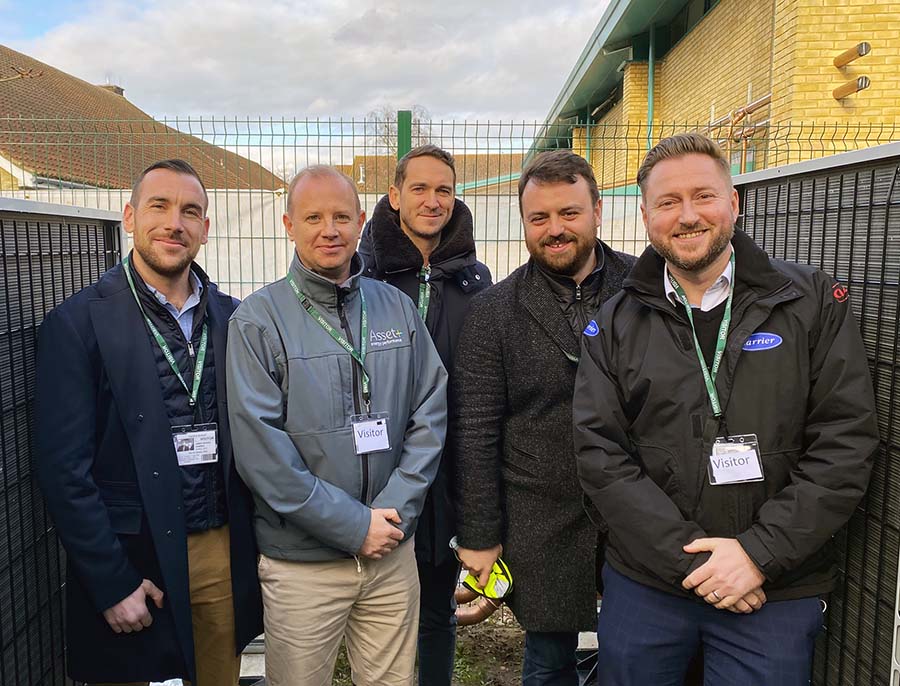 Decarbonisation partners: (l to r) Carrier's James Hughes, head of vertical markets; Richard Hall, senior project manager for Asset+; Bertrand Rotagnon, Carrier UK country leader and sales director applied Northern Europe; Bradley Martin, director of Omni Heat & Power Limited; Paul Smith, Carrier UK sales director applied.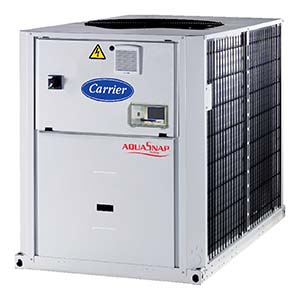 Carrier's 61AF heat pumps are based on high-efficiency, quiet-running scroll compressors, and have a compact footprint and low profile, saving valuable space on site.
Sign of the times: Decarbonising London schools one at a time.