Profroid, Celsior and Green & Cool Team Up to Showcase Latest Innovations in Sustainable Refrigeration at Chillventa Exhibition
Nuremberg, Germany -
Profroid, Celsior and Green & Cool, leaders in high-technology, sustainable refrigeration solutions, will, for the first time, jointly showcase their natural refrigerant solutions at the 6th Chillventa International Exhibition in Nuremberg. Available for a wide range of applications, from small retail stores to industrial warehouses, these innovative products use natural refrigerants carbon dioxide (CO2) and propane and can operate in all climate zones. Profroid, Celsior and Green & Cool are a part of UTC Climate, Controls & Security, a unit of United Technologies Corp. (NYSE: UTX).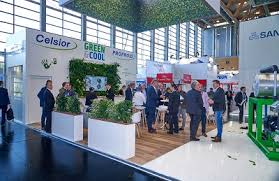 Profroid, Celsior and Green & Cool at the 6th Chillventa International Exhibition in Nuremberg
"Chillventa is the ideal occasion to connect with our customers and share insights on the latest natural refrigerant technologies," said Guillaume Burvingt, marketing director, Profroid, Celsior, Green & Cool. "The strength of Profroid, Celsior and Green & Cool is to offer a comprehensive range of natural refrigerant solutions operating within each climate zone and for almost any application."
Some of the sustainable solutions from Profroid, Celsior and Green & Cool:
Industrial Application – CO2 (R744) industrial platform
Safe and easy to install and service, the CO2 industrial platform is suitable for a variety of large application such as food retail shops and distribution centers, sports venues including ice-skating rinks, the food processing industry, and building envelope heating and cooling. The CO2 industrial platform can be designed as a single- or dual-temperature solution and integrates modulating vapor ejector technology as a standard feature to achieve high energy efficiency. Multiple configurations are offered including direct expansion, flooded liquid chillers, pump-assisted flooded low temperature systems and liquid-to-liquid heat pumps. The platform can be packaged in either indoor or outdoor configurations, with a cooling capacity up to 1.2 megawatts with full heat recovery. All functions are managed by a user-friendly and flexible controller.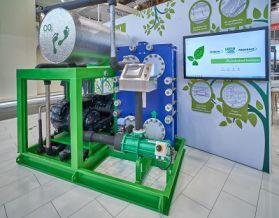 CO2 Industrial platform showcased on the stand
Food retail – multi-compressor CO2 units
Our quiet multi-compressor CO2 units repurpose CO2 from the atmosphere, emit no new greenhouse gases and are unaffected by EU F-gas regulations. All units are equipped with inverter-drive compressors – ideal for small businesses with variable capacity applications such as C-stores, petrol stations, restaurants, caterers, large kitchens and small to medium cold rooms. The units offer a low noise level and can be connected to multiple evaporators. Easy access to all components make them ideal for installers and service technicians.
Supermarkets – Areor® Total Transparency display cases
The Areor range of refrigerated display cases is an ideal fit for supermarket installations for enhanced energy efficiency, simplified maintenance and a modern design that allows an attractive presentation of merchandise. The innovative double-glass-foil technology allows for a fully transparent glass design without condensation. Integrated LED lights provide better visibility and illumination of merchandise.
Small Stores – Optimer® low front cabinet
The Optimer low-front plug-in multi-deck cabinet maximizes the merchandise display area while minimizing operating costs. Using the environmentally sustainable natural refrigerant propane (R290), this cabinet features energy-saving fans and specially-designed LED lights that can reduce energy consumption by up to 61 percent versus its predecessor. The Optimer cabinet won the ProCold award as the most efficient cabinet in the vertical refrigerated display category at EuroShop 2017. ProCold is an independent EU project to promote energy efficiency and the transition to environmentally sustainable refrigerants in plug-in refrigerators.
Also at the show, on Oct. 18, Profroid will be sharing its experience at the Refrigeration Specialist Forum, presenting its advanced CO2OLtec® Evo transcritical CO2 systems. The new, adjustable modulating ejector increases system energy efficiency, making CO2 systems a viable alternative in warmer climates as well as providing heat reclaim advantages in colder and milder climates. The CO2OLtec Evo transcritical system uses the natural refrigerant CO2, which is a safe and non-ozone depleting gas with a global warming potential (GWP) of one. There is no additional global warming impact from potential refrigerant leaks, as can be the case with traditional systems using synthetic refrigerants with a higher GWP, since CO2 systems use carbon dioxide repurposed from outdoor air.
For additional information about Profroid, Celsior and Green & Cool product portfolio and sustainable solutions, visit their websites: www.celsior.de, www.greenandcool.com, www.profroid.com
About UTC Climate, Controls & Security
UTC Climate, Controls & Security is a leading provider of heating, ventilating, air conditioning and refrigeration systems, building controls and automation, and fire and security systems leading to safer, smarter, sustainable and high-performance buildings. UTC Climate, Controls & Security is a unit of United Technologies Corp., a leading provider to the aerospace and building systems industries worldwide. For more information, visit www.ccs.utc.com or follow @Carrier on Twitter.
October 15th
@SmartColdChain: Meet the natural refrigerant leaders Profroid, Celsior and Green & Cool at @Chillventa 2018, Stand 408-Hall 7A, from Oct. 16-18 in Nuremberg. #Refrigeration #chillventa
October 16th
@SmartColdChain: Pioneers in sustainable technologies, Profroid, Celsior and Green & Cool are showcasing products for all climate zones and applications @Chillventa 2018 - Stand 408-Hall 7A. #smallstores #supermarkets # industrial systems.
October 18th
@SmartColdChain: Profroid is presenting today CO2OLtec® Evo transcritical CO2 systems featuring the newly developed adjustable modulating ejector technology @Chillventa 2018 Refrigeration Sepcialist Forum at 11:40, Stand 618-Hall 7A.