KLLM Transport Services has added 610 domestic intermodal refrigerated containers that provide an optimized cargo capacity for its customers thanks to their use of Carrier Transicold's thin-profile Vector™ 1550 refrigeration systems. Carrier Transicold is a part of Carrier (NYSE: CARR), a leading global provider of innovative heating, ventilating and air conditioning (HVAC), refrigeration, fire, security and building automation technologies.
The new domestic refrigerated containers are helping KLLM transport food and pharmaceuticals coast-to-coast along rail networks through 12 major hubs supported by KLLM and third-party drayage operations.
"We believe that the new slim-profile units, which give us extra pallet spaces, combined with the Carrier Transicold refrigeration technology, give us a competitive advantage," said Jim Richards, president of KLLM, headquartered in Richland, Mississippi.
Unlike domestic intermodal containers that have less interior depth to accommodate traditional refrigeration units that are about 50% deeper, those using the thin-profile Vector 1550 units have the advantage of being able to carry as many pallets as a traditional 53-foot over-the-road trailer. – 15 pallet rows versus 14, or 7% more cargo capacity. As a result, KLLM customers gain the efficiencies of rail transport without compromising the amount of cargo that can be transported.
"The Vector units overcame the capacity obstacle for us, and we're certainly hoping to convert some of our customers to intermodal transport," Richards said. "It's something we are really enthusiastic about. We're pleased with the performance thus far. The reliability has been very good, and it is a Vector product, so it gives the ability for electrical plug in."
The Vector 1550 unit is one of the latest versions of the all-electric trailer refrigeration technology invented by Carrier Transicold and relied upon by fleets around the world. It uses Carrier's innovative E-Drive™ technology, in which a uniquely all-electric refrigeration system is powered by a high-output generator direct-coupled to a diesel engine. The design eliminates complexity found in traditional transport refrigeration systems, and, using intelligent controls, works more efficiently. As a result, components run fewer hours and last longer than traditional counterparts. When stationary, Vector units can be plugged into an electric power supply, allowing them to operate without the fuel consumption, emissions and noise from running the refrigeration unit engine.
Compared to alternative systems, Vector 1550 units are lighter and more compact, and they operate at high efficiency with lower engine speeds, producing as much as 27% more cooling per hour per RPM than its nearest competitor.
Intermodal containers provide improved freight efficiencies over traditional trailer-on-flatcar (TOFC) service due to the ability to double stack containers. Intermodal rail transport also provides long-distance benefits without risk from truck driver shortages.
"Although over-the-road trucking continues to be our core business, we do see certain customers moving some volume toward intermodal, and we are positioning ourselves to support them," Richards said, noting intermodal brings advantages related to cost and quality of service, as well as sustainability and a reduced carbon footprint. "We see this as a futuristic mode that will continue to grow."
With its expanding intermodal container services and more than 5,600 refrigerated trailers, KLLM and its Frozen Food Express (FFE) business comprise one of the largest dedicated temperature-controlled logistics services in the United States.
KLLM's Vector 1550 systems were installed by Southern States Utility Trailer through a turn-key program in which teams completed more than 100 installations a month at a Memphis, Tennessee, rail yard. Each installation included a 110-gallon fuel tank to support uninterrupted performance on the rail, as well as telematics for remote monitoring of location, temperature, fuel level and door openings.
For additional details about the Vector 1550 Domestic Intermodal Container unit, turn to the experts in Carrier Transicold's North America dealer network.
About Carrier Transicold
Carrier Transicold helps improve transport and shipping of temperature controlled cargoes with a complete line of equipment and services for refrigerated transport and cold chain visibility. For more than 50 years, Carrier Transicold has been an industry leader, providing customers around the world with advanced, energy-efficient and environmentally sustainable container refrigeration systems and generator sets, direct-drive and diesel truck units, and trailer refrigeration systems. Carrier Transicold is a part of Carrier Global Corporation, a leading global provider of innovative HVAC, refrigeration, fire, security and building automation technologies. For more information, visit www.transicold.carrier.com. Follow Carrier on Twitter: @SmartColdChain, on Facebook at Carrier Transicold Truck Trailer US and LinkedIn at Carrier Transicold Truck Trailer Refrigeration.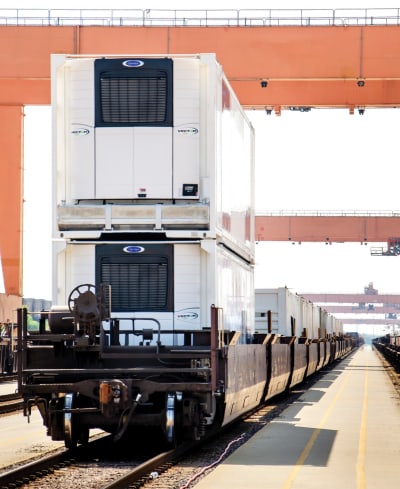 KLLM's new domestic intermodal containers, refrigerated by Carrier Transicold Vector™ 1550 thin-profile units, can carry the same loads as 53-foot refrigerated trailers and can be double stacked, improving transport efficiencies.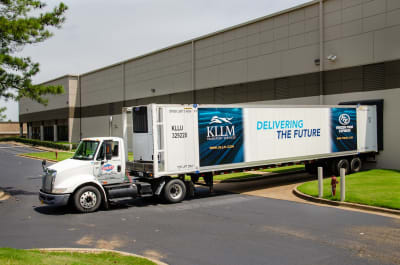 Compared to traditional refrigeration units, the Carrier Transicold Vector™ 1550 unit is a third thinner, enabling domestic intermodal containers to have more room for cargo.