Carrier Transicold truck and trailer customers have a new edge for receiving best-in-class service for their transport refrigeration equipment: the BluEdge™ service platform, which is now fully available from Carrier Transicold's dealer network across the United States and Canada. Carrier Transicold is a part of Carrier Global Corporation (NYSE: CARR), the leading global provider of healthy, safe and sustainable building and cold chain solutions.
"Maintaining the integrity of the cold chain is more important than ever, and the BluEdge service platform is designed to maximize uptime of truck and trailer refrigeration systems so that food, pharmaceuticals, biologics and other refrigerated goods move efficiently and reliably," said Stuart Johnson, BluEdge Commercial Lead, Carrier Transicold.
Carrier's BluEdge service platform is a three-tiered service model that provides customers with a flexible range of options and provides augmented capabilities when integrated with Carrier Transicold's eSolutions™ monitoring system.
Tier Offerings:
Core – Supplements the original equipment factory warranty with extended coverages for major components, the entire system or a more customized approach based on customer preferences.
Enhance – Provides scheduled preventive maintenance inspections with proactive replacement of parts such as belts, starters and alternators. 
Elite – Protects through extended warranties plus preventive maintenance services resulting in the ultimate worry-free program for customers who demand the highest level of service, uptime and fiscal certainty. 
"The intersection of the BluEdge platform with our cloud-based eSolutions remote monitoring system adds enhanced benefits not previously available," Johnson said. "In addition to logging temperatures and geographic information about transport refrigeration units, we can monitor and analyze equipment operation. When diagnostic information is integrated with BluEdge service packages, dealers can proactively identify maintenance issues before they become problems for a fleet, which helps maximize uptime. Additionally, fleets can receive comprehensive access to their equipment service and repair data through the cloud, and they receive savings up to 10% on their BluEdge coverages."
All three BluEdge tiers provide parts pricing protection, expert diagnostics and repairs by factory trained technicians at more than 180 Carrier Transicold dealer locations coast-to-coast. Depending on the tier selected, customers may add certain optional features, such as overtime and call-out coverages for emergency repairs, proactive inspections, and centralized billing.
For additional details about the BluEdge service platform, turn to the experts in Carrier Transicold's North America dealer network.
About Carrier Transicold
Carrier Transicold helps improve transport and shipping of temperature-controlled cargoes with a complete line of equipment and services for refrigerated transport and cold chain visibility. For more than 50 years, Carrier Transicold has been an industry leader, providing customers around the world with advanced, energy-efficient and environmentally sustainable container refrigeration systems and generator sets, direct-drive and diesel truck units, and trailer refrigeration systems. Carrier Transicold is a part of Carrier Global Corporation, the leading global provider of healthy, safe and sustainable building and cold chain solutions. For more information, visit transicold.carrier.com. Follow Carrier on Twitter: @SmartColdChain, on Facebook at Carrier Transicold Truck/Trailer U.S. & Canada and on LinkedIn at Carrier Transicold Truck Trailer Refrigeration.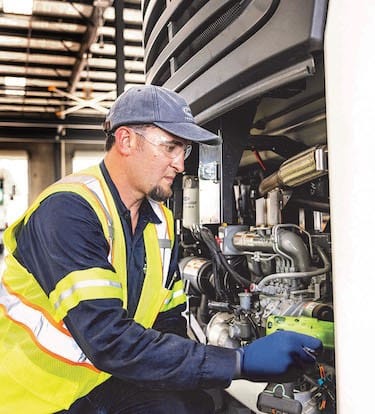 The new BluEdge™ service platform for transport refrigeration equipment is now available from Carrier Transicold dealers throughout the United States and Canada