Carrier Germany Expands Training Center for VRF and Split Systems
10 years of sucess with IKKE training center maked by celebration and expansion
For 10 years, Carrier Klimatechnik GmbH (Carrier Germany) has operated a 150-square-metre training center for its air conditioning products, chillers, heat pumps, hydronic systems and state-of-the-art controls on the premises of the Information Center for Refrigeration, Air Conditioning and Energy Technology (IKKE) located in Duisburg, Germany. To mark the occasion, Carrier celebrated the anniversary by expanding the training area by 100 square metres to include variable refrigerant flow (VRF) products and split systems to support this growing segment. Carrier Germany is part of Carrier Global Corporation (NYSE:CARR), the world's leading provider of healthy, safe, sustainable and intelligent building and cold chain solutions.  
Throughout the training area, all equipment is connected and ready to use, ensuring trainees can work directly on the HVAC equipment. Carrier holds courses in the training center for its contractors and their employees, and IKKE uses the training area for its own training courses, seminars and master classes.
IKKE Managing Director Karsten Beermann and Carrier Germany Sales Director Reiner Nattefort welcomed 70 guests to the anniversary celebration, while Stephan Bergmann, Carrier Germany Sales Manager for VRF and Residential Light Commercial, gave the guests a tour of the newly equipped VRF and split systems training area.
"Through Carrier's training centers, we are able to educate our collaborators on meeting customer requirements, acting quickly to solve their problems, predicting their needs and going above and beyond to exceed their expectations," said  Nattefort. "The training center at the IKKE helps engineers, planners, distributors and manufacturers stay up-to-date with the latest technology and equipment innovations. In this way, we contribute together."
The collaboration with IKKE began when Carrier was looking for a training center location for its light commercial products. In 2012, the first Carrier basic training course was held in the new training center, followed by the first training course for hydraulics in chilled water plants with the support of CoolToolTechnology GmbH / Vilim Mergl. Since then, Wilfried Buschmann, head of the Carrier Germany Training Center and Ralph Neunzig, head of Carrier Germany Technical Support, have welcomed more than 1,200 participants in 90 training events until February 2020, when operations had to be interrupted due to the pandemic.
"We will continue to update the product range in the training area to promote the transfer of knowledge between Carrier employees and Carrier products to the customer, said Nattefort.  "We are also pleased with the cooperation over the past 10 years, which we are continuing with this expansion step, said Nattefort."
"Carrier and IKKE have both invested a lot of work and cooperation into a win-win situation for both of us," said Beermann.
The IKKE was founded by the North Rhine Refrigeration and Air Conditioning Guild. In 2008, it began operating as a training and advanced education center. Generous space was found in the rooms of the former Krupp apprentice workshop and 13 million euros were invested in the purchase, expansion, conversion and equipment. Today, 30 employees and seven honorary lecturers supervise trainees in inter-company courses up to the master craftsman level. The IKKE is also involved in international projects and participates in standardization work. As the national performance center for WorldSkills Germany e.V., IKKE is also responsible for activities at the World and European Skills Championships in the field of refrigeration and air conditioning.
For more information, visit www.carrier.de .
About Carrier
Founded by the inventor of modern air conditioning, Carrier is a world leader in high-technology heating, air-conditioning and refrigeration solutions. Carrier experts provide sustainable solutions, integrating energy-efficient products, building controls and energy services for residential, commercial, retail, transport and food service customers. Carrier is a part of Carrier Global Corporation, the leading global provider of innovative healthy, safe, sustainable and intelligent building and cold chain solutions. For more information, visit carrier.com or follow @Carrier on Twitter.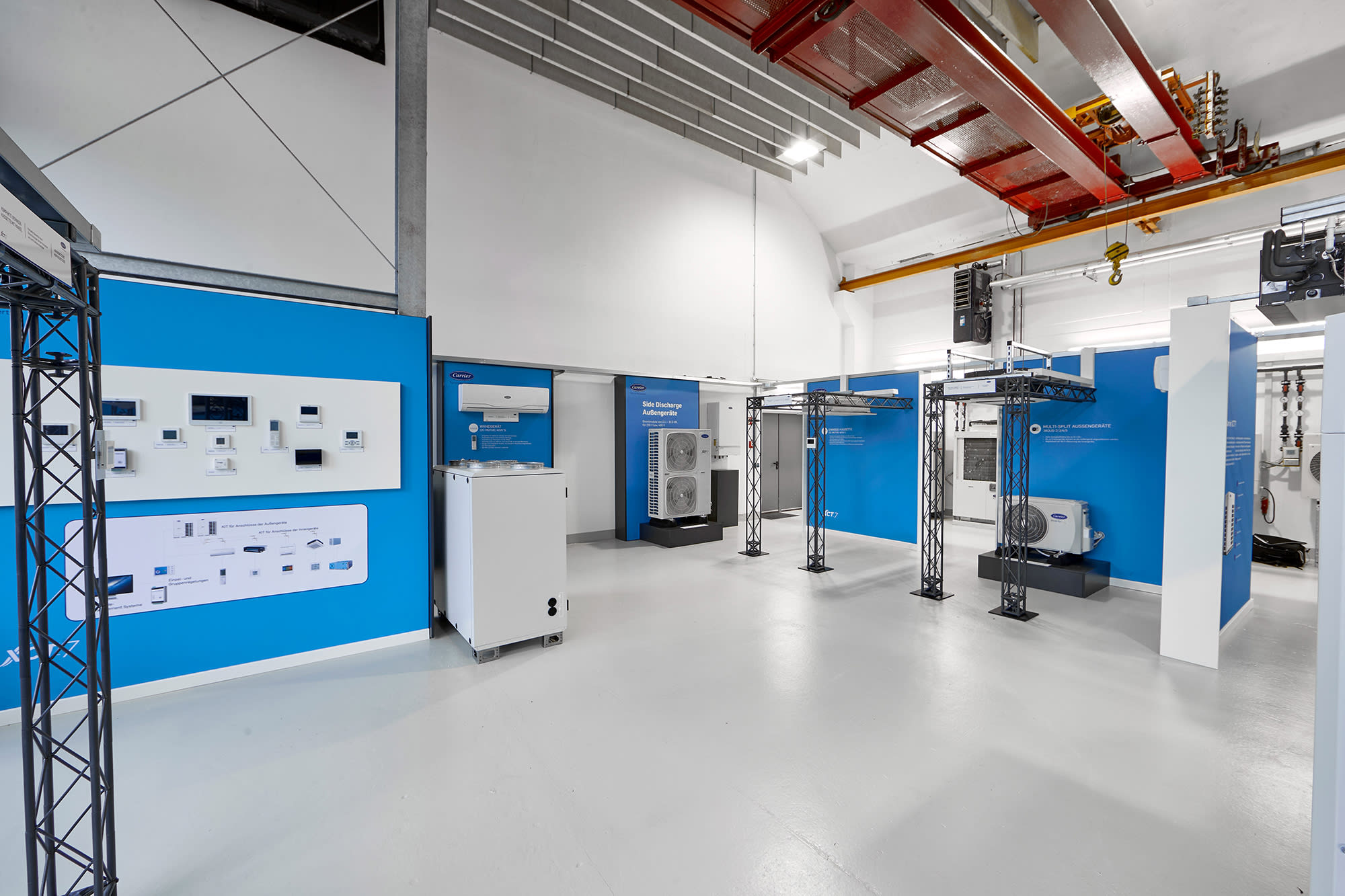 The Carrier Training Center at IKKE has been expanded to include VRF and multi-split systems on 100 m². All devices are connected and ready for operation.