June 28, 2017
Carrier Acquires Select IMPCO Transport Product Lines
Carrier Transicold has completed an agreement to acquire select IMPCO road and rail transport product lines, including the ComfortPro® Auxiliary Power Unit (APU), from Westport Fuel Systems, Inc. This addition will allow Carrier Transicold to oversee the development, engineering and manufacturing of these anti-idling solutions and to provide increased customer support through the dealer network. "These product lines will enable Carrier Transicold to provide a superior line of APUs and battery comfort systems for trucks," said Tom Ondo, vice president and general manager, Carrier Transicold, Truck/Trailer/Rail Americas.
---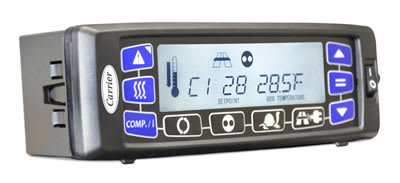 Cab Command™ Controller Now Fits Conveniently in Dash
The Cab Command™ controller for Carrier Transicold's Supra® truck refrigeration units has been redesigned for mounting in the dashboard, providing greater convenience and versatility for users. Offering the proven functionality of its predecessor, the new controller sports an attractive, intuitive interface in a refined compact design that conforms to the universal DIN specification, enabling simple and clean installation within a truck cab's dash.
---
Carrier Transicold Delivers for Feeding America® Network
Carrier Transicold takes seriously its responsibility to preserve, protect and deliver the world's food supply, and as an extension of that commitment, the company recently announced a program to support the Feeding America® network by providing truck and trailer refrigeration units to individual food banks in need. Funded by a $150,000 grant from parent United Technologies Corp., the program covers the donation and installation of transport refrigeration units to seven food banks.
---
To subscribe to eFLASH, click here.
If you know someone who would like to receive eFLASH, simply send this page link and tell them to subscribe.