September 8, 2021

Carrier Transicold's ACT Expo Showcase: Sustainable Electric Innovations for Zero-Emission Performance
A trio of technologies for zero-emission transport refrigeration and truck cab cooling were among the products featured by Carrier Transicold at the recent Advanced Clean Transportation (ACT) Expo, a showcase of innovations driving environmental sustainability on North American roadways. At the event, Carrier revealed its new zero-emission electric Supra® truck refrigeration concept unit and spotlighted its Vector eCool™ engineless trailer refrigeration technology alongside a new lithium-ion battery powered ComfortPro® auxiliary power unit (APU) that provides truck cab air conditioning without engine idling.
---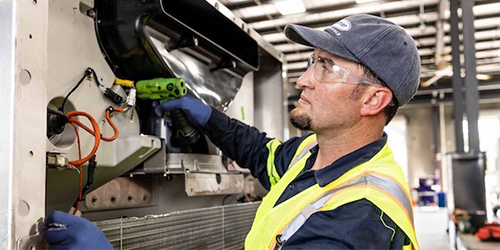 BluEdge Program Provides Best-in-Class, Customizable Transport Refrigeration Service and Repair
Carrier Transicold customers have a new edge for receiving best-in-class service for their transport refrigeration equipment: the BluEdge™ service platform, which is now fully available from Carrier Transicold's dealer network across the United States and Canada. 
---


Carrier Transicold Adds More Sustainable, Lower GWP Refrigerant Option for Truck and Trailer Systems
As a leader in providing environmentally sustainable transport refrigeration solutions, Carrier Transicold now offers North America's refrigerated haulers the new-generation refrigerant R-452A as an option for new and existing equipment. R-452A has a global warming potential that is about half that of the traditional refrigerant used in truck and trailer refrigeration systems, making it attractive to fleets that want to improve their environmental profiles and to prepare for compliance with evolving regulations.
---

Like Magic! Carrier Transicold Appears Simultaneously at Two Upcoming Trade Events Next Week
No feat of prestidigitation here, but Carrier Transicold will spotlight amazing cooling technologies simultaneously next week at two different trade shows in the United States. If you are attending IANA's Intermodal Expo in Long Beach or TMC's Transportation Technology Exhibition in Cleveland, please plan to visit.
---
To subscribe to eFLASH, click here.
If you know someone who would like to receive eFLASH, simply send this page link and tell them to subscribe.