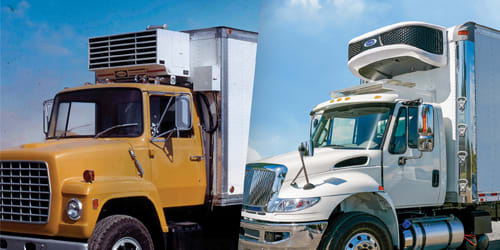 Marking 50 Years of Transport Refrigeration Innovation 
This year, Carrier Transicold has been commemorating 50 years of transport refrigeration innovations such as the Supra™ truck refrigeration unit (shown above right), which is more powerful, yet far more fuel efficient and environmentally sustainable than its counterpart from five decades ago.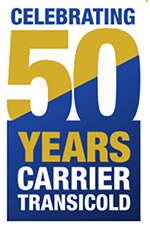 "For half a century, Carrier Transicold has been a global leader in transport refrigeration, supporting the safe transport of food, medicine and other perishables worldwide," said David Appel, president, Carrier Transicold & Refrigeration Systems. "Building on a strong legacy, Carrier Transicold is well positioned for the future with a broad portfolio of products and services that meet customer needs and address increasing transport refrigeration demand as the global population grows, ages and urbanizes."
While the Carrier Transicold brand is itself 50 years old, Carrier's experience in transport refrigeration goes back even further. Its Special Products Division had experience in trucking applications extending back to 1940, and the business also pioneered refrigeration systems for seagoing containers, launching its first model in 1968. In 1970, Carrier acquired transport refrigeration equipment maker Transicold Co., combining it with the Special Products Division to form the brand that has grown into a global leader in transport refrigeration, Carrier Transicold.