October 13, 2020

Vector 8611MT Unit Simultaneously Freezes and Chills
Whether you prefer your frozen goods on the right side of a trailer and perishables on the left or just the opposite, there is no wrong way when it comes to Carrier Transicold's latest trailer refrigeration innovation: the Vector™ 8611MT multi-temp unit.
With the dual evaporator discharge built into the main unit, trailers can be split lengthwise down the center creating a two-compartment configuration without requiring a separate remote evaporator. Now in full-production, the Vector 8611MT is filling a special niche in the cold chain.
"From the moment we announced the Vector 8611MT unit, there was tremendous interest from grocery distribution and food service operations that deliver mixed loads and can most benefit from its design," said Bill Maddox, senior product manager, Carrier Transicold. "The all-electric architecture of Carrier Transicold's Vector platform enables the Vector 8611MT unit to independently manage both zones more simply and efficiently than mechanically interconnected competitive dual-discharge systems."
---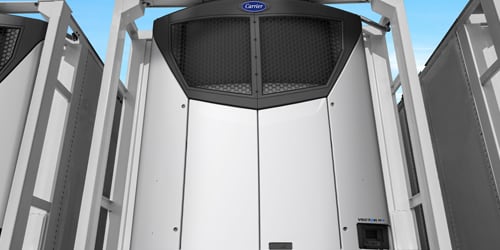 Thin is In! Vector HE 19 Unit a Perfect Fit for Intermodal
The sleek contemporary design of Carrier Transicold's new Vector™ HE 19 unit is attractive for sure, but what's really turning heads is the unit's ability to provide the greatest cooling and freezing capacities of any domestic intermodal container refrigeration system in its thin-profile class.
HE means high-efficiency, and along with its efficiency, the unit elevates the amount of cooling capacity available – 16% greater deep-frozen capacity and 20% more refrigeration capacity than its class competitor.
"The Vector HE 19 unit is trim and high performing, delivering more BTUs of cooling per hour per RPM than any model in the thin-profile class," said Bill Maddox, senior manager, Product Management, Carrier Transicold. "By that measure, it's as much as 36% more efficient than its competition."
---


Marking 50 Years of Transport Refrigeration Innovation
This year, Carrier Transicold has been commemorating 50 years of transport refrigeration innovations such as the Supra™ truck refrigeration unit (shown above right), which is more powerful, yet far more fuel efficient and environmentally sustainable than its counterpart from five decades ago.
"For half a century, Carrier Transicold has been a global leader in transport refrigeration, supporting the safe transport of food, medicine and other perishables worldwide," said David Appel, president, Carrier Transicold & Refrigeration Systems. "Building on a strong legacy, Carrier Transicold is well positioned for the future with a broad portfolio of products and services that meet customer needs and address increasing transport refrigeration demand as the global population grows, ages and urbanizes."
---
To subscribe to eFLASH, click here.
If you know someone who would like to receive eFLASH, simply send this page link and tell them to subscribe.