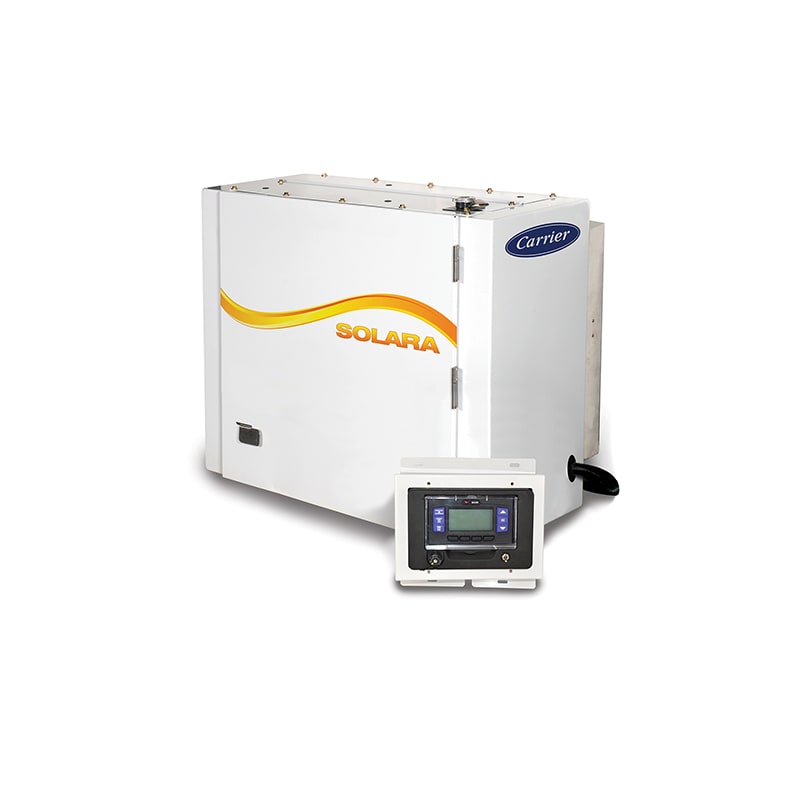 Carrier Transicold Enhances Solara™ Heating Unit for Trailers
These late days of summer are a great time to be thinking about heaters.
At least that's true for haulers, who are planning now for transporting temperature-sensitive goods through high elevations and northern latitudes this winter. For them, Carrier Transicold's newly enhanced Solara™ heating system may be just what they need.
Engineered to protect temperature-sensitive products transported by trailer or rail through sub-freezing ambient conditions, the Solara heating system is now equipped with the APX™ control system, providing improved functionality.
The Solara unit can generate 50,000 Btu per hour of heating at 0 degrees Fahrenheit ambient to protect against the freezing of sensitive hauled commodities such as produce, beverages, flowers, plants, paints and chemicals, pharmaceuticals and more.
"The addition of the APX controller means Solara unit users now enjoy the same advantages found with our trailer refrigeration system controls," said Patrick McDonald, product manager, trailer products, Carrier Transicold. "The modular APX system combines control intelligence, temperature control and system reliability with amazingly simple operation."
The APX controller has an easy-to-read, full-information dashboard-style display and is preloaded with Carrier Transciold's programmable IntelliSet™ software to easily create heating parameters for different commodities. With the APX controller, the DataLink™ data recorder is now integral to the Solara unit, and a USB port makes for easy data downloading and uploading of information to the controller. Built-in diagnostics simplify service and troubleshooting for technicians.
For more information about the improved Solara heating unit and a suite of options, turn to the experts in Carrier Transicold's North America dealer network.