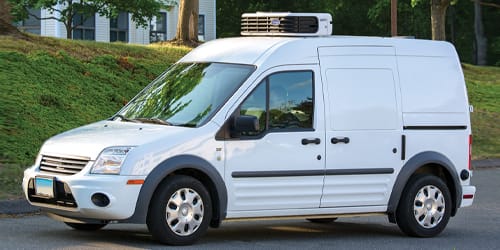 All-Electric Neos 200e Refrigeration Unit Sustainably Delivers Greater Cooling for Small Delivery Vehicles
When it comes to refrigeration systems for small delivery vehicles, Carrier Transicold delivers big performance!
The new Neos® 200e unit for commercial vans and light-duty trucks provides up to 25% more cooling capacity with greater efficiency than the unit it succeeds. It also adds versatility by now supporting battery-electric vehicles in addition to those that are engine-driven, a first for the Neos platform.
The engineless Neos 200e unit is part of Carrier Transicold's growing family of eCool™ all-electric refrigeration systems designed to push emissions toward zero.
"As a greater number of battery-electric delivery vehicles are being deployed along with engine-driven counterparts, the Neos 200e unit is a solution that adapts to both types, helping florists, confectioners, grocers and other businesses that use small, refrigerated trucks and delivery vans in achieving their sustainability targets," said Scott Parker, Truck Product Manager, Truck Trailer Americas, Carrier Transicold.
On a battery-electric vehicle, the Neos 200e is powered by the vehicle's battery supply, and on an internal-combustion vehicle, the Neos 200e is powered via the vehicle's alternator and battery, enabling a constant cooling capacity for fresh and frozen cargoes, regardless of engine speed.
Features of the Neos 200e include:
12-volt architecture, making it fully compatible with 12-volt battery systems.
High-efficiency thanks to a brazed-plate heat exchanger that provides better heat transfer, a larger evaporator coil and a 60% increase in airflow with no increase in energy consumption compared to the unit it succeeds.
Quiet performance due to its compact design and electric operation.
Improved capacities at fresh and frozen setpoints made possible by use of the new-generation refrigerant R-452A that also has about half the global warming potential of R-404A, the refrigerant traditionally used in most transport refrigeration units.
A thin, ceiling-mounted evaporator that maximizes cargo space.
The main condenser assembly can be nose-mounted to the front of a truck box or mounted to the roof of a delivery van. The Cab Command™ digital control installs in the driver compartment for easy access.
Unlike conventional direct-drive systems, the Neos 200e unit's compressor is housed inside the condenser assembly, rather than on the engine, eliminating the need to run lengthy refrigerant lines from the vehicle's engine compartment. This reduces the amount of refrigerant needed and the potential for refrigerant leaks.
The Neos 200e refrigeration unit will be commercially available later this year. For more information about Carrier Transicold solutions for small delivery vehicles, turn to the experts in Carrier Transicold's North America dealer network.