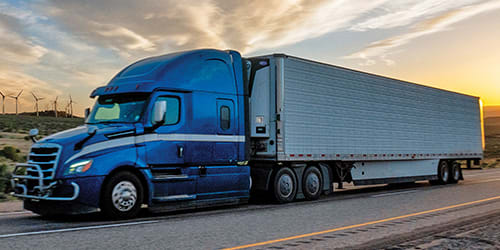 California Approves New Emissions Requirements for Transport Refrigeration Units 
The California Air Resources Board (CARB) has approved new regulations that are expected to accelerate a move to zero-emission transport refrigeration technologies.
The new requirements include:
The use of refrigerants with lower global warming potential (GWP)
A tighter particulate matter emission standard for new trailers, domestic shipping containers and generator sets
The transition of diesel-powered truck transport refrigeration units (TRUs) to zero‑emission
New reporting requirements and fees
"Approved in February, the amendments revise CARB's Airborne Toxic Control Measure (ACTM) for TRUs, to further reduce emissions," said Bill Maddox, Senior Manager, Product Management, Carrier Transicold. "The amendments affect TRUs domiciled in California as well as those based outside of California that enter and transit the state."
"While initial impact of the new regulations on equipment purchases won't take place until later this year, Carrier Transicold customers can be assured that we will provide solutions to help them achieve regulatory compliance," Maddox said.
Reducing Refrigerant GWP
One of the first impacts of the new regulation will be CARB's requirement that new TRUs sold starting in 2023 must use a refrigerant with a GWP of less than 2,200, rather than the long-time industry standard, R-404A, which has a GWP of 3,922. One "drop-in" alternative is the refrigerant, R-452A, which has a GWP of 2,140.
"Carrier Transicold truck and trailer refrigeration units have been qualified for R-452A since 2017, and it has been available as a customer-specified option from Carrier for several years," continued Maddox. "R-452A is already standard with some newer Carrier Transicold units, such as the Vector HE 19, and before the end of 2022, we will offer it as the standard refrigerant for all Carrier Transicold units that currently use R-404A, which will help California customers placing orders for 2023."
Tighter Emission Standards
Also starting with model-year 2023 engines, TRUs for trailers, railcars, domestic shipping containers and generator sets used in California must align with the U.S. EPA's Tier 4 particulate matter emission standard for 25‑50 horsepower engines.
"Carrier Transicold has been aggressively pursuing multiple paths to further reduce engine emissions and greenhouse gas produced by TRUs," Maddox added. "In the very near future customers will have the opportunity to see new solutions from Carrier Transicold that not only comply with CARB requirements, but deliver other significant benefits."
Zero-Emission Truck Units
The new CARB regulations call for fleets that use truck refrigeration units in California to transition to zero-emission refrigeration systems over a seven-year period beginning in 2023. Each year, fleets will need to convert at least 15% of their truck TRUs to zero-emission technologies so that all truck TRUs operating in California will be zero-emission by the end of 2029.
"The CARB regulation prohibits the sale of diesel-powered TRUs used in straight trucks beginning in 2024. Battery-electric is the technology that Carrier Transicold considers the most pragmatic from several perspectives, including temperature control, range of operation, weight, customer cost and unit serviceability," said Maddox. "Given CARB's move towards zero-emissions vehicles via the Advanced Clean Trucks rule, it makes sense to put an electric TRU on an electric truck."
Carrier unveiled its battery-electric truck TRU concept at the Advanced Clean Transportation Expo. The system is being designed to work on both conventional engine-driven trucks under power of its own battery pack and on battery-electric trucks by tapping the vehicle batteries.
"We are excited about our innovative engineless solution for trucks, and we are looking forward to further advancing its development," Maddox said.
Watch for more information about the new CARB regulations and Carrier Transicold developments that will help fleets to achieve compliance in future editions of eFLASH.