FresH2 Hydrogen Fuel Cell Refrigerated Transport Project Enters Road Testing Phase
RUEIL-MALMAISON, France -
The "FresH2" fuel cell project launched by Bosch moves to the road test phase, in France, with the STEF Group.
The hydrogen fuel-cell powered refrigeration unit, Vector® HE 19, from Carrier Transicold will be installed on a semi-trailer from the specialized bodybuilder of refrigerated vehicles, Lamberet.
The development of this innovative, zero-emission solution is financed by Bosch and carried out at the Bosch site in Rodez, France.
FresH2*, the innovative fuel cell project initiated by Bosch and Carrier Transicold, in collaboration with bodybuilder Lamberet and the European specialist in temperature-controlled food transport STEF, has entered the road testing phase on September 6. Carrier Transicold is part of Carrier Global Corporation (NYSE: CARR), the leading global provider of healthy, safe, sustainable and intelligent building and cold chain solutions.
FresH2 is a clean and quiet solution designed to deliver electricity required by refrigeration units installed on temperature-controlled road transport semi-trailers. The semi-trailers are primarily used to transport fresh and frozen food products, pharmaceuticals and all other heat-sensitive goods.
The hydrogen fuel cell technology offers a relevant alternative to replace the diesel engine usually used in refrigerated transport, which is a source of carbon dioxide (CO2), nitrogen oxide (NOx) and particulate emissions. As for the hydrogen cell, it does not release any emissions or noise.
FresH2 consists of a fuel cell powered by hydrogen tanks, to which an electronic unit is added, enabling it to convert the direct current provided by the cell into the alternating current needed to operate the refrigeration unit. The innovation lies in the direct interfacing of the fuel cell with the refrigeration unit, without the use of a bulky and expensive on-board buffer battery system.
To successfully carry out the first tests of this project, Carrier Transicold and Bosch have surrounded themselves with leading partners in the sector: the companies Lamberet (bodybuilder) and STEF (Transport and logistics specialist).
The Bosch Rodez team developed this innovative hydrogen solution by combining it with a Carrier Transicold Vector® HE 19 multi-temperature refrigeration unit.
"The FresH2 project perfectly illustrates our passion for innovation and reflects our commitment to a sustainable cold chain, particularly through the electrification of our product lines,"said Jean-Pascal Vielfaure, Managing Director France and Southern Europe, Carrier Transicold. "With the FresH2 project, we are pleased to contribute to the energy transition and participate in developing a hydrogen-powered solution of the future for semi-trailers. Thank you to all of our partners for their commitment and trust."
Energy efficient solutions such as the FresH2 project, support Carrier's aim to reduce its customers' carbon footprint by one gigaton, part of its 2030 Environmental, Social and Governance (ESG) Goals.
The system will be tested this month under actual usage conditions by STEF Chambéry site teams in France, as part of a round of food product distribution. "STEF's participation in the FresH2 fuel cell project is a new strong marker of the Group's commitment to green energy," said Damien Chapotot, Managing Director, STEF Transport. "The testing of this operational prototype in real operating conditions is a first for STEF, which strongly believes in hydrogen as the fuel of the future."
Once it has passed all certifications required for road licensing, the system will be tested to evaluate efficiency and to identify any areas of improvement for the future industrialized version. Bosch's ultimate goal with this innovation is to produce a competitive, turnkey solution at the Rodez factory that can be integrated into any type of refrigerated semi-trailer, whether new or used, thereby contributing on a large scale to the climate neutrality target set for the transport sector in the Paris Agreement.
Lamberet offers the largest range of zero-emission-powered refrigeration vehicles designed for urban deliveries. Lamberet's knowledge allows the SR2 heavy-duty semi-trailer supporting the FresH2 project to integrate the system components in a transparent manner for the user: the FresH2 system, which is the size of a pallet rack, is located in the wheelbase. Its integration in no way alters the appearance, usable volume, or overall height of the refrigerated semi-trailer. The 100% autonomous FresH2 adapts equally well to new semi-trailers and those that are already in service.
"In this period of expansion resulting from the implementation of all these new environmental technologies, the involvement of Lamberet and its expertise as a bodybuilder in this FresH2 project is a challenge that demonstrates our ability to carry out developments in partnership with the world's largest groups and to adapt our products to these new technologies while respecting the specifications of our transport customers," said Eric Méjean, Managing Director, Lamberet.
The FresH2 project is part of Carrier's healthy, safe and sustainable cold chain program to preserve and protect the supply of food, drugs and vaccines. Learn more at corporate.carrier.com/healthycoldchain or visit carriertransicold.fr. Follow Carrier Transicold on Twitter: @SmartColdChain and on LinkedIn: Carrier Transicold Truck Trailer Refrigeration.
About Carrier Transicold
Carrier Transicold helps improve transport and shipping of temperature controlled cargoes with a complete line of equipment and services for refrigerated transport and cold chain visibility. For more than 50 years, Carrier Transicold has been an industry leader, providing customers around the world with advanced, energy-efficient and environmentally sustainable container refrigeration systems and generator sets, direct-drive and diesel truck units, and trailer refrigeration systems. Carrier Transicold is a part of Carrier Global Corporation, the leading global provider of healthy, safe, sustainable and intelligent building and cold chain solutions. For more information, visit www.carriertransicold.co.uk. Follow Carrier on Twitter: @SmartColdChain and on LinkedIn at Carrier Transicold Truck Trailer Refrigeration.
About Bosch
The Bosch Group is a major global supplier of technologies and services. With a workforce of approximately 395,000 employees around the world (as of 12/31/2020), the Bosch Group earned revenue of €71.5 billion in 2020. Its activities are broken down into four business sectors: Solutions for Mobility, Industrial Technologies, Consumer Goods, and Technologies for Energy and Building. As a leader in the Internet of Things (IoT), Bosch is offering innovative solutions for smart homes, connected mobility, and connected industry. Bosch is developing a vision of mobility that is sustainable, safe, and exciting. The Group uses its expertise in sensor, software and service technology as well as its own Cloud IoT to offer its customers cross-domain, connected solutions from a single source. The strategic objective of the Bosch Group is to facilitate people's lives with connected products and solutions that use artificial intelligence (AI) or were developed and manufactured with the assistance of AI. Bosch improves quality of life around the world thanks to its innovative products and services that people are enthusiastic about. Bosch thus creates "Technology for life." The Bosch Group includes the company Robert Bosch GmbH as well as approximately 440 subsidiaries and regional companies in 60 different countries. Including its sales partners and international production, engineering, and sales network, the Bosch Group covers almost every country on the globe. With more than 400 sites around the world, the Bosch Group has been carbon neutral since Q1 2020. The Bosch Group's innovative strength is a key element of its growth. Bosch employs nearly 73,000 employees in research and development distributed across 129 sites around the world and approximately 34,000 software engineers. For more information, go to www.bosch.fr, www.bosch-presse.de, www.twitter.com/BoschPresse and www.twitter.com/BoschFrance.
About the LAMBERET Group
Lamberet is one of the major players in refrigerated vehicles in Europe. The Group is deploying a long-term investment plan that combines technological innovation, the development of new products and an expansion of its industrial sites. In particular, in 2016 Lamberet established a new factory in Saint-Eusèbe (Bourgogne) and received two "Gold Innovation Awards" at the last Solutrans trade show. Lamberet stands out due to its unique knowledge. The Group is the only player in its sector to both design and produce four types of temperature-controlled vehicle bodies: integrated insulation for vans, bodies for flatbeds and chassis cabs, vehicles bodies for industrial carriers and semi-trailers. Lamberet is also the manufacturer of its refrigerator semi-trailers under its own brand. A French SAS having its registered office in Saint-Cyr/Menthon in Ain, Lamberet in a part of the international industrial group, AVIC. The Lamberet Group achieved consolidated revenue of €170 million in 2020, of which 50% was in export volumes, since the brand has a distribution network in 41 countries. Production takes place at four specialized factories: Saint-Cyr/Menthon (France, 01), Saint-Eusèbe (France, 71), Sarreguemines (France, 57) and Kerstner (Germany). After sales is another strength of the brand, with 11 integrated service branches and a network of 350 certified coachbuilder. For more information, visit www.lamberet.com; https://twitter.com/lamberet_sas or www.linkedin.com/company/lamberet.
About STEF
STEF is a pure player in the food supply chain. STEF's mission is to supply people with food products. This is a major responsibility, for which it relies on its rich, more than 100-year history. Today, STEF boasts an unparalleled range of expertise, which makes it the European leader in temperature-controlled transport and logistics services (-25°C to +15°C). With its customers in industry, distribution and food-away-from-home sectors, STEF is working to build a supply chain that is increasingly agile and connected in response to changes in consumption patterns and the transformation of distribution channels from local retailers to superstores and e-commerce. STEF is developing its transport, logistics and packing activities by reconciling environmental, social and societal issues. This is reflected in its Moving Green climate strategy, which puts the emphasis on sustainable mobility and more responsible refrigeration. STEF has 19,000 employees and 250 sites located in seven European countries. With its partners, its network extends to 15 countries. In 2020, the Group generated revenues of 3.1 billion euros. Learn more: www.stef.com
Press Contacts
Carrier Transicold Contact:
Julie Cardin, Communications Manager
Email: [email protected]
M: +33 (0)6 20 31 24 80
Robert Bosch France Contact:
Communications and Public Affairs Director, France Benelux
Florence Melin
Tel: +33 1 40 10 74 24
Contact Lamberet:
Quentin Wiedemann, Director of Marketing & Communication
Email: [email protected]
M: +33 (0)6 78 66 47 74
Contact STEF:
Catherine Marie, Media Relations Manager
Email: [email protected]
M: +33 (0)6 35 23 10 88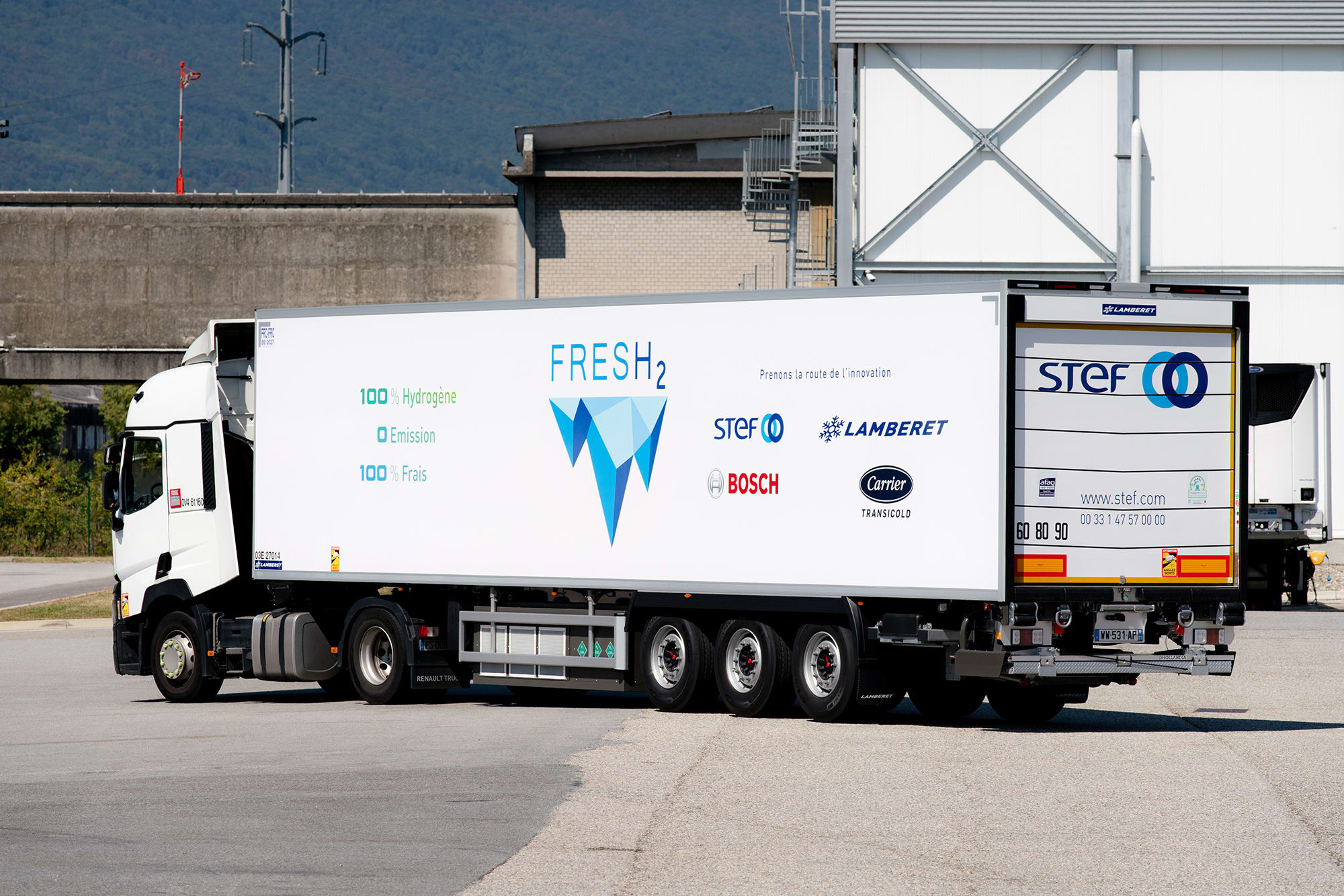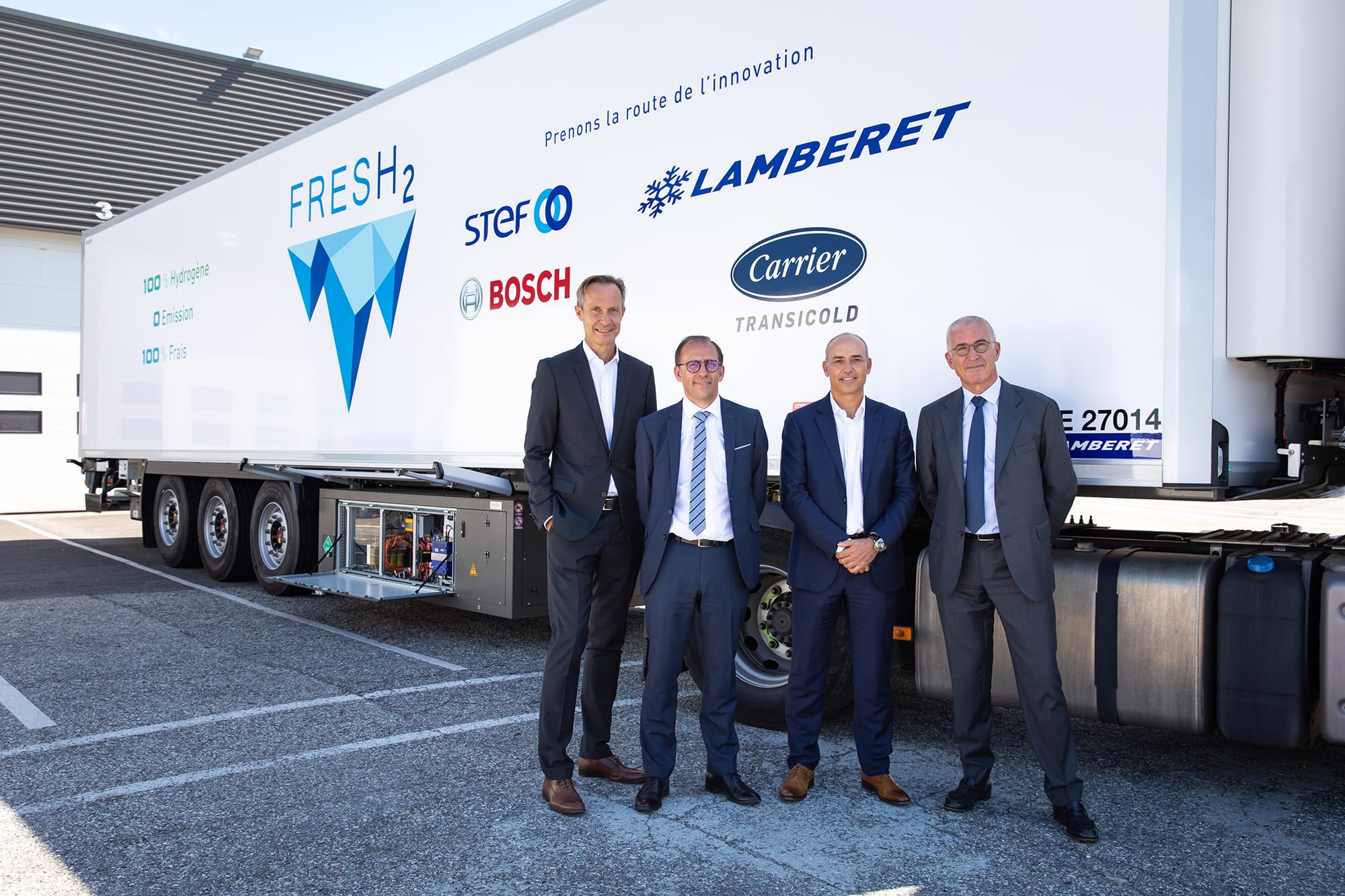 The "FresH2" fuel cell project launched by Bosch moves to the road test phase, in France, with the STEF Group. The hydrogen fuel-cell powered refrigeration unit, Vector® HE 19, from Carrier Transicold will be installed on a semi-trailer from the specialized bodybuilder of refrigerated vehicles, Lamberet. The development of this innovative, zero-emission solution is financed by Bosch and carried out at the Bosch site in Rodez, France. Pictured: (left to right) Heiko Carrie, President Robert Bosch France Benelux, Damien Chapotot, Director Transport France, Victor Calvo, President Carrier Transicold International Truck & Trailer, Erick Méjean, Managing Director Lamberet
*FresH2 is a registered trademark of Bosch