Carrier Launches HFO R-1234ze Chillers for Industrial Process Applications
MONTLUEL, France -
AquaForce Vision 30KAV air-cooled chillers with ultra-low GWP refrigerant provide cooling to -12degC, energy efficiency and a compact design
Carrier has introduced the AquaForce® Vision 30KAV with PUREtec™ refrigerant, a new line of high-performance, compact process cooling chillers with ultra-low global warming potential (GWP) refrigerant R-1234ze. The new chiller line is optimised for industrial processing such as food manufacturing, pharmaceuticals, chemicals, plastics, metal industries and applications requiring ultra-reliable cooling up to -12degC. Carrier is part of Carrier Global Corporation (NYSE: CARR), the leading global provider of healthy, safe, sustainable and intelligent building and cold chain solutions.
Carrier's AquaForce Vision 30KAV air-cooled, variable-speed screw chillers are designed to minimise energy consumption and impact on the environment while maximising performance and ease of installation and maintenance. Energy efficient solutions like the AquaForce 30KAV chiller support Carrier's 2030 Environmental, Social and Governance (ESG) Goals to reduce its customers' carbon footprint by more than 1 gigaton.
The chiller is available in four sizes, spanning capacities from 280 kW to 800 kW into -4degC/-8degC medium temperature process cooling and from 530 kW to 1300 kW into 12/7degC high-temperature process cooling or comfort cooling. The unit's carbon footprint is minimised due to its combination of ultra-low GWP HFO refrigerant, a 40% reduction in refrigerant charge due to use of Novation® micro-channel heat exchangers and outstanding energy efficiency delivered by the onboard variable speed drive, which precisely matches compressor speed to load. The chiller's compact design, with a physical footprint one-third less than standard 30KAV chillers, enables it to be deployed where space is tight without compromising performance.
"The new chiller has been designed and optimised for use in a wide range of process cooling applications," said William Doll, Europe Marketing Manager, Chillers and Heat Exchangers, Carrier. "It delivers high seasonal energy efficiency, a low environmental footprint, excellent reliability, safe operation and a very low total cost of ownership over its lifetime."
For mission critical applications, such as process cooling and food manufacturing, Carrier has developed an ultra-fast capacity recovery option. In the event of the chiller power supply being interrupted, the recovery option enables immediate chiller restart following power restoration with 100% capacity recovery within one minute, minimising the risk of damage to the process or products being cooled.
All 30KAV models can also be equipped with an innovative boosted total heat recovery option that allows more heat to be recovered during the winter, further increasing efficiency and reducing running costs. The heat recovery option uses a hybrid design that harnesses the benefits of both serial and parallel design approaches. When heat reclaim is activated, the air-cooled coils are automatically isolated to reduce the impact of cold ambient air on the heat capacity that can be recovered from the water-cooled heat exchanger.
This option increases heat recovery by 25% at nominal load with 35degC outside air temperature, and by 100% or more when the chiller operates with low outside air temperature, compared with the traditional serial-only approach to heat recovery. The cooling capacity of the chiller is also slightly enhanced in heat recovery mode. Due to its compliance with European Ecodesign Directive requirements, the AquaForce 30KAV can also be used in comfort cooling applications.
For contractors and service staff, the 30KAV has been designed to be quick and easy to install and maintain. Its compact dimensions give ready access in areas where space is tight, while its electrical system ensures compatibility with earthing requirements in different segments. In addition, use of smart energy monitoring and onboard leak detection enable chiller operation to be monitored in real-time.
For total peace of mind and to minimise running costs, building owners and facilities managers can opt for one of Carrier's BluEdge™ service support options to keep chillers operating at peak performance and efficiency throughout their life cycle. The service support uses Carrier's advanced cloud-based diagnostics platform within BluEdge to monitor and optimise chillers remotely, and via site visits by highly experienced staff if required.
To learn more, visit 30KAVIZE product page.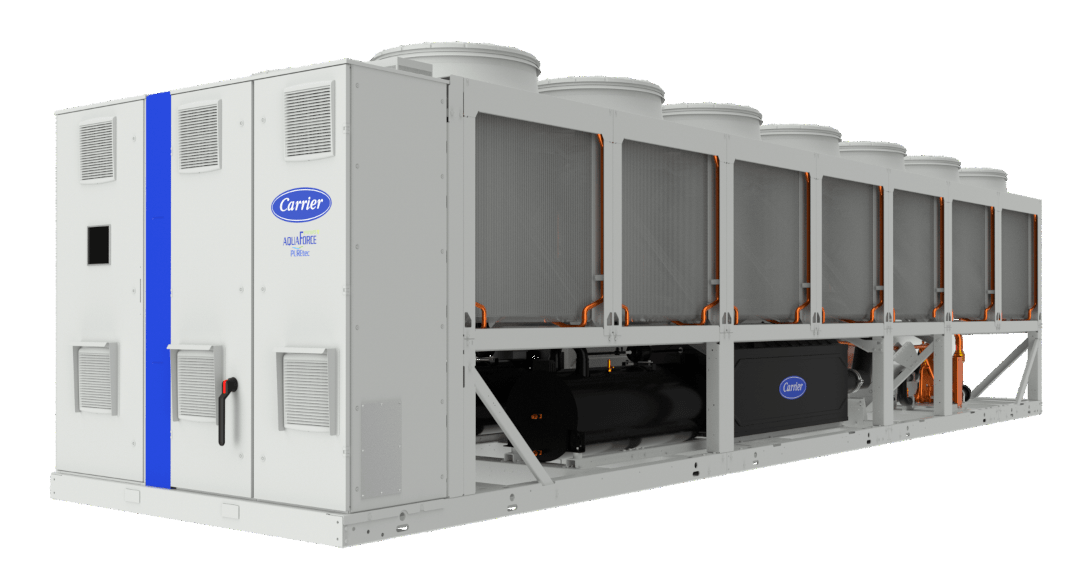 Carrier's AquaForce® 30KAV air-cooled variable-speed screw chiller with PUREtec™ refrigerant for industry is designed to minimise energy consumption and impact on the environment while maximising performance and ease of installation and maintenance. Above front View; Below rear view