National wholesaler JJ Food Service was founded in 1988 by restaurateur Mustafa Kiamil at a 3,000 sq ft warehouse in Hornsey, North London. Today, the company operates a growing network of delivery hubs in Basingstoke, Bristol, Doncaster, Leeds, Manchester and Sidcup.
JJ Food Service fits Carrier Transicold units across 100 per cent of its fleet, which currently comprises 160 predominantly rigid trucks.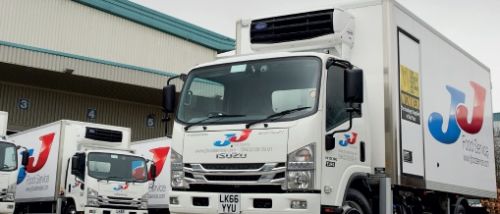 JJ Food Service called on Carrier Transicold to provide the cooling power for 20 new Isuzu 'Forward' N75.190 7.5-tonne rigid trucks due to join its fleet.
For the wholesaler, whose fleet delivers mainly frozen goods to restaurants, pubs, hotels, schools, universities and local authorities, finding the optimum refrigeration unit was key.
Carrier Transicold recommended its Xarios™ 600 mono-temperature systems, owing to their suitability to the urban multi-drop nature of JJ Food Service's delivery work.
JJ Food Service expects to keep the new trucks in service for up to five years, and will utilise Carrier Transicold's network service partners for its maintenance requirements; each service partner is an independent company that provides support to customers operating Carrier Transicold equipment.
The results
"Carrier Transicold's systems are the reliable workhorse of our fleet. They're easy to operate, dependable, and ideally suited to the urban multi-drop nature of our work."
Carrier Transicold's Xarios 600 mono-temperature units feature an advanced electronic controller and brushless fans which help ensure high reliability – important for JJ Food Service's intensive distribution schedule.
With multiple customers to visit on each delivery run, optimising each truck's workload and increasing efficiency was an important consideration for the rapidly expanding business. Thanks to an ultra-slim evaporator, Carrier Transicold's solution increases the available load space in each vehicle, helping JJ Food Service maximise each truck's capacity and make its fleet even more efficient.
"We're opening a number of new sites, including facilities in Dagenham, Leicester and Newcastle," said Mickey Montague, chief transport officer, JJ Food Service. "Carrier Transicold will remain our preferred supplier as the fleet grows to match this increased workload, thanks in no small part to our long and productive working relationship with the company.
"We've operated nothing but Carrier Transicold for many years now – the company's systems are the reliable workhorse of our fleet. They're easy to operate, dependable, and ideally suited to the urban multi-drop nature of our work."