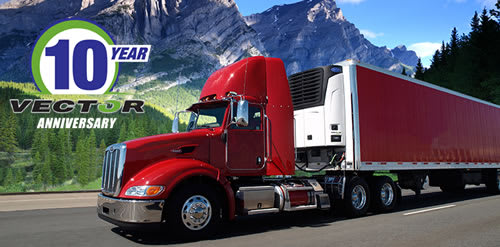 The Vector™ Platform's Future-Forward Flexibility
Part 2
With a decade of North American service now behind it, Carrier Transicold's Vector™ trailer units remain more relevant than ever to the needs of refrigerated haulers. "In addition to model upgrades over the years, what has kept the Vector platform current and appreciated by customers is its versatility," said David Brondum, director, product management and sustainability. "When the refrigeration system is 100-percent electrically powered, it enables you to do more with greater efficiency."

The first and still only "hybrid diesel-electric" trailer refrigeration platform, the Vector system couples a high-performance generator to a diesel engine for the sole purpose of powering an all-electric refrigeration system, known as E-Drive™ technology. This all-electric architecture introduced the unique ability to turn individual components on and off, such as the compressor and fans.
"It's a system that defines efficiency," said Brondum, "It runs only what it needs to run, only when it needs to – so components run fewer hours and last longer."
The latest generation Vector platform also introduced the first fully hermetic electric scroll compressor to be used in a North American trailer refrigeration unit. Proven efficient and reliable in Carrier Transicold marine container refrigeration systems, the compressor has 70 percent fewer moving parts and is 200 pounds lighter than a traditional reciprocating compressor.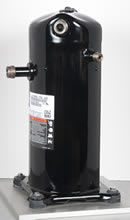 Another feature E-Drive technology allows is built-in electric standby capability, a standard of Vector units – not an option added at greater cost, weight and complexity. Simply plugging in to electric power when a TRU is parked for loading, unloading or staging enables the diesel engine to be shut off, eliminating its fuel use, noise and emissions. Additionally, operating costs can be reduced when standby power is used, because electricity is cheaper than diesel fuel.
Flexibility is Key
While the Vector platform has been improved and enhanced over the past decade, Carrier Transicold has also broadened the product line, giving its most flexible trailer platform even more versatility for fleets and refrigerated operations.

One example is the Flex Power™ dual-voltage option for running the unit on electric standby. Although a standard Vector unit requires 460 volts of power, not every distribution center has this voltage available on its loading docks. However, they might have 208- or 230-volt access. The Flex Power option provides the versatility to interchangeably power the Vector system from both the 460-volt or 208- to 230-volt systems, depending on where the unit travels.
Another example of the Vector platform's versatility is the engineless, plug-in-only Vector 8100 unit, designed for use as a stationary cold-storage solution. Refrigerated trailers are sometimes used for cold storage at produce terminals, distribution centers, and supermarkets, especially to accommodate temporary surges in demand around holidays. The all-electric Vector 8100 unit provides a solution that is free of the noise, emissions, fuel consumption and maintenance associated with using TRUs with engines. With the Vector 8100 unit, fleet managers also can eliminate the cost and concerns associated with dispatching fuel trucks to refill diesel-powered stationary units.
Future-Forward Thinking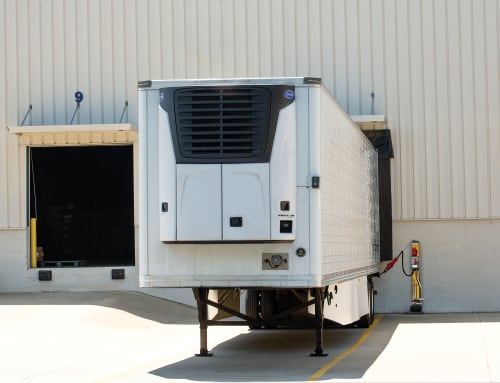 The ability to operate without generating emissions from the unit will likely have increasing importance in the years ahead. California is currently considering limits on the use of diesel-powered refrigerated trailers for temporary cold storage as a means of reducing greenhouse gas (GHG) emissions.
The California Air Resources Board initiative proposes banning use of diesel engines when used in stationary settings as early as 2020. One of the proposed alternatives is the use of refrigerated trailers that can be plugged into electrical current.
"Thanks to its flexibility, efficiency and reduced maintenance requirements, the Vector platform has grown in popularity every year since its North American debut a decade ago," Brondum said. "We anticipate it will continue to deliver outstanding value and offer regulatory compliance to North American fleets for many years."
This proposal is intended to support California's larger targets for reducing pollution, which include decreasing GHG emissions 40 percent below 1990 levels by 2030, and 80 percent by 2050. With their ability to be powered via local electric grids, Vector units may be able to play a role in helping California businesses achieve compliance with future regulations.