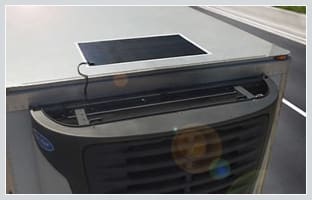 Get a Real Charge Out of TRU Solar Panels
If you're keeping "current" with developments in refrigerated transport, then you know telematics equipment and other devices often use the transport refrigeration unit (TRU) battery as a power source. That can add risk of drawing down the TRU starting power of the battery. Helping to avert situations where a critical power loss could occur, Carrier Transicold now offers an expanded range of Thin Film Flexible Solar Panels for trailer and rail applications.
Developed specifically to maintain TRU battery charge, the solar panels easily install on the roofs of trailers, truck bodies and refrigerated rail cars chilled by Carrier Transicold or other systems.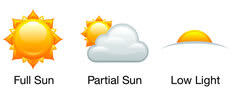 Solar panels can also help conserve fuel by minimizing the need to run the TRU engine to charge the battery. Compared to other solar technologies, Carrier's amorphous silicon solar cells perform reliably even in low and indirect lighting conditions.
In addition to its original 28 watt (1.8 amp) solar panel, Carrier Transicold now offers 18.5 watt (1.2 amp) and 9.24 watt (0.6 amp) panels, covering a range of needs and budgets. Learn more at carrier.com/tru-solar.