June 7, 2016
Vector™ Units Build 10-Year Legacy in North America
This year marks the 10th anniversary of the North American introduction of Carrier Transicold's Vector™ platform, a unique design that couples a high-performance generator to a diesel engine for the sole purpose of powering an all-electric refrigeration system. The platform streamlines the traditional architecture of transport refrigeration units (TRUs), and like America's trucking industry, Vector technology has been rapidly cruising into the future over the last decade.
---
Georgia Facility Named IndustryWeek Best Plant
Carrier Transicold's North American manufacturing operation was recently named a 2015 IndustryWeek Best Plant, making it the first transport refrigeration equipment facility to be honored by the publication's award. In operation since 1988, the Athens, Georgia, plant serves as Carrier Transicold's home for its Americas' truck, trailer and rail refrigeration business.
---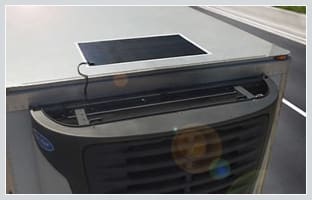 Get a Real Charge Out of TRU Solar Panels
If you're keeping "current" with developments in refrigerated transport, then you know telematics equipment and other devices often use the transport refrigeration unit (TRU) battery as a power source. That can add risk of drawing down the TRU starting power of the battery. Helping to avert situations where a critical power loss could occur, Carrier Transicold now offers an expanded range of Thin Film Flexible Solar Panels for trailer and rail applications.
To subscribe to eFLASH, click here.
If you know someone who would like to receive eFLASH, simply send this page link and tell them to subscribe.