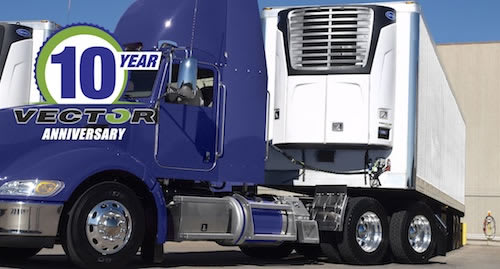 Electric Standby a Hallmark of Vector™ Series
Part 3
When it rolled into the North American marketplace a decade ago, the Vector™ platform offered as a standard feature something previously only available on trailer refrigeration units as an expensive upgrade: electric standby capability.
"This year, as Carrier Transicold commemorates 10 years of the Vector platform's E-Drive™ all-electric technology on this continent, we also recognize the contribution its built-in electric standby capability has made for so many customers," said Patrick McDonald, product manager – trailer products, Carrier Transicold.
"This capability has provided opportunities for significant fuel savings for a progressively growing number of food distribution operations," he added.
The Standby Advantage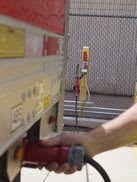 When refrigerated trailers are parked for loading, staging or cold storage, electric standby provides the ability to plug them into electric power receptacles, enabling the refrigeration systems to run with their diesel engines shut off.
"Essentially, the trailer unit runs like a large, sophisticated electric refrigerator," McDonald said. "This conserves fuel for the highway and also eliminates the noise and emissions associated with running the refrigeration unit's diesel engine, a benefit that's especially appreciated by neighbors adjoining distribution centers and other locations where large numbers of refrigerated haulers congregate."
Savings to the Bottom Line
In addition to being a sustainability strategy, standby operation also reins-in operating costs because electricity is less expensive than diesel fuel. The comparison below uses the latest U.S. government data for energy costs and is based on today's fuel-efficient Carrier Transicold 8000 series Vector units.
Estimated Standby Savings – Vector 8500 and Vector 8600MT
Cost Of Operation - Diesel
      
Hourly fuel consumption*
0.65 gal
      
Cost per gallon diesel fuel**
$2.49
      
Cost per hour to operate on diesel
$1.62
Cost Of Operation - Electric Standby
      
Power consumption
8.1 kilowatts
      
Cost per kilowatt hour***
$0.1034
      
Cost per hour to operate on electric standby
$0.84
Cost Savings - Electric versus Diesel
      
Cost savings by operating on electric standby
48%
*Based on typical high-intensity food service application.
**Average on-highway price of diesel, 12/12/16, U.S. DOE.
***2016 8-month average commercial price of electricity, U.S. DOE.
While the present operating cost savings for standby service is a whopping 48 percent, fluctuating diesel fuel prices over the last 10 years have at times afforded savings potential approaching 70 percent.
In some operations, the amount of time a refrigerated trailer spends parked for loading and unloading or waiting for a driver's arrival to begin morning deliveries can be considerable, so the savings from using standby can quickly add up. One food distribution company reports that it cut fuel usage by up to 80 percent after adopting more fuel efficient Vector 8600MT multi-temperature units and taking advantage of electric standby.
No Compromising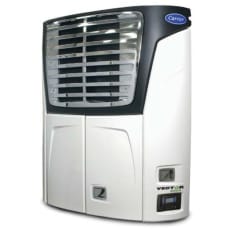 The Vector platform's standby capability is "not your grandpa's" standby. Traditional standby options are mechanical assemblies that pile on weight, cost and complexity through the addition of an electric motor, clutch and control components. The electric motor typically falls short of the horsepower delivered by the diesel engine, and hence total refrigeration capacity is diminished when on standby.
"Owing to hardware limitations, the add-on electric standby systems – even those used by competitive models today – can only approach the full cooling capability of a host refrigeration unit," McDonald said. "The all-electric E-Drive architecture of the Vector system, however, enables it to efficiently deliver a refrigeration unit's full capacity when plugged into an AC power supply. The refrigeration system doesn't discern a difference whether the power is coming from the electric grid or from its own on-board generator.
"This is just one more way that after 10 years the Vector platform continues to offer cooling without compromise."
For fleets interested in taking advantage of electric standby for Vector units, Carrier Transicold dealers can assist on placement recommendations and installation of standby receptacles on trailers. They also offer cabling and related products, such as the FlexPower™ dual-voltage option, which enables use with both 208/ 230-volt and 460-volt power sources.