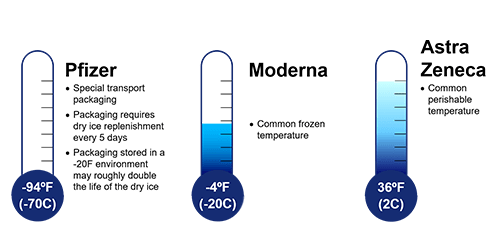 COVID-19 Vaccine Information
Three vaccines have received or are nearing FDA emergency authorization for combatting the COVID-19 virus within the US.  Each vaccine has storage and transport temperature requirements, which vary by vaccine manufacturer. These requirements may change over time as the vaccine manufacturers gain more test data on vaccine potency variations at different temperature profiles.
With the exception of the Pfizer vaccine, all other vaccines have storage temperatures which are well within the typical transport refrigeration thermostat operating temperature range of -22ºF (-30C) to +80ºF (27C); however, packaging stored in a -22ºF (-30C) environment may roughly double the life of dry ice used with ultra-cold packaging.
If properly stored, all manufacturers claim vaccines have an estimated maximum 6-month life.
Back to eFLASH 1/27/21 summary
---