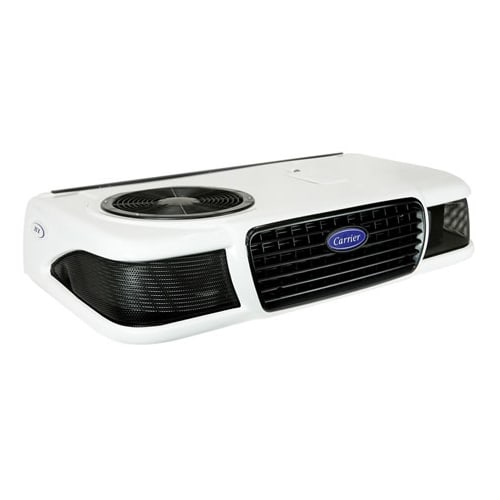 Engineless Model 35X Unit Chills Small Trucks and Large Vans
Carrier Transicold's sleek new model 35X direct-drive unit provides refrigeration for perishable and frozen cargoes for small- to medium-sized box trucks and large delivery vans.
"With an attractive modern exterior design, the 35X unit expands our direct-drive product line, offering excellent fresh and frozen protection for cargo vans and box trucks in the 12- to 14-foot range," said Scott Parker, product manager, truck products, Carrier Transicold.
"Direct-drive units in Carrier Transicold's X-series are engineless, vehicle-powered systems that can help fleets reduce their environmental impact since there is no additional fuel consumption or related emissions from a dedicated refrigeration unit engine," Parker explained
The 35X unit provides refrigeration capacity of 10,500 BTUs at 35 degrees Fahrenheit (100° F ambient). As with other units in the series – the 20X, 40X and 50X units– the 35X unit includes an exterior-mounted condenser unit, a compressor that mounts to the truck engine and a narrow-profile SlimLine™ evaporator that fits tightly to the ceiling of the cargo area, helping to maximize cargo space. As a split system, the 35X unit provides flexible mounting options for the condenser, either to the nose of a box truck or roof of a van.
The unit's Cab Command™ 2 digital controller provides quick and easy setpoint configuration and the ability to program the unit for automatic defrost cycles. It also offers diagnostic capabilities and hour-meters to track usage for service interval planning.
For more information about the 35X direct-drive refrigeration unit, turn to the experts in Carrier Transicold's North America dealer network.