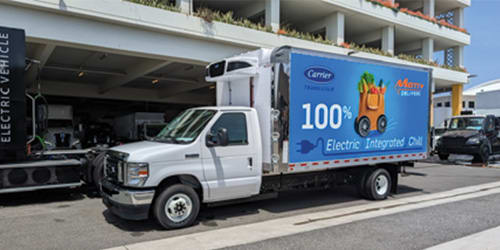 Motiv Power Systems Pilots Refrigerated EV Truck with Carrier Transicold's Pulsor eCool Unit
This summer Motiv Power Systems is piloting a fully integrated zero-emissions refrigerated truck featuring one of Carrier Transicold's newest electric transport refrigeration solutions for battery-electric vehicles – the Pulsor eCool™ unit – capable of all-day delivery of refrigerated goods.
The leading innovator of medium-duty EV trucks and buses driving the backbone of modern commerce, Motiv is integrating the Pulsor eCool™ technology with its drive system, creating the ideal solution for last-mile delivery and temperature-controlled electrification.
"The Carrier Transicold Pulsor eCool unit integrates perfectly with the size of delivery vehicles Motiv specializes in," said Jim Castelaz, Founder and Chief Technology Officer, Motiv Power Systems. "With zero direct emissions and the full vehicle battery integrated for both cooling and driving all day, this pilot program with Carrier Transicold enables businesses to reliably deliver refrigerated goods like food, flowers and pharmaceutical products on daily routes."
The Pulsor eCool unit is optimized for urban logistics players that are increasingly turning toward battery-powered vehicles to help them maintain temperature integrity throughout the delivery cycle. Carrier Transicold's E-Drive™ technology enables rapid temperature pull-down and high refrigeration capacity.
"Offering exceptional efficiency for its class, the Pulsor eCool unit is designed to use a light- or medium-duty electric vehicle's battery system without requiring its own power pack," said Scott Parker, Product Manager, Truck Products, Carrier Transicold.
The Pulsor eCool system is another example of how Carrier Transicold is helping customers, including those with fleets deploying Motiv's electric trucks, to reduce their carbon footprint. In addition, fully electric refrigerated trucks can help fleets meet sustainability goals and comply with important emissions regulations – including the zero-emission truck transport refrigeration unit requirement set by the California Air Resources Board (CARB), effective at the end of 2023.