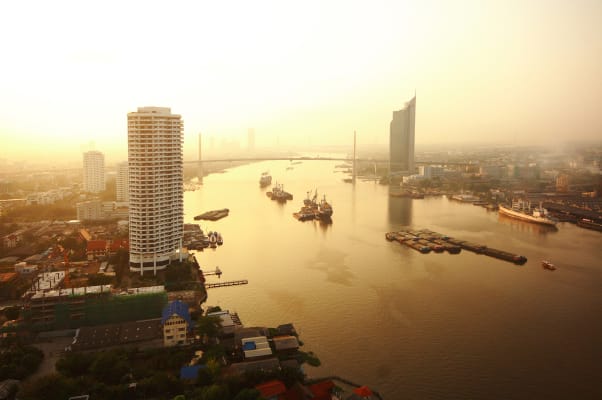 All the services you need for smooth sailing, all over the world. While heating, ventilation, air conditioning, and refrigeration (HVAC&R) needs vary across maritime applications, one fact remains consistent. Carrier is equipped to meet them all. Our products and solutions are found aboard cruise ships, merchant ships and platforms throughout the world's oceans.
Even when you're miles at sea, the support you need is closer than you think.
Responsive Repair
Today's marine and offshore applications require consistent cooling. On cruise ships, for example, passengers seeking recreation and relaxation won't settle for moments without precise cooling and air quality – and neither should you. The performance of heating, ventilation, and air conditioning (HVAC) systems can be equally critical on board commercial vessels, where both cargo and crew must be kept cool, and offshore rigs, where process cooling and refrigeration are essential.
The common theme? At sea, downtime is not an option.
To ensure the service you need is always close at hand, Carrier Marine & Offshore Systems maintains a global service footprint. No one knows more about marine HVAC and refrigeration than our factory-trained service technicians, and they're available to perform adjustments or repairs when you need them, where you need them.
Preventative Maintenance
Of course, the best way to avoid downtime is to stop problems before they arise. And issues aside, regular maintenance can enhance system efficiency. Carrier Marine & Offshore Systems offers preventative maintenance and service agreements to do just that. We have options including predictive and preventative maintenance, all tailored to suit the needs of your vessel or rig – and not to mention, your bottom line.
We put all of our energy into helping you use less.
Energy Analysis
When it comes to energy efficiency in maritime applications, there's almost always room for improvement, and at Carrier Marine & Offshore Systems, we'll always find it. On today's cruise ship, the HVAC system accounts for up to a third of the total energy usage. Uncertain fuel prices make energy efficiency more important than ever.
We offer energy audits and analyses, ranging from preliminary walk-through audits to detailed investment-grade energy audits. That means we'll come aboard your ship or rig and take a close look at everything from your lighting system to your HVAC.
But it's not just a question of what we can improve, it's how we can help you improve it.
Once we gather your system information, we'll help you make sense of it. We convert system data into actionable information for benchmarking energy performance, identifying energy-saving opportunities, calculating returns on investment, and prioritizing and implementing selected measures.
Refurbishment and Retrofits
If you've determined that your existing HVAC or refrigeration system isn't performing as effectively or efficiently as possible, we're also here to help you with your next move. Carrier Marine & Offshore Systems gives you a range of options for system optimization – options that don't involve an entirely new system. We specialize in refurbishing and retrofitting existing systems to maximize efficiency and performance – without maxing out your budget on capital expenditures.
Our variable speed drives are just one example of our retrofit options for chillers, fans, and pumps. Available from 3HP to 5,000HP, variable speed drives can help marine and offshore customers:
Reduce energy consumption and optimize efficiency at part-load conditions with a wide selection of variable speed drives
Lower maintenance costs and reduce electrical and mechanical stress through controlled acceleration
In short, you don't need a brand-new system to reach a whole new level of efficiency.
Learn about our latest chiller re-fit on board the MS Prinsendam.
There's a reason "systems" is part of our name. Actually, there are many reasons.
Whether for a world-class cruise ship, globe-traveling commercial vessel or deepwater offshore platform, Carrier Marine & Offshore Systems goes well beyond simply selling individual solutions. We take a full systems approach, designing the solution you need for heating, comfort and process cooling, and refrigeration or any combination you need to meet your unique requirements.
In fact, we have an entire team of highly skilled engineers and global experts in efficiency and environment to help. Our AdvanTEC Solutions Center brings together brilliant minds and advanced modeling and simulation tools, all to achieve one goal – creating the smartest, most efficient total system possible.
Once we help you determine and install the optimal combination of products and components for your ship or rig, systems can all be tied together with the Carrier i-Vu® Pro system. i-Vu centrally monitors and coordinates a system, allowing data to be collected, trended and reported for optimized performance and minimized downtime. Plus, i-Vu can be monitored remotely, with secure access from any computer, enabling technicians to diagnose issues.