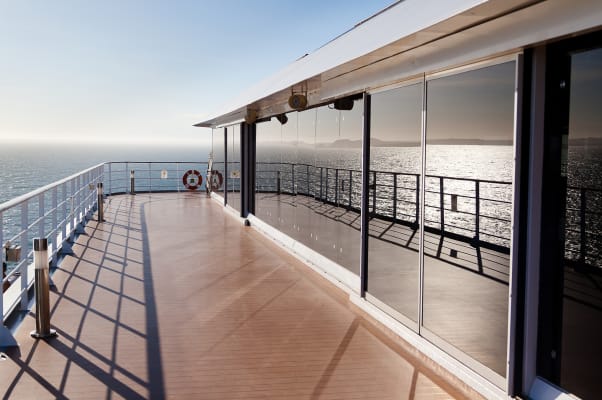 Innovation Doesn't Stop at the Shoreline.
Let Carrier's specialized team of system experts help solve the challenges you face at sea.
The Experts in Efficiency and Environment at our AdvanTEC Solutions Center are driven by pressing questions related to total system efficiency and sustainability. And the answers are driving the next generation of efficient, intelligent ships and rigs.
When it comes to innovation, we never stop making waves.
At Carrier Marine & Offshore Systems, we develop solutions with a responsibility to both the environment and the specific needs of our customers in mind – and it all starts at our AdvanTEC Solutions Center. There we bring together a global group of Experts in Efficiency and Environment focused on developing sustainable solutions for marine and offshore applications.
Taking a system approach to shipbuilding, AdvanTEC leverages the combination of highly skilled engineers, advanced modeling and simulation tools and unique testing facilities to design optimal systems with fewer emissions and low energy consumption. Most importantly, the Center works with you to understand project goals, the unique conditions found on your vessel or rig, and efficiency requirements. With this information, we're able to deliver better solutions and apply innovative technologies that increase value for you while decreasing the impact on our planet.
It's just one way we're helping to drive the creation of next-generation cruise ships, vessels and rigs, right here and now.
Don't just wish for performance, efficiency and sustainability. Own it.
If you're the owner of a cruise ship, seeking ways to balance the need for consistent guest comfort with the desire to minimize waste and operating costs is a constant concern. Fortunately for you, to our team at AdvanTEC, it's a full-time job.
Rather than focusing on individual components or solutions, we take a holistic, total system approach that looks at how you use energy on your ship – and we're not talking about guesswork here. We're talking about highly skilled engineers using advanced modeling and simulation tools to give you a real look inside your ship and its energy flows. From there, we are able to recommend and design the most efficient package possible, customized to your needs.
AdvanTEC expertise is not limited to cruise ships, either. Our team has extensive skill and experience working with large, high-spec oil platforms as well. We help design and implement total systems that help overcome unique challenges due to space, lifespan and harsh conditions, while meeting crew comfort needs to support productivity and while minimizing expenses.
We'll help design almost anything – including the perfect partnership.
For engineers, demanding conditions can translate into demanding clients. And maritime applications present no shortage of challenges. That's why it only makes sense to turn to the experts at Carrier and AdvanTEC.
AdvanTEC acts as a true system design partner who can provide assistance, guidance, and expertise to help you provide a more tailored and customized approach to each project. Our skilled engineers and global experts in efficiency and environment work as an extension of your team. Not to mention, you benefit from our ability to leverage some of the industry's most advanced modeling and simulation tools and unique testing facilities.
Ultimately, it's about presenting your clients with a total system that's been designed, tested and simulated to meet their exact specifications – no matter how demanding.