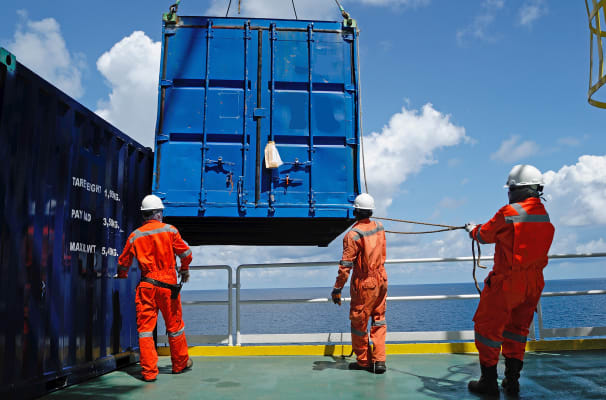 However You Take to the Sea, Always Turn to the Experts.
Whether you're cruising, drilling or transporting, we never stop innovating. While heating, ventilation, air conditioning, and refrigeration needs vary across maritime applications, one fact remains consistent. Carrier is equipped to meet them all. Our products and solutions are found aboard cruise ships, commercial vessels and offshore rigs throughout the world's oceans.
Get on board with the industry leader.
When it comes to leisure cruises and other passenger ship applications, comfort is critical. Carrier Marine & Offshore Systems offers a broad range of efficient, customizable solutions designed for comfort control, as well as air quality, refrigeration, process cooling and more. In fact, we were the first to equip a cruise ship with air conditioning for passenger comfort in 1931, and today, we remain the world's leading supplier of chillers to the cruise industry.
Our products, however, are just part of the story. Carrier leverages a team of highly skilled engineers, advanced technology and unique facilities to help customers and engineers design and implement efficient, sustainable total systems that balance the comfort with efficiency and low operating costs – all with your unique needs in mind, whether it's a new ship design or retrofit.
Add to that our service and support offerings, from maintenance to energy services to a parts network that spans the globe, and it's clear that Carrier is the smart choice for today's cruise ships – and those of tomorrow.
We design solutions for some of the most demanding conditions on Earth. 

Which just so happen to be in the middle of the sea.
With limited space, harsh climates and demanding work conditions, there are few environments on Earth that are more challenging to maintain than offshore platforms. Carrier Marine & Offshore Systems is up for this challenge, offering a number of efficient, customized solutions for comfort cooling, process cooling, and refrigeration.
Our products are built tough to perform safely and efficiently in oil platform applications. Many of our products can be customized for hazardous locations, using NEC, NFPA 70, Chapter 5, Article 500 or ATEX construction methods. Plus, each chiller, condensing unit, and air handler is packaged with features that provide high performance, energy efficiency, and on-demand control.
When the conditions are unique, customization is key. That's why Carrier chillers, condensing units, air handlers, and refrigeration equipment can be customized to meet any challenge, including special coatings, copper coil construction, SS316L cabinet construction, and other specialized needs.
The theme of customization applies to your whole system as well. We'll work with you to design a total system that meets your needs as efficiently as possible – and our service and support ensure it continues to do so day in and day out. We also have more than 600 dealers, distributors and Performance Parts Group depots worldwide to ensure that the spare parts and service you need are never far away.
As a global leader in the offshore industry, it's a natural part of our commitment to delivering efficiency and reliability to customers around the world – and across the sea.
Count on us for solutions that are right in your wheelhouse – and beyond.
Each day, billions of people rely on commercial ships to transport them and their goods where they are needed around the world. You can rely on Carrier Marine & Offshore Systems to provide the air conditioning and refrigeration systems to keep your vessel – and its cargo – properly cooled.
Carrier Marine & Offshore Systems provides solutions for the following:
Bulk carriers
Casino boats
Container ships
Dinner cruise boats
Fishing boats
Military support vessels
Supply boats
Tugs
Work boats
Whether it's a plug-and-play solution for the wheelhouse or a total system for multiple areas of a vessel, Carrier brings affordability, efficiency and customization to the commercial industry. Most importantly, we help ensure that peace of mind accompanies you from port to port, with a range of services and support – including worldwide access to the parts you need.
It's all part of our commitment to helping you keep your systems running at peak performance – and ensuring that nothing stops your cargo from reaching its destination on time.