Performance Food Group Pilots Electric Refrigerated Truck with Navistar, Great Dane and Carrier Transicold
ANAHEIM, Calif. -
Performance Food Group Company (PFG) (NYSE: PFGC), Navistar, Great Dane and Carrier Transicold, part of Carrier Global Corporation (NYSE: CARR), global leader in intelligent climate and energy solutions, have collaborated to launch a commercial evaluation program using all-electric refrigeration technology on a battery-electric truck for sustainable, direct-emissions-free distribution of refrigerated and frozen food.
The technology will be featured at the Advanced Clean Transportation (ACT) Expo the week of May 1. PFG's solution features Carrier Transicold's ground-breaking Supra eCool™ electric truck refrigeration unit, an International® eMV™ Series battery-electric truck with a factory-installed ePower electrical system and a 22-foot Alpine S-Series insulated body by Great Dane. The truck will serve PFG operations in California, supporting the food service distributor's sustainability initiatives while marking an important step toward compliance with new regulations requiring adoption of zero-direct emission truck refrigeration technologies in the state.
"Mitigating our carbon footprint through use of advanced technologies helps us to be responsible stewards of the environment," said Jeff Williamson, Senior Vice President, Operations, PFG. "The use of direct-emissions-free transportation and refrigeration technologies by these industry-leading collaborators offers tremendous potential in helping us to achieve key sustainability goals and metrics."
This collaboration will help PFG realize the potential of transformative battery-electric technologies.
"With its optimized performance, our energy-efficient, engineless Supra eCool electric refrigeration unit seamlessly draws power from the International eMV Series' ePower electrical system to support PFG's daily deliveries," said Alice DeBiasio, Vice President and General Manager, Truck Trailer Americas and Digital Solutions, Carrier.
Control interface commonalities between the Supra eCool unit and the traditional Supra diesel units used by PFG will help its drivers transition to all-electric refrigeration.
"International believes in a future of emobility, and we are proud to support PFG in its electric vehicle journey," said Debbie Shust, Vice President, Medium Duty International Truck Business, Navistar. "The collaboration among International, Great Dane and Carrier Transicold demonstrates successful teamwork and technology integration to meet the performance and sustainability needs of PFG."
"Great Dane has been privileged to partner with PFG for several years to develop a truck body equipped with new technology to support its current applications," said Tim Miller, Director of Truck Bodies for Great Dane. "In support of PFG's battery electric vehicle program, we reduced truck body weight and increased thermal efficiency while minimizing changes to the overall body design."
"The benefits of electric transport refrigeration technologies go beyond sustainability, as they can also provide life-cycle cost benefits for progressive fleets, such as PFG's," said DeBiasio. "This collaboration marks a significant milestone in the industry's transformation from traditional approaches to cleaner, quiet, direct-emissions-free solutions."
About Performance Food Group
Performance Food Group is an industry leader and one of the largest food and foodservice distribution companies in North America with more than 150 locations. Founded and headquartered in Richmond, Virginia, PFG, and our family of companies, market and deliver quality food and related products to 300,000+ locations including independent and chain restaurants; businesses, schools and healthcare facilities; vending and office coffee service distributors; and big box retailers, theaters and convenience stores. PFG's success as a Fortune 200 company is achieved through our more than 35,000 dedicated associates committed to building strong relationships with the valued customers, suppliers and communities we serve. To learn more about PFG, visit pfgc.com.
About Navistar
Navistar, Inc. ("Navistar") is a purpose-driven company, reimagining how to deliver what matters to create more cohesive relationships, build higher-performing teams and find solutions where others don't. Based in Lisle, Illinois, Navistar or its subsidiaries and affiliates produce International® brand commercial trucks and engines, IC Bus® brand school and commercial buses, all-makes OnCommand® Connection advanced connectivity services, and Fleetrite®, ReNEWeD® and Diamond Advantage® brand aftermarket parts. With a history of innovation dating back to 1831, Navistar has more than 14,500 employees worldwide and is part of TRATON SE, a global champion of the truck and transport services industry. Additional information is available at www.Navistar.com.
About Great Dane
Great Dane is a leading manufacturer of high-performance commercial transportation equipment, including dry and refrigerated trailers and truck bodies, as well as steel, aluminum, and combo platform trailers. Great Dane has a storied history in the commercial trucking industry and is a driving force in trailer technology, innovation, quality, and customer service. Headquartered in Chicago, Illinois, and with additional corporate offices in Savannah, Georgia, Great Dane has 11 manufacturing plants strategically located throughout the United States. The company's network of corporate-owned service centers and full-line independent dealers offers a broad range of distribution points for new and pre-owned trailers as well as aftermarket services across North and South America. Visit Great Dane online at Greatdane.com
About Carrier Transicold
Carrier Transicold helps improve transport and shipping of temperature-controlled cargoes with a complete line of equipment and services for refrigerated transport and cold chain visibility. For more than 50 years, Carrier Transicold has been an industry leader, providing customers around the world with advanced, energy-efficient and environmentally sustainable container refrigeration systems and generator sets, direct-drive and diesel truck units, and trailer refrigeration systems. Carrier Transicold is a part of Carrier Global Corporation, global leader in intelligent climate and energy solutions that matter for people and our planet for generations to come. For more information, visit Carrier Transicold. Follow Carrier on Twitter: @SmartColdChain, on Facebook at Carrier Transicold Truck/Trailer Americas and on LinkedIn at Carrier Transicold Truck Trailer Refrigeration.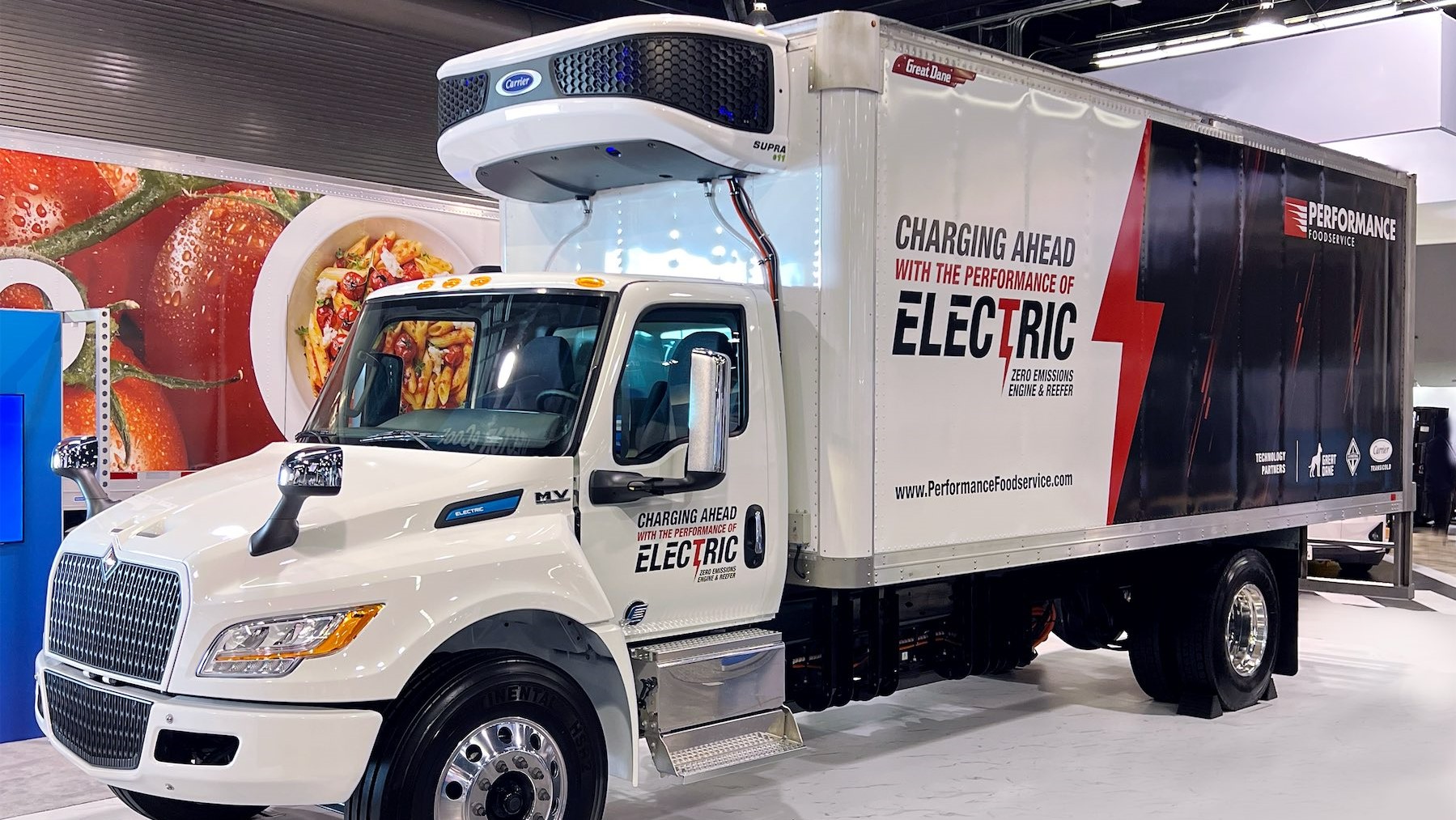 Performance Food Group Company, Carrier Transicold, Navistar and Great Dane have collaborated on an emissions-free food delivery vehicle integrating Carrier Transicold's Supra eCool electric truck refrigeration unit with an International eMV Series battery-electric truck and a Great Dane insulated body. As part of a pilot program, the truck will support PFG's foodservice operations in California, where new rules have been implemented to phase in zero-emissions refrigerated transport.