Carrier Transicold's Innovative 'Center Divide' Vector 8611MT Trailer Refrigeration Unit Now Available
ATHENS, Ga. -
Carrier Transicold has launched its innovative Vector™ 8611MT multi-temperature trailer refrigeration unit. Designed for trailers split lengthwise with a center dividing wall, the unit creates two refrigerated compartments without requiring a remote evaporator. Carrier Transicold is part of Carrier (NYSE: CARR), a leading global provider of innovative heating, ventilating and air conditioning (HVAC), refrigeration, fire, security and building automation technologies.
"From the moment we announced the Vector 8611MT unit, there was tremendous interest from grocery distribution and food service operations who deliver mixed loads and can most benefit from its design," said Patrick McDonald, product manager, trailer products, Carrier Transicold. "The all-electric architecture of Carrier Transicold's Vector platform enables the Vector 8611MT unit to independently manage both zones more simply and efficiently than mechanically interconnected competitive dual-discharge systems."
Introduced in limited-production in 2019, the Vector 8611MT unit incorporates dual evaporators and fans into a single unit for two-zone cooling, with side-by-side compartments for perishable and frozen goods. By eliminating the need for a remote evaporator, installation is simplified.
The Vector 8611MT unit, like others in the platform family, uses E-Drive™ technology, in which the diesel engine runs a 21 kVA generator that powers the all-electric refrigeration system. Vector units have the advantage of built-in electric standby capability, so when parked for loading, unloading or staging, they can be operated via a separate power source, providing full refrigeration capacity while eliminating refrigeration unit engine noise, emissions and fuel consumption.
Vector unit architecture eliminates most refrigerant valves and significantly reduces the number of braze joints and potential refrigerant leak points compared to mechanically interconnected competitive models. Uniquely, the Vector 8611MT unit has independent air control, optimizing airflow and pulldown to both zones. If heating is required, the unit offers consistent electric heat, rather than hot gas heat, which reduces system complexity and enables the unit to shut down the compressor and other refrigeration components during heating, resulting in fuel savings.
The unit provides 55,000 BTU of cooling per hour at a setpoint of 35 degrees Fahrenheit and excels at freezing temperatures. It also complements Carrier Transicold's traditional multi-temperature refrigeration unit, the Vector 8600MT model, giving customers a wide range of multi-temperature configuration options.
For customers wishing to add a third refrigerated compartment, the system is pre-configured to enable easy installation of a remote evaporator from Carrier Transicold's line of full-width, half-width, single- and dual-discharge smart evaporators.
To determine the right Vector multi-temperature solution for your application, turn to the experts in Carrier Transicold's North America dealer network.
About Carrier Transicold
Carrier Transicold helps improve transport and shipping of temperature-controlled cargoes with a complete line of equipment and services for refrigerated transport and cold chain visibility. For 50 years, Carrier Transicold has been an industry leader, providing customers around the world with advanced, energy-efficient and environmentally sustainable container refrigeration systems and generator sets, direct-drive and diesel truck units, and trailer refrigeration systems. Carrier Transicold is a part of Carrier, a leading global provider of innovative HVAC, refrigeration, fire, security and building automation technologies. For more information, visit www.transicold.carrier.com. Follow Carrier on Twitter: @SmartColdChain, on Facebook at Carrier Transicold Truck Trailer US and LinkedIn at Carrier Transicold Truck Trailer Refrigeration.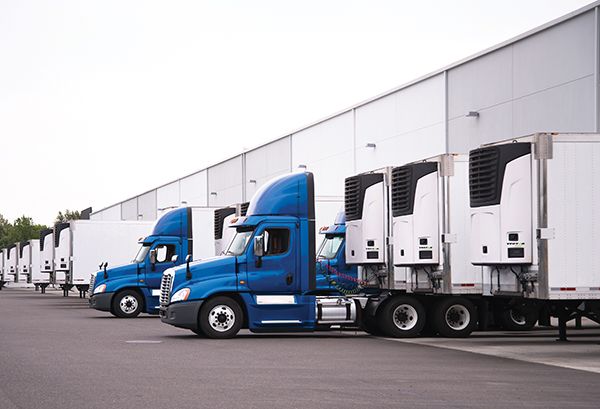 The dual-discharge aspect of Carrier Transicold's Vector™ 8611MT multi-temperature trailer refrigeration unit enables two independently cooled compartments.