Spedition Heidelmann Selects Carrier Transicold's Vector™ 1950 Unit for Safe Transport of Pharmaceuticals
GEORGSMARIENHÜTTE, Germany -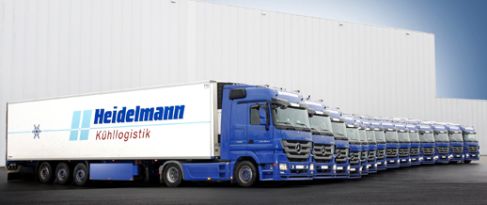 GEORGSMARIENHÜTTE, Germany, Feb. 10, 2015 — Spedition Heidelmann, a leading German refrigerated transporter, has selected Carrier Transicold's Vector 1950 unit with E-Drive™ all-electric technology for the distribution of sensitive pharmaceutical products that require a specific temperature range – even in winter. Carrier Transicold, which operates in Germany as Carrier Transicold Germany, helps improve global transport and shipping temperature-controlled cargoes with a complete line of equipment for refrigerated trucks, trailers and containers, and is a part of UTC Building & Industrial Systems, a unit of United Technologies Corp. (NYSE: UTX).

European distributors of pharmaceutical products are required to ensure that goods are transported within the required temperature range during the entire delivery cycle, as spelled out in the European Commission's guidelines for Good Distribution Practice (GDP; 2013/C 343/01). In the warmer months, it is easier to ensure that the required temperature range for pharmaceuticals – for instance 5 to 25 degrees Celsius – is maintained. During winter, when outside temperatures in northern Europe often drop below zero degrees Celsius, high-quality transport refrigeration equipment is needed to help maintain constant temperatures inside the trailer.

Carrier Transicold Germany supports transport companies in complying with GDP standards throughout the year by offering a suite of products, such as the Vector 1950 unit, and services that are suited to this task, including Vector 1950 MT and Vector 1550 units for trailers; Supra 1250, 1250 MT and Supra 850 and 850 MT systems for rigid trucks; and the Pulsor™ range in single and multi-temperature options for light commercial vehicles. These high-performance refrigeration units enable fleets to equip any commercial vehicle with proven systems for their specific application, from the smallest van to the largest trailer unit.
Spedition Heidelmann, based in Schwalmstedt, Germany, operates 15 trailers that are certified for pharmaceutical transport.

"We needed a reliable refrigeration unit to transport pharmaceuticals," said Christian Bischoff, head of quality management, Spedition Heidelmann. "We selected the Vector 1950 unit because of its ability to meet the high quality standards of our customers and the GDP requirements."

"The E-Drive all-electric technology found in our Vector 1550 and 1950 units for trailers and the Pulsor range for vans provides a powerful and constant heating capacity, up to 9,000 watts," said Andreas Wallmeyer, managing director, Carrier Transicold, Germany and Austria. "This, combined with the right solutions and services, ensures that temperature-sensitive pharmaceutical cargo stays within the required temperature set point, even with numerous door openings when ambient temperatures are below freezing. The multi-temperature (MT) units in the Vector and Supra ranges can provide heat to one chamber inside the trailer, while cooling the other. This gives transport companies extra flexibility."

In addition to high-quality refrigeration units, Carrier Transicold Germany provides access to cold chain visibility solutions and consultancy services that enable customers to track, monitor and protect the quality and integrity of temperature-sensitive products across complex supply chains. Carrier Transicold's extensive service network, with more than 600 service centres and 2,000 technicians across Europe, the Middle East and Africa, ensures that transport companies always get the help they need.
About Carrier Transicold
Carrier Transicold helps improve transport and shipping of temperature-controlled cargoes with a complete line of equipment and services for refrigerated transport and cold chain visibility. For more than 40 years, Carrier Transicold has been an industry leader, providing customers around the world with the most advanced, energy-efficient and environmentally sustainable container refrigeration systems and generator sets, direct-drive and diesel truck units, and trailer refrigeration systems. Carrier Transicold is a part of UTC Building & Industrial Systems, a unit of United Technologies Corp., a leading provider to the aerospace and building systems industries worldwide. For more information, visit www.transicold.carrier.com, or follow Carrier on Twitter: @CarrierGreen.