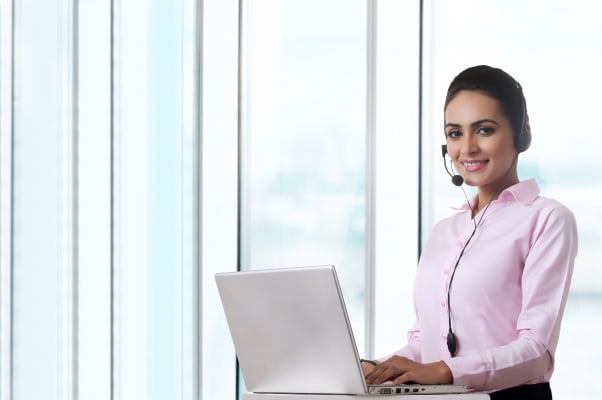 SERVICE FROM THE EXPERTS.
Get the HVAC service and support you need, exactly when you need it.
Whether you're an engineer, contractor, architect, manager or owner, you can count on Carrier's expertise and superior service offerings to help you get the most from your HVAC system from start-up through the entire lifecycle.
INSTALLATION & COMMISSIONING
Correct installation is a challenging job for most of the large air conditioning equipment and systems. It needs lot of expertise, good engineering practices and knowledge. Incorrect installation of chillers may lead to many unscheduled shut downs ,nuisance tripping or sometimes pre-mature failure which further increases downtime hence effects productivity. Once installed as defect does not necessarily mean that installation can be corrected always at a later stage.
Commissioning of chillers is always the job of an OEM engineer as it involves a lot of OEM knowledge and practical experience in the same field. Carrier controls is very sophisticated and designed to give our customers peace of mind and best controls to achieve more. Commissioning always involves expertise on installation coupled with electrical & mechanical knowledge of air-conditioning plus OEM controls technology. Carrier trained technicians and engineers know coding and decoding and verify correct configuration.
Carrier provides services to validate installation and support on successful startup & commissioning for all Carrier chillers. This ensures your investment is properly integrated to get you maximum performance.
MAINTENANCE & REPAIR
Preventive maintenance is an inherently sustainable activity. The importance of an effective maintenance program cannot be overlooked because it plays an important role in the effectiveness of productivity. Maintenance may be considered the heath care of equipment.
Carrier maintenance program gives you a flexibility to choose from variety of Carrier adopt contracts designed to meet your requirement based on application and history of maintenance.
Carrier has developed variety of apprehension services to ensure your investment is protected. It matters a lot to us to reduce downtime of your equipment by providing best services of industry designed to suit carrier equipment. Customer has the right to choose a suitable apprehension program to ensure equipment health and create peace of mind.
Repairing of carrier chillers is a typical carrier trained technician's job. Not everybody knows air conditioning and carrier controls. Carrier has developed a big dealer network to support customers. They follow carrier norms and conditions once you partner with carrier services.
RETROFIT & MODERNIZE
Retrofitting and modernizing is defined as the addition of new technology or features to older systems. Retrofit project replaces or adds equipment to existing HVAC plants to improve their energy efficiency and increase their output while taking care of ODP and GWP.
If your system is 10-15 years old or has become noticeably less energy efficient over the years, it's time to call Carrier. By modernizing existing HVAC systems, energy efficiency can be improved and hence reliability. Carrier keeps on generating new ideas to improve efficiency in the form of bulletin with the help of advanced technology being used within Carrier equipment.
HVAC Retrofit:
Central plant modernization
VFD installation on centrifugal chiller
Energy Retrofit:/strong>
Controls upgradation on old reciprocating, screw and centrifugal chillers.
Energy management
VFD /Motor controls
Benefits of Retrofitting and modernization
Savings on capital while benefiting from new technology
Optimization of existing plant
Adaptation of plant for new products
We leverage our in-depth knowledge and decades of experience to help companies optimize their plant performance. Carrier undertakes complete retrofitting and modernization of your equipment to enhance reliability and boost efficiency.
Call Center
The need for support can arise at any time. That's why the Carrier Service Call Center is available from 08:00 am to 08:00 pm everyday to answer your calls and help solve any problems you may have.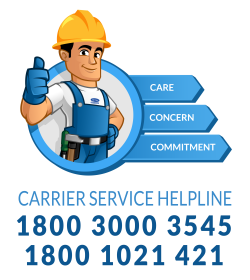 For assistance:
India: Please call 1800-300-3545/1800-1021-421 or email us at [email protected]
Totaline Network is a worldwide federation of nearly 700 stores that make up the world's largest heating, ventilating, air conditioning and refrigeration supplies organization. These stores are truly One-Stop-Shop for parts and supplies in our industry. In India, we have a national distribution with more than 200 Totaline associates.
Totaline provides factory-authorized and aftermarket HVACR (heating, ventilation, air conditioning and refrigeration) parts and supplies to dealers, contractors and technicians. We also deal in genuine parts of Carrier equipment manufactured worldwide. These parts are sourced directly from factory where the original equipment are manufactured.
Totaline branded HVACR parts are designed to fit and service any brand of air conditioning , heating ,and refrigeration equipment. In addition to Totaline parts, we are the only source of genuine authorized semi-hermetic Carlyle compressors.
At Totaline, you'll find parts, supplies, equipment and tools for residential and commercial applications. With access to over 120,000 parts, you're likely to find what you're looking for through Totaline associates near you.Our counter sales associates are among the best - trained in the industry and help in acting as solution providers for all your HVACR requirements.