Carrier Transicold's TripLINK Platform Adds Container Refrigeration Unit Health Analytics to Improve Asset Management
SINGAPORE -
With its latest TripLINK™ software release, Carrier Transicold has significantly expanded its telematics platform for remote monitoring and control of refrigerated containers, adding reefer machine health analytics based on in-house refrigeration expertise that offers operational benefits and savings for customers. TripLINK is part of Carrier's Healthy, Safe, Sustainable Cold Chain Program – designed to help customers meet rapidly evolving supply chain demands and make their cold chain activities more effective. Carrier Transicold is a part of Carrier Global Corporation (NYSE: CARR), a leading global provider of healthy, safe and sustainable building and cold chain solutions.
"Expanding on the TripLINK software build we released in July, our latest version offers customers machine analytics that can monitor the performance and health of a fleet's Carrier Transicold refrigeration systems," said Willy Yeo, director of marketing, Global Container Refrigeration, Carrier Transicold. "As the refrigeration system original equipment manufacturer (OEM), we are uniquely qualified to provide our customers with  the most comprehensive picture of their Carrier Transicold units' performance, which benefits fleets by providing unprecedented container management efficiencies and operational savings."
With the Reefer Health Assessment, a feature unique to Carrier Transicold, the TripLINK program holistically examines a wide range of system operating characteristics during transit, looking for patterns that may be out of range of normal operation. The TripLINK program then generates a report indicating that either the unit is suitable to be deployed on the next trip or, if the assessment finds an anomaly, provides additional information to describe the issue, its possible causes and what services may be required.
Other TripLINK platform enhancements include:
Carrier-exclusive TripWise™ expiration prediction – For container refrigeration units equipped with Carrier Transicold's TripWise diagnostic software, the TripLINK platform can now calculate the expiration date of TripWise status. This information will help fleet managers prioritize asset utilization based on time remaining before TripWise expiration, thus minimizing time and expense related to conducting a new off-line pre-trip inspection (PTI).
Cumulative unit run-hours – By providing cumulative refrigeration unit run-hours, the TripLINK platform helps fleet managers to optimize utilization and service cycles of their Carrier Transicold-refrigerated containers to better control maintenance and repair costs.
New over-the-air commands – In addition to setting temperature levels, users can now use the TripLINK platform to set oxygen and carbon dioxide(CO2) levels for their EverFRESH® and XtendFRESH™ controlled-atmosphere systems, as well as adjust setpoints and settings for their QUEST and economy power-saving modes.
A new "bread-crumb trail" – The fleet's TripLINK website now illustrates the route of a refrigeration unit's voyage based on GPS and time data uploaded when the TripLINK-equipped refrigeration unit is within range of cell service.
User experience enhancements   – Other enhancements include refinements to the online user interface for ease-of-use and greater customization. Improvements encompass the Login experience and the Dashboard, Reefer Status, Asset Details, Notifications and Asset Operations pages.
"The expanded TripLINK platform fulfils another stage of our program to provide shipping lines with better visibility and control of their assets in transit and help improve efficiency of their refrigerated container operations resulting in greater uptime and cost savings," Yeo said. "Our innovation does not stop here. We are looking into how the next iteration of TripLINK could be made more powerful with the addition of the Lynx™ digital platform, announced last week."
For more information about optimizing refrigerated fleet operations with the TripLINK data management platform, turn to the experts at Carrier Transicold or visit transicold.carrier.com.
About Carrier Transicold
Carrier Transicold helps improve transport and shipping of temperature-controlled cargoes with a complete line of equipment and services for refrigerated transport and cold chain visibility. For more than 50 years, Carrier Transicold has been an industry leader, providing customers around the world with advanced, energy-efficient and environmentally sustainable container refrigeration systems and generator sets, direct-drive and diesel truck units, and trailer refrigeration systems. Carrier Transicold is a part of Carrier Global Corporation, a leading global provider of healthy, safe and sustainable building and cold chain solutions. For more information, visit transicold.carrier.com. Follow Carrier on Twitter: @SmartColdChain or on LinkedIn at Carrier Transicold Container Refrigeration.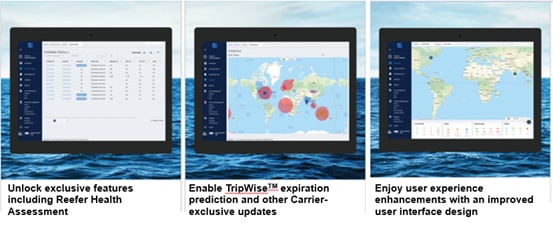 Carrier Transicold's TripLINK platform has been enhanced with features that can help fleets better manage their refrigerated assets for operational efficiency and cost savings.