Carrier Transicold Enhances TripLINK Remote Monitoring Platform, Providing More Actionable Intelligence for Refrigerated Containers
SINGAPORE -
Carrier Transicold's TripLINK™ data management platform for 24/7 remote monitoring and control of refrigerated containers has been enhanced with additional features providing greater functionality, more actionable intelligence and customizable fleet control addressing a shipping line's unique needs. Carrier Transicold is a part of Carrier Global Corporation (NYSE: CARR), a leading global provider of innovative heating, ventilating and air conditioning (HVAC), refrigeration, fire, security and building automation technologies.
Some highlights of the TripLINK platform enhancements include:
Custom Notifications based on user-created parameters to show unit status, alarms or location.
Geofencing combined with notifications for real-time insights as to when units enter or exit a port or specific location and also indicate unit dwell time.
Data Downloads enabling wireless downloads of trip information from refrigerated containers using Carrier Transicold's native DataLINE™ Connect (.dcx) format, which is the standard for reporting and verification purposes.
"The TripLINK platform gives our customers customizable, centralized and highly detailed visibility into their regionally or globally deployed Carrier Transicold equipment," said Willy Yeo, director of marketing, Global Container Refrigeration, Carrier Transicold. "The roll out of these enhancements following the TripLINK platform launch in November is part of our commitment to ongoing refinement and expansion of capabilities to meet and exceed customer expectations."
The TripLINK platform comprises hardware and software modules that enable customers to remotely track container refrigeration equipment location, performance and health, as well as cargo status, through an interactive digital dashboard, accessible via an internet-connected PC, smartphone or tablet. Telematics integration and a cloud-based architecture help ensure information is updated so users can make informed decisions about their fleet operations.
With the new notification capability, users can choose to receive immediate email updates in addition to alerts via the TripLINK platform website. Notifications can also signal alarm conditions or provide diagnostic alerts when a refrigeration unit is in transit.
When Carrier Transicold's optional TripWise™ remote diagnostic software is used, notifications about refrigeration system component operation can be intelligently generated, helping shipping lines plan needed equipment inspections or equipment tests when the unit arrives in port. Taking advantage of the new wireless data download feature, users can then collect information from individual containers to better understand an alarm event. Historical sensor readings, event logs, alarm summaries and much more can also be accessed.
"The fleet intelligence provided by the TripLINK platform – especially with its new notifications, geofencing and data download capabilities – gives shipping lines even greater visibility and control of their assets in transit, helping them improve customer service while maximizing efficiency of their refrigerated container operations," Yeo said.
For more information about optimizing refrigerated fleet operations with the TripLINK data management platform, turn to the experts at Carrier Transicold or visit transicold.carrier.com.
About Carrier Transicold
Carrier Transicold helps improve transport and shipping of temperature-controlled cargoes with a complete line of equipment and services for refrigerated transport and cold chain visibility. For more than 50 years, Carrier Transicold has been an industry leader, providing customers around the world with advanced, energy-efficient and environmentally sustainable container refrigeration systems and generator sets, direct-drive and diesel truck units, and trailer refrigeration systems. Carrier Transicold is a part of Carrier Global Corporation, a leading global provider of innovative HVAC, refrigeration, fire, security and building automation technologies. For more information, visit transicold.carrier.com. Follow Carrier on Twitter: @SmartColdChain or on LinkedIn at Carrier Transicold Container Refrigeration.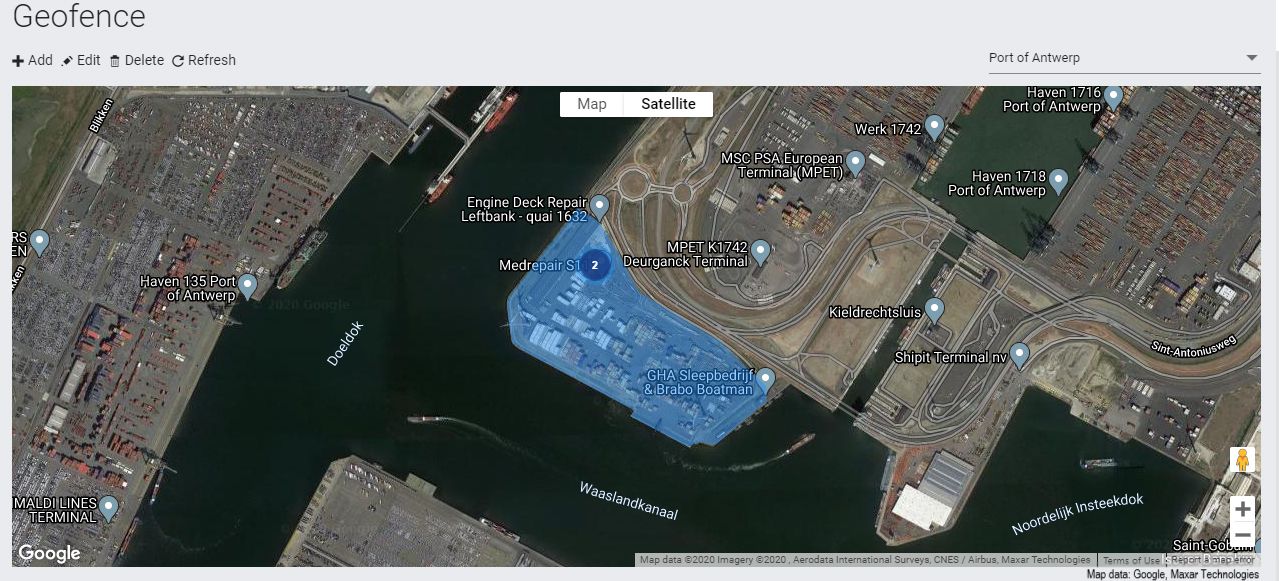 The new geofencing and notifications capability of Carrier Transicold's TripLINK data management platform can prompt an email notification as refrigerated containers move by land or sea, in and out of user-defined areas, such as a port.