Carrier Transicold Donates Food Storage Container Cooled by NaturaLINE Unit to Help Willing Hearts Charity Food Program
SINGAPORE -
To help meet increased demand for local food distribution in Singapore due to COVID-19, Carrier Transicold donated a 20-foot food storage container refrigerated by the company's NaturaLINE® unit to Willing Hearts, a charity that prepares and distributes meals to those in need. The NaturaLINE unit, which is the world's only natural refrigerant-based container refrigeration system, is built at Carrier Transicold's world-class manufacturing facility in Singapore. Carrier Transicold is a part of Carrier Global Corporation (NYSE: CARR), a leading global provider of healthy, safe and sustainable building and cold chain solutions.
"During these unprecedented times of the COVID-19 pandemic, such a gesture is especially appreciated because it significantly increases our refrigerated storage capacity, enabling us to accept more fresh food donations to help more people in need," said Teh Eng Hua, president of Willing Hearts. "The NaturaLINE unit's quiet operation, efficiency, known reliability and ability to store perishables in deep frozen mode are also beneficial."
Staffed primarily by volunteers, Willing Hearts prepares, cooks and distributes about 9,000 meals each day to more than 40 locations nation-wide. During the pandemic, the charity has seen generous donations of fresh food, although these acts of giving have challenged the limits of its existing refrigerated storage capacity. That constraint has now been eased as Carrier Transicold's gift effectively increases Willing Hearts' previous refrigerated storage capacity, putting it in a better position to support the food requirements of the local community during these challenging times and beyond.
"Our support of Willing Hearts comes naturally, as we are neighbors helping neighbors," said Kartik Kumar, vice president and general manager, Global Container Refrigeration, Carrier Transicold. "Just as our employees have volunteered for Willing Hearts with their time and service in the past, we take pride in deepening that engagement today by delivering this unit to help Willing Hearts further in fulfilling its important mission."
Refrigerated containers using the NaturaLINE unit are typically found aboard ships transporting perishable and frozen cargoes from one continent to another, but these units are increasingly used on land as stationary storage. Carrier Transicold designed the NaturaLINE unit to use the natural refrigerant carbon dioxide, which has a significantly lower global warming potential than conventional container refrigeration systems, setting a new standard in terms of environmental sustainability.
This donation supports Carrier's Healthy, Safe, Sustainable Cold Chain Program, which aims to preserve and protect the supply of food and reduce food spoilage globally.
About Carrier Transicold
Carrier Transicold helps improve transport and shipping of temperature-controlled cargoes with a complete line of equipment and services for refrigerated transport and cold chain visibility. For more than 50 years, Carrier Transicold has been an industry leader, providing customers around the world with advanced, energy-efficient and environmentally sustainable container refrigeration systems and generator sets, direct-drive and diesel truck units, and trailer refrigeration systems. Carrier Transicold is a part of Carrier Global Corporation, a leading global provider of innovative HVAC, refrigeration, fire, security and building automation technologies. For more information, visit transicold.carrier.com. Follow Carrier on Twitter: @SmartColdChain or on LinkedIn at Carrier Transicold Container Refrigeration.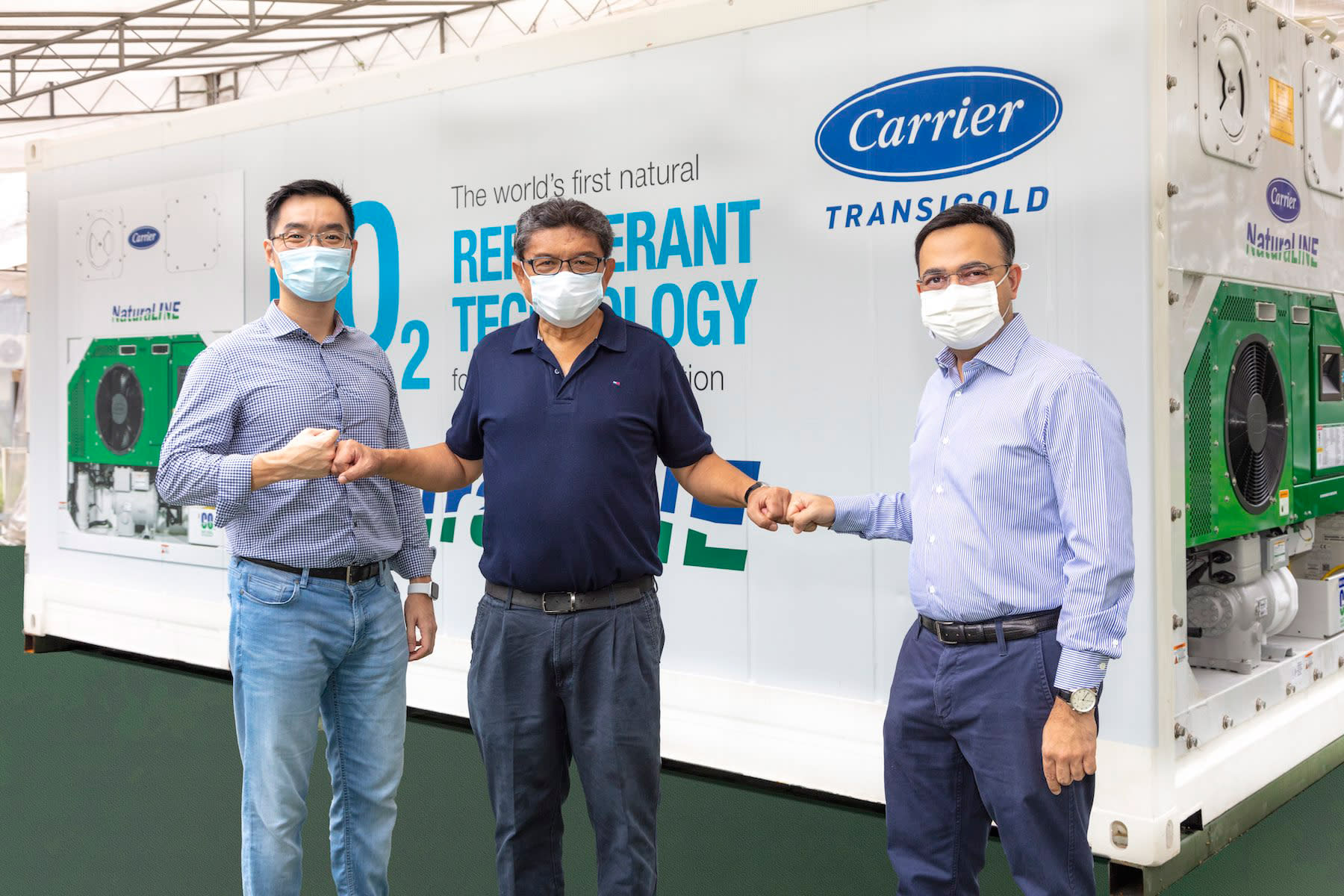 This new 20-foot container refrigerated by a NaturaLINE® unit from Carrier Transicold will help Willing Hearts, a soup kitchen in Singapore, to receive a greater quantity of wholesome perishable food contributions to serve more people in need. Shown are (left to right), Willy Yeo, director of marketing, Global Container Refrigeration, Carrier Transicold, The Eng Hua, president of Willing Hearts, and Kartik Kumar, vice president and general manager, Global Container Refrigeration, Carrier Transicold.