A&M Cold Storage Rallies to Help Global COVID-19 Vaccine Distribution Efforts via Carrier Pods Unit Availability and Expanded Lynx Capabilities
PALM BEACH GARDENS, Fla. -
A&M Cold Storage recently responded to Carrier's call to support global COVID-19 vaccine distribution efforts by making immediately available 90 Carrier Pods™ monitored by Sensitech® for deployment to help address the anticipated increase in demand for refrigerated storage capacity. Carrier and Sensitech are part of Carrier Global Corporation (NYSE: CARR), a leading global provider of healthy, safe and sustainable building and cold chain solutions.
"We are happy to support this important mission, as we believe that tackling the pandemic is an essential imperative which requires all aspects of the cold chain to come together to ensure the safe storage and movement of COVID-19 vaccines," said Jeff Quellhorst, director of sales, A&M Cold Storage. "These Carrier Pods not only help ensure end-to-end cold chain visibility and integrity but are also uniquely suited to cater to the rigorous on-ground requirements of vaccine distribution."
Each of these 90 Carrier Pods is fitted with Carrier's TripLINK™ data management platform, which provides 24/7 remote and secure monitoring of the health of the refrigerated container and cargo, with an integration with the Lynx™ digital platform. These units have been adapted for optimal use in the field with flat flooring, interior lights and doors with safety releases and easy access that do not downgrade the insulation or cooling capabilities of the container, helping to ensure the shelf life of the temperature-sensitive COVID-19 vaccines.
"A&M Cold Storage has risen to the occasion by making 90 Carrier Pod units immediately available which could be highly beneficial to pharmaceutical companies, distribution centers and vaccine administrators," said Christopher Kranick, associate sales director, The Americas, Global Container Refrigeration, Carrier.
With Carrier Pods monitored by Sensitech, container refrigeration units can deliver temperature control within +/- 0.25 degrees Celsius and temperatures down to -40 degrees Celsius, while their monitoring devices can track temperatures down to dry ice conditions of -95 degrees Celsius. Their mobility allows for easy relocation to address shifting capacity demands or temporary vaccine administration locations.
Carrier Pods monitored by Sensitech are one of the solutions offered through Carrier's Healthy, Safe, Sustainable Cold Chain Program to preserve and protect the supply of food, medicine and vaccines. Learn more at corporate.carrier.com/healthycoldchain or visit www.carrier.com/mobilestorage.
For more information about A&M Cold Storage, visit www.amcstorage.com.
About Carrier
As the leading global provider of healthy, safe and sustainable building and cold chain solutions, Carrier Global Corporation is committed to making the world safer, more sustainable and comfortable for generations to come. From the beginning, we've led in inventing new technologies and entirely new industries. Today, we continue to lead because we have a world-class, diverse workforce that puts the customer at the center of everything we do. For more information, visit corporate.carrier.com or follow Carrier on social media at @Carrier.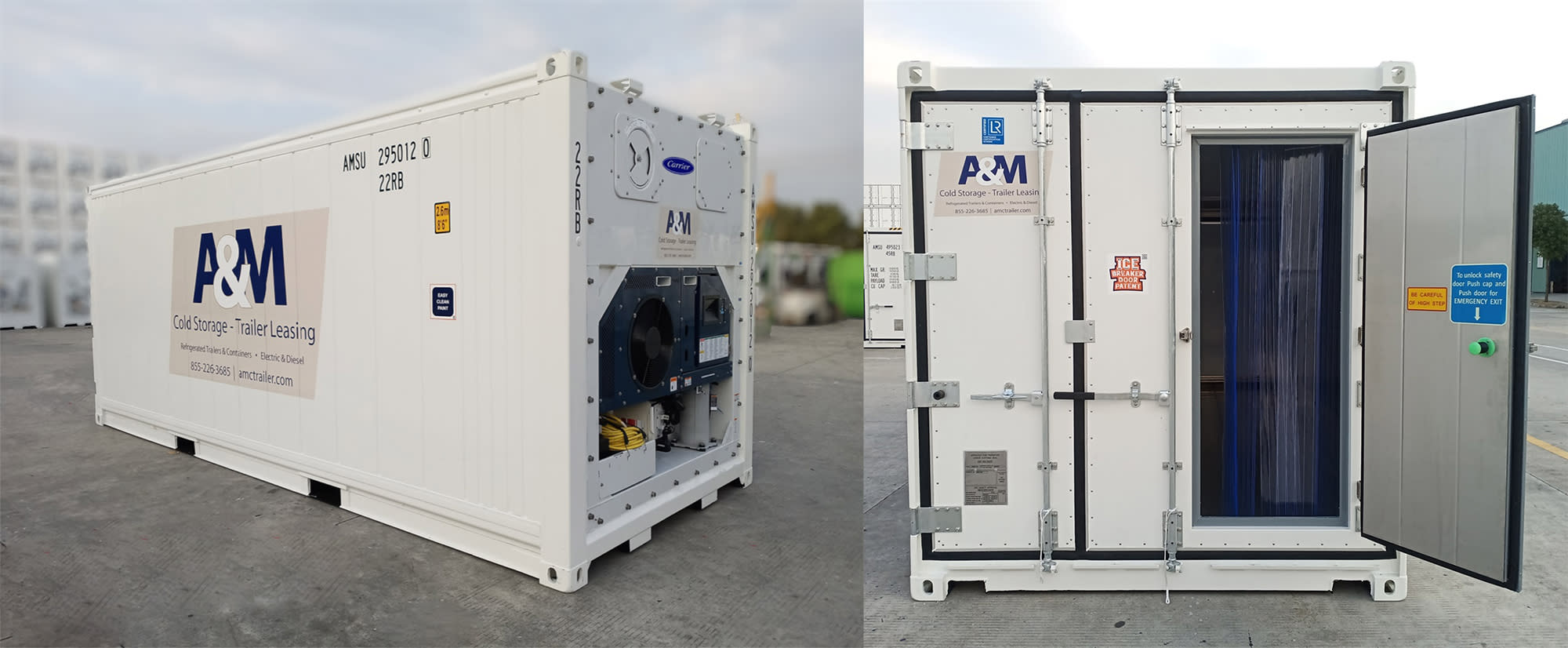 A&M Cold Storage immediately making available 90 Carrier Pod units for deployment, with special retrofits uniquely suited for the rigorous on-ground environment of vaccine distribution.