Find out about Carrier innovative solutions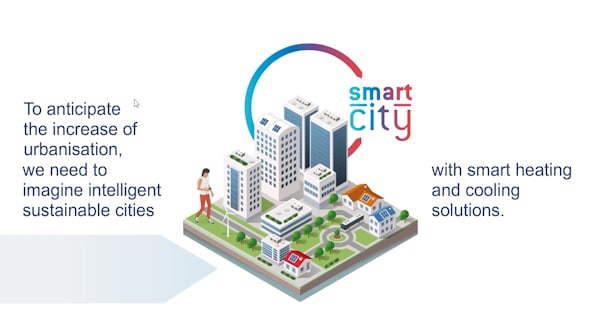 AquaForce® PUREtec™, at the Heart of a Smart City
The AquaForce PUREtec 61XWHZE range is a new generation of high-temperature heat pumps using lower global warming potential (GWP) HFO R-1234ze refrigerant and delivering hot water up to 85 degrees Celsius.
The AquaForce 61XWHZE heat pumps can value both natural and wasted heat sources to offer sustainable energy solutions for multiple heating applications. By using renewable energy sources from air, water and ground, AquaForce 61XWHZE heat pumps offer smart cities a more sustainable energy supply solution.

Carrier meeting the challenge of efficiency and climate change with PUREtec™ range
Four years after the first installation of a water-cooled screw chiller based on HFO refrigerant in Europe, Carrier's AquaForce chiller units with PUREtec refrigerant have been installed in more than 500 projects throughout the region, in multiple applications such as industrial, data centers, district heating, and healthcare. Building on its success, the range of products using PUREtec refrigerant has grown from the Carrier AquaForce PUREtec 61XWHZE range of high temperature heat pumps, to the AquaEdge 19DV centrifugal chillers, and now the AquaForce Vision PUREtec 30KAVP-ZE premium variable-speed air-cooled screw chiller and the AquaForce 30XBP-ZE fixed-speed air-cooled screw liquid chiller.