Carrier Introduces Higher Capacity Ultra-low GWP HFO Screw Chillers up to 1.3MW
MONTLUEL, France -
Carrier has expanded its flagship AquaForce® Vision 30KAV liquid chiller range with hydrofluoroolefin (HFO) refrigerant R-1234ze with the addition of five new higher-capacity models, enabling customers to meet the requirements of applications up to 1,300kW without the need to double-up units, saving money, space and improving installation speed. Carrier is part of Carrier Global Corporation (NYSE: CARR), the leading global provider of healthy, safe, sustainable and intelligent building and cold chain solutions.
There are five new Carrier AquaForce® Vision 30KAV liquid chiller sizes, covering 900kW, 1000kW, 1100kW, 1200kW and 1300kW cooling capacities. The AquaForce® Vision chillers are based on variable-speed screw compressors designed to deliver outstanding energy efficiency and environmental performance, plus quick and easy installation and servicing.
The innovative, award-winning AquaForce® Vision 30KAV supports Carrier's 2030 Environmental, Social & Governance (ESG) Goals of reducing customers' carbon footprint by more than 1 gigaton.
All chillers in the range are designed to exceed European Ecodesign requirements for efficiency and operating sound levels. The top efficiency version (option 119+) has a Seasonal Energy Efficiency Ratio (SEER) of up to 5.55 for comfort cooling applications, and a Seasonal Energy Performance Ratio (SEPR) of up to 6.95 for high- temperature process cooling duties.
Use of ultra-low global warming potential (GWP) refrigerant R-1234ze with a reduced charge ensures low direct carbon-equivalent emissions, while close matching of compressor speed to cooling load and optimisation of chiller performance reduce energy use and help minimise indirect emissions.
The entire AquaForce® Vision 30KAV capacity range is available with a wide range of options, including a very low-noise version, electronically commutated (ECM) fans, and partial and total heat recovery heat exchangers.
For more details, visit the product page.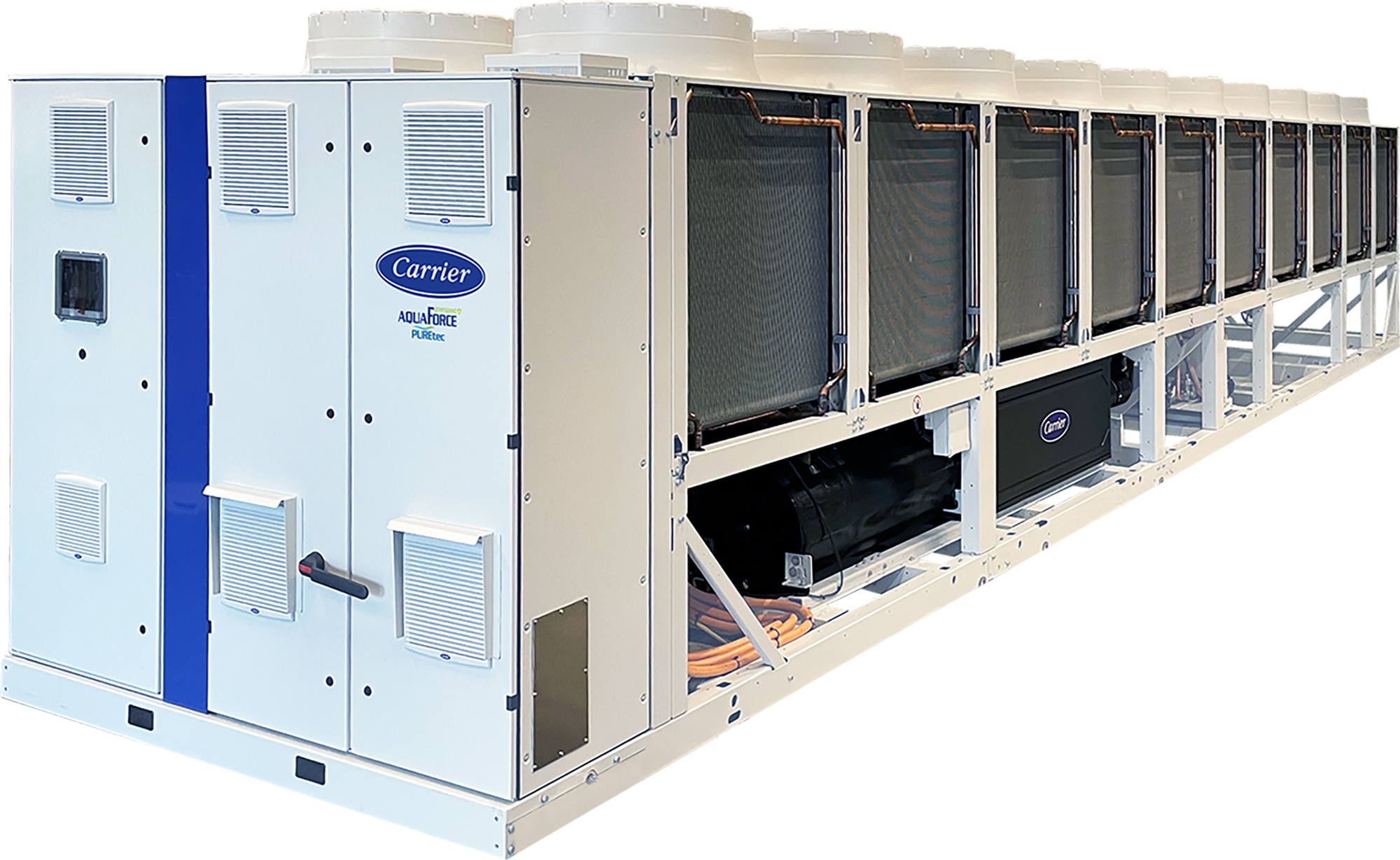 Five new AquaForce® 30KAV chiller sizes cover 900kW, 1000kW, 1100kW, 1200kW and 1300kW capacities. Pictured is the largest model in the range, 1300kW.