Carrier Commercial Refrigeration Unveils a Cool Future at EuroShop 2020
RUEIL-MALMAISON, France -
Stand 2A/2B, Hall 16, EuroShop, Düsseldorf, Germany, 16 - 20 February 2020
Carrier Commercial Refrigeration will showcase its vision for a cool future at EuroShop 2020, the world's largest trade fair for food retail investors. Carrier's city park themed stand, located in Hall 16, will feature sustainable and innovation-driven technology for commercial and warehouse refrigeration applications. The stand is comprised of a series of "cool spots" including a live in-store experience, retail innovations, pioneering warehouse applications and places to quietly meet. It will also allow visitors to take a virtual trip to ski at Norway's first, year-round indoor ski arena, SNØ, which uses a Carrier PowerCO2OL refrigeration system. Carrier Commercial Refrigeration is a part of Carrier, a leading global provider of innovative heating, ventilating and air conditioning (HVAC), refrigeration, fire, security and building automation technologies.
"EuroShop 2020 is the ideal place to demonstrate how our latest high-performance, versatile refrigeration equipment can boost sales for customers," said Victor Calvo, president, Carrier Commercial Refrigeration. "We offer a range of products that can help optimize product displays and create new sales opportunities and environments, all while reducing energy consumption and environmental footprint."
The Market Cool spot, Carrier's Convenience Store
This eco-designed, "up and running" convenience store showcases highly sought-after benefits for small-format spaces: Harmonized design with fully integrated refrigeration cabinets, flexible layout (serve-over, self-service, eating areas) and reduced floor space.  To reflect the latest trends, the convenience store will feature customized cabinet designs to streamline its "organic look" and an in–store restaurant for hungry visitors.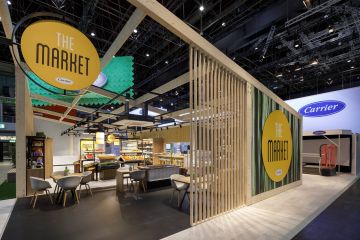 The Supermarket Cool spot
The stand's supermarket area highlights innovations in four dedicated sections:
Fresh: Addressing energy efficiency, product performance and modularity through cutting-edge product offerings. Upgrades, enhancements and innovations include additional lighting, transparency and/or optimized product accessibility, maximized merchandising and many more solutions, all of which offer improved energy efficiency and fresh benefits.
Frozen: Featuring a brand new freezer island offering with advanced product visibility and enhanced accessibility.
Gourmet: Providing a large selection of counters in different styles, colors and shapes, offering retailers the possibility to individualize the store identity and style throughout the market.
Systems: Revealing an innovative, energy-efficient machine room created specifically for supermarkets, Carrier will demonstrate new-dimension, high-performance mechanical systems for retail, regardless of application size or climate, featuring carbon dioxide (CO2) a natural refrigerant.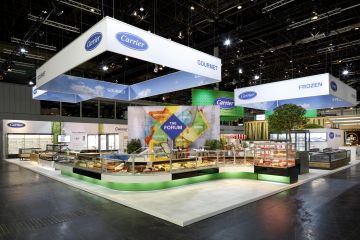 Warehouse Applications Cool spot
Energy efficient and powerful, the advanced CO2 refrigeration system also serves a variety of industrial applications. This space will feature its flagship warehouse PowerCO2OL system for large applications such as medium-to-large warehouses, distribution centers and food processing sites.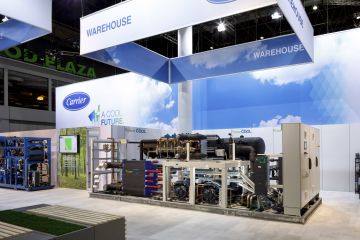 The Service Section Cool spot
Carrier offers the broadest level of service in Europe in commercial refrigeration, encompassing cabinets and refrigeration systems, from installation, to coverage (more than 700 top-trained technicians in 24 countries), 24/7 availability, onsite and remote management, training and energy management. Remote teams monitor a network of over 8,000 connected stores via high-end digital solutions, ensuring optimal food safety and optimized store operations around the clock.
For more information on Carrier's participation at EuroShop 2020, and the full range of products and services available, visit www.carrier-refrigeration.com.
About Carrier
Founded by the inventor of modern air conditioning, Carrier is the world's leader in high-technology heating, air-conditioning and refrigeration solutions. Carrier experts provide sustainable solutions, integrating energy-efficient products, building controls and energy services for residential, commercial, retail, transport and food service customers. Carrier Commercial Refrigeration is a part of Carrier, a leading global provider of innovative HVAC, refrigeration, fire, security and building automation technologies. For more information, visit www.carrier.com or follow @SmartColdChain on Twitter.