A key link in the chain of life
Respect for the cold chain is crucial to ensure goods are delivered in optimal condition to customers. It requires expertise that only a specialist can provide. Carrier Transicold is dedicated to maintaining your cold chain and maximizing cost efficiency, while limiting environmental impact.
Developing innovative cold chain solutions is ingrained in the culture of Carrier Transicold, where respect for the cold chain is crucial to ensure perishable, fresh and frozen goods are delivered in optimum condition to customers.
E-DRIVE™ Experienced Technology Since 1999
The E-DRIVE all-electric technology removes mechanical transmissions found in belt-driven technology by transforming engine power into electricity.
This unique and patented solution delivers superior cold chain performance while reducing CO2 footprint and total cost of ownership :
Up to 99,4% uptime
+/- 0,8°C cold chain accuracy
Reduced carbon footprint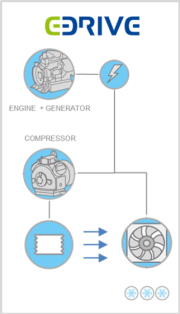 Save Fuel and Weight with ECO-DRIVE
The ECO-DRIVE is a power module, which is fitted to the side of the truck's chassis. 400 volt / 50 Hz is delivered and constantly available. This pump is connected to the truck engine via a PTO (power take off). The hydraulic system drives a generator located inside the power module delivering a constant 400 volt / 50 Hz.
A control is integrated within the hydraulic system, called X-Flow. This innovative system operates independent of the truck's engine speed and ensures 100 % capacity is always available. The system communicates with the CAN bus of the truck.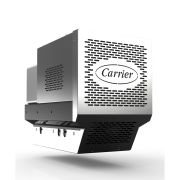 Learn more
Before Loading
Clean the Equipment
Especially the inner side: walls, roof and floor
Pre-Cool The Body
Heat ingresses the trailer body through products, open doors and trailer floor, sides and roof.
When not in use try to park in the shade.
Check the Condition of Strip Curtains
To limit the flow of cold air to the outside, they have to be:

not too old
with a proper length down to the floor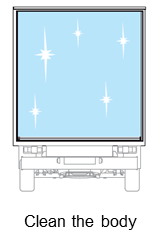 During Loading
Respect Correct Temperature
Product should always be loaded at the correct temperature and from a refrigerated loading bay.
Respect Airflow
Do not obstruct the evaporator with the loaded goods. Make sure that air circulation is not impeded.
Beware of orientation of pallets that should allow airflow to the rear of the body, through and under the load.
Do not load up to the ceiling that will cause short cycling.
Separate Goods
Do not mix refrigerated and dry goods in the same compartment.
The second compartment cannot be cooled by a fan from the first compartment for hygiene reason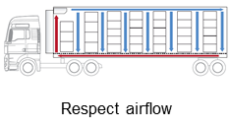 After Loading
Shut Down Unit when Opening Doors
Cold air is heavier than hot air. Opening doors with no curtains leads warmer air to replace cooler air.
Operating unit when doors are opened may result in frost and increase energy consumption
The Right Setting for Transport Temperature
During loading, check the internal temperature of the goods to be transported.
The below information is an extract from ATP Handbook 2011. It is given for reference purposes only, and may be overridden on the transporter or the consignee's advice. More detailed information may be obtained from your Carrier Transicold distributor.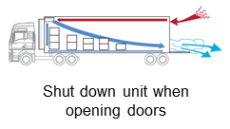 Frozen Foodstuffs
| | |
| --- | --- |
| -20°C | Ice and ice cream |
| -18°C | Frozen or quick (deep)-frozen fish, fish products, molluscs and crustaceans and all other quick (deep)-frozen foodstuffs |
| -12°C | All frozen foodstuff (except butter) |
| -10°C | Butter |
Chilled Foodstuffs
On melting ice or at temperature of melting ice

Untreated fish, molluscs and crustaceans (except for live fish, live molluscs and live crustaceans)

Either at +2°C or at temperature indicated on the label and/or on the transport document

Minced meat (and any preparations thereof)

+3°C

Red offal (and any preparations thereof)

+4°C

Game (other than large game), poultry (and any preparations thereof) and rabbits

Either at +6°C or at temperature indicated on the label and/or on the transport documents

Meat products (except for fully treated by salting, smoking, drying, or sterilization)

+6°C

Pasteurized milk, fresh dairy products (yoghurt, kefir, cream and fresh cheese*)

Ready cooked foodstuffs (meat, fish, vegetables)

Ready to eat prepared raw vegetables (which have been diced, sliced or otherwise size reducted, but excluding those which have only been washed, peeled or simply cut in half) and vegetables products

Fishs products (except for product fully trated by salting, smoking, drying, or sterilization) not listed above

Raw milk (when milk is collected from the farm for immediate processing, the temperature may rise during carriage to +10°C)

+7°C

Red meat (and any preparations thereof) and large game (other than red offal)
Keeping your cold chain cost effective is a major challenge. While on the road, it's important to minimize energy consumption while maintaining performance.
Prepare Transportation
Make sure boxes are undamaged to avoid cool air to seep out quickly and have the motor run more frequently.
Use partition walls to cool loads individually and enable return packaging to be kept aside.
Make the Best Usage of your Refrigeration Unit
Use the built-in standby to reduce energy consumption when parked, or during loading and unloading.
Use the control system to select the setting adapted to the load transported.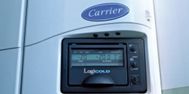 Maintain the Unit
Perform preventive maintenance before entering busy periods and intensive usage to ensure your equipment is ready.
Regularly maintain your refrigeration unit following the number of running hours to avoid breakdown and allow for adjustments.
Carrier Transicold offers a wide range of solutions to preserve freshness, ensure safety during transport and enhance the overall appearance and quality of food and beverage retail.
Carrier Transicold is your Cold Chain Partner throughout the Cold Chain
Keeping Bananas Refrigerated
ATP Regulation
(Extract of A.T.P. Europe regulations March 1974)
ATP ensure the minimum equipment specification for international transport
Ensure the quality of perishable goods during their transportation
Are revised each year by a United Nations working group
Approval Of Vehicles Destined For The Carriage Of Perishable Goods:
Before putting a refrigerated vehicle into use, it must be approved by the regional health authorities.
Characteristics Of Vehicles Used For Carrying Perishable Goods:
The refrigerated unit is an insulated unit with a cooling system which makes it possible, at a mean outside temperature of +30°C, to lower the temperature inside the empty body and to maintain this low temperature as follows:
Class A: Refrigerated unit equipped with a cooling system allowing the selection of temperatures between +12°C and 0°C inclusive.
Class B: Refrigerated unit equipped with a cooling system allowing the selection of temperatures between +12°C and -10°C inclusive.
Class C: Refrigerated unit equipped with a cooling system allowing the selection of temperatures between +12°C and -20°C inclusive.
The cooling capacity of a unit is determined by a test carried out in one of the registered testing centers and certified by an official report.
Test results are valid for 6 years.
Signs, Identification
This reference must be followed by the appropriate identification marks from the following list:
| | |
| --- | --- |
| Standard Class A refrigerated unit | FNA |
| Reinforced Class A refrigerated unit | FRA |
| Reinforced Class B refrigerated unit | FRB |
| Reinforced Class C refrigerated unit | FRC |
In addition to the above identification marks, the date (month and year) of expiry of the approval certificate must be indicated.
| | |
| --- | --- |
| Example: | MODEL FRC |
|   | 6 - 2010 (6 = June, 2010 = year) |
Important:
Check the expiry date of the approval certificate regularly. This certificate, or equivalent temporary approval documents, must be supplied when requested by qualified persons.
In the case of transformation of an insulated vehicle for refrigerated operation, a request for modification of the approval certificate must be addressed to the regional health authorities.
Note:
There are other rules and regulations applicable to the transport of temperature sensitive cargo (ARI for the USA – JIS for Japan). For further information on these regulations, please contact our technical departments.
Regulation About Noise Emissions
DIN 8958
Measure the Noise level with 5 microphones to find a Sound Pressure value.
Calculate a value similar to human ear perception in dB
The " Sound Pressure" is subjective because it depends on distance (7m; 1,2m), environment, temperature, wind…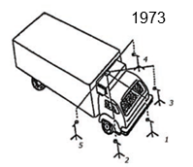 CE 2000-14 (NFR10-304)
Close the source in a virtual hemisphere created by 6 microphones
Calculate the Sound power provided by the source of sound
Whatever the external conditions and distance of receiving are, the "Sound Power" is always the same.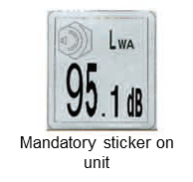 TNO-Piek
This is not a regulation, but a label from the Netherlands for night time urban distribution