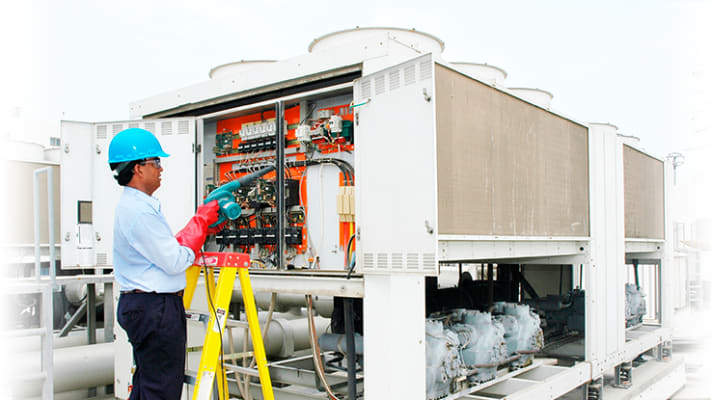 Service from the experts.
Get the HVAC service and support you need, exactly when you need it.
Whether you're an engineer, contractor, architect, manager or owner, you can count on Carrier's expertise and superior service offerings to help you get the most from your HVAC system from start-up through the entire life-cycle.
Maintenance & Repair
Certified Technicians
Our technicians are certified as Carrier Specialists or Masters - each trained on our products, customer service and thoroughly tested to our standards. Carrier's Tech360 Certification Program is the most progressive learning program in the industry.
Customer Service
When you partner with us, you'll work with recognized HVAC professionals – all with a clear focus on the importance of every aspect of your investment. Your decision to select Carrier was an important one… as is our relationship with you. We take both very seriously.
Safety Focus
Environmental Health and Safety (EH&S) is rooted in our culture. We support a multifaceted EH&S management system which ensures a focused approach to safety every day. On all levels, we adhere to the most stringent safety standards, which translates to safety on your job site.
Even the best maintained equipment can encounter an unexpected failure. As Carrier's own servicing entity, we have access to the latest engineering advancements and the most advanced technical servicing tools. Our expansive OEM service network has strategically-located offices in the United States and Canada. Translation: we'll be there whenever you need us… 24/7/365. Centralized service dispatch and technician tracking ensures immediate response to unplanned service events. Our service expertise extends well beyond our in-depth knowledge of Carrier equipment. We have decades of experience servicing all major HVAC brands of equipment. Simply put – we bring an unmatched level of technical confidence to each and every repair situation.
Benefits
How can Carrier's Repair and Emergency Services provide value to you? It provides:
24/7/365 support - You can always reach Carrier - round-the-clock access translates into uninterrupted service at your facility
Rapid response means faster response and minimal downtime
Carrier's certified technician expertise translates to quick and accurate resolution of emergency repairs
Expert advice from the industry leading OEM service company
Application
Carrier and all major brands of water-cooled and air cooled chillers
Packaged unitary equipment
Air handling units, split-systems
Cooling towers, pumps, boilers
Control Systems
Contracts
Ensuring your equipment's peak performance and longevity dictates a commitment to preventive, predictive and proactive maintenance programs. Safeguarding your equipment by choosing Carrier brings the security of having forged a true partnership with the HVAC industry's foremost servicing and technology leader. At Carrier, we partner with building owners and managers to keep your system running at its best, with customized service plans designed to meet all your specific equipment and operational needs year-round. We service all brands and types of HVAC units.
Service Agreements & Preventive Maintenance
Custom agreements provide optimal efficiency and reliability, plus peace of mind. We offer a clear approach to service: a customized plan that is tailored to your facility, the particular equipment you own, and your performance and financial goals.
Predictive Maintenance
If equipment fails unexpectedly, you face downtime and, potentially, inconvenienced occupants. With predictive maintenance, you'll know about potential problems before breakdowns occur. That brings you the luxury to schedule repairs before they become more costly — and at times when they won't inconvenience you or your building's occupants. Using today's best testing tools and technologies, we can discover or rule out hidden building system problems. As a result, we can help you:
Find, identify, and correct minor problems inexpensively, before they lead to more complex and expensive repairs
Avoid needless downtime and inconvenience or discomfort to occupants
Ensure continued production when equipment is used in process application
Control energy costs
Prolong equipment life, deferring replacement expense
How can Carrier's preventive and predictive maintenance services provide value to you?
It can:
Simplify short and long-term budgeting with planned maintenance
Reduce risk of unexpected equipment downtime with proactive service
Find, identify, and correct minor problems inexpensively, before they lead to more complex and expensive repairs
Prolong equipment life, deferring replacement expense
Ensure peak efficiency resulting in lowest cost operation
Application
Carrier and all major brands of water-cooled and air cooled chillers
Packaged unitary equipment
Air handling units, split-systems
Cooling towers, pumps, boilers
Control systems
Refurbish & Replace
We help provide you with a peace of mind by providing timely maintenance and avoid unnecessary downtown on HVAC equipment. By scheduling comprehensive inspections and overhauls during planned down times, we help to keep your equipment running in optimum condition and maximize their useful lives. Our service experts begin with a total performance evaluation taking consideration of the age of the equipment, actual operational hours, and conditions of operation. A customized overhaul schedule is designed for HVAC equipment and operation.
Carrier Service also offer the option of replacing your equipment if refurbishment is not a viable option. Please discuss this with your Carrier service representative.
Benefits
How can Carrier's Equipment Overhaul Service provide value to you? It can:
Extend equipment life with comprehensive overhaul
Minimize unexpected failures and discover hidden problems
Ensure optimum equipment operation and efficiency
Superior long-term equipment planning and longevity
Application
For all large Carrier and non-Carrier HVAC equipment
Carrier commercial equipment represents today's most advanced technology. To ensure that you receive the full benefit from this leading edge design, proper start-up, following a rigorous, factory-defined set of procedures is essential. Correct start-up is the key to optimum performance, safety and reliability, not just during the first days or weeks of operation, but for years to come.
After this strong start, your Carrier system is protected by a powerful new-equipment warranty, a warranty that reflects our confidence in the performance, reliability and durability that Carrier builds into every machine. This superior coverage does not have to end when your new-equipment warranty expires. With a Carrier optional Extended Warranty, you can continue to provide your HVAC system with this exceptional level of protection — easily and economically for years to come. Carrier Start-Up and Extended Warranty Services deliver precisely the continuous protection that your facility needs. Take advantage of these powerful management tools and experience the peace of mind that can make managing your facility easier.
How can Carrier's start-up and extended warranty protection provide value to you?
It can:
Reduce risk of unexpected equipment downtime with proper equipment start-up
Simplify short and long-term budgeting with planned extended warranty
Asset protection to ensure long equipment life
Carrier's start-up and extended warranty protection service applies to:
Carrier water-cooled and air-cooled chillers
Submit Warranty Claim