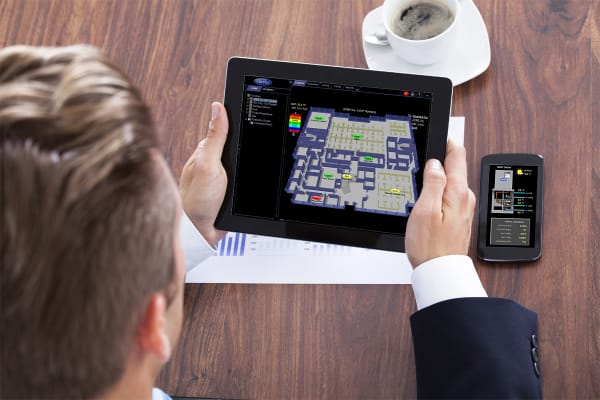 We give you the tools. You take control.
With controls ranging from thermostats and zoning systems to powerful, web-based software products, Carrier places the power to keep your system operating at peak performance at your fingertips. We're experts in helping you balance the growing need for efficiency with the consistent demand for comfort.
Carrier partners with Automated Logic Corporation for Integrated Building Automation Solutions. Automated Logic provides the comprehensive Building Automation System BACnet®, which includes HVAC controls, lighting controls, utility pumps controls, water level management systems, boiler controls, ventilation controls and electrical parameter monitoring. It also interfaces with various third party systems like Fire Alarm System, Generator, Central Battery System, UPS and any other open protocol based systems.
About Automated Logic Corporation
Automated Logic is a part of UTC Climate, Controls & Security, a unit of United Technologies Corp. Automated Logic Corporation provides innovative building-management solutions that maximize energy efficiency and sustainable building operation while ensuring comfort. Automated Logic is your total energy solutions provider.
For more than 30 years, they have been dedicated to designing easy-to-use building automation systems that provide the highest possible energy efficiency, while ensuring occupant comfort.
Through their global team of company branches and independently owned dealers, they offer industry-leading technology with local, on-the ground service that is hard to beat.
Technology that Supports the Buildings of Today and Tomorrow
For more than three decades, Automated Logic has provided long lasting, energy-efficient technology that simplifies building automation.
A few of our technology solutions include:
Automated Logic's Energy Reports™ and Environmental Index™ that, when combined, offer a complete view of energy consumption and occupant comfort level – while matching sustainable building performance metrics like LEED®;
WebCTRL®, our Web-based building automation system that helps control and monitor energy usage over time;
Powerful and Intuitive Front End for Building Control
Automated Logic's WebCTRL is a premier building automation system, offering an intuitive user interface and powerful control features. The potential of WebCTRL is universal – literally. It enables you to access your Building Automation System from anywhere in the world through a number of devices – including desktop computers, laptop computers and tablets and cell phones – equipped with Google™ Chrome™, Internet Explorer® v8 or later, Mozilla® Firefox® v21.0 or later, Safari® (Mac Only) v6. And with no need for add-on software.
I/O Hardware, which has been consistently recognized for its superior performance, design and reliability; Connect, which advanced the deployment of third-party subsystem integration;
ALERT, which broke through conventional boundaries in the delivery of information management technology;
SuperVision®, which set new standards in Graphical User Interface (GUI) controls; and
EIKON®-LogicBuilder, a uniquely powerful, universal programming tool that revolutionized the DDC industry.
As a founding member of the BACnet® Manufacturers Association, Automated Logic also was one of the first companies to offer products using our industry's standard protocol – BACnet.
For more details - http://www.automatedlogic.com/
WebCTRL®, Energy Reports™, Environmental Index™, EIKON® and SuperVision® are trademarks and registered trademarks of Automated Logic Corporation.
BACnet® a registered trademark of American Society of Heating, Refrigerating and Air-Conditioning Engineers (ASHRAE).
LEED® is a trademark owned by the U.S. Green Building Council and is used with permission.
Chrome™ is a trademark of Google Inc.
Internet Explorer® is a registered trademark of Microsoft Corporation
Firefox® is a registered trademark of Mozilla
Safari® is a registered trademark of Apple Inc.
Be it air-cooled or water-cooled chillers, the state-of-the-art CPM solution can control your entire chiller plant. The CPM controls air-cooled chillers, centrifugal chillers, pumps, cooling towers and energy metering.
All of the connected equipment parameters is accessed through a web-based system, and extended to authorized users through the LAN network.
As part of CPM we can offer other control peripherals required to operate the system:
Motorized butterfly valves
Water flow meter

Electromagnetic
Turbine type

BACnet® based BTU meter
Modulating bypass valve
BACnet® a registered trademark of American Society of Heating, Refrigerating and Air-Conditioning Engineers (ASHRAE).
Existing Carrier Building Management System (BMS) installations can be upgraded with a Carrier i-Vu® System or with a hybrid system composed of Carrier and Automated Logic solutions.
Existing non-Carrier BMS installations can be replaced to improve comfort and energy management. A system audit can find mechanical issues related to HVAC and other equipment and superior solutions can be provided to overcome deficiencies.
Unique Solutions
Unit installed starters, drives and controls:
As a manufacturer of air-conditioning equipment we offer unit installed controls and starters.
All the customer must do is provide the incoming power feed to the air handling unit (AHU); Carrier will provide all electro-mechanical coordination related to the AHU prior to delivery.
For air handling units we can provide unit mounted starters, variable frequency drives (VFD) and direct digital controls (DDC).
We provide optional installation of filter differential pressure (DP) switch, fan DP switch and temperature sensors.
We can offer controls maintenance service for the completed building with Carrier Building Automation system or Chiller Plant Manager.
We can provide preventive maintenance visits and emergency visits during maintenance contract.
Energy monitoring can be included with our controls system. The Building Management System (BMS) can record and provide monitoring / reporting of energy consumption.
Metering can be provided for:
Chiller water
Electrical Energy
Gas
Utility water
Oil
The above can be recorded with respect to time for analysis or billing.