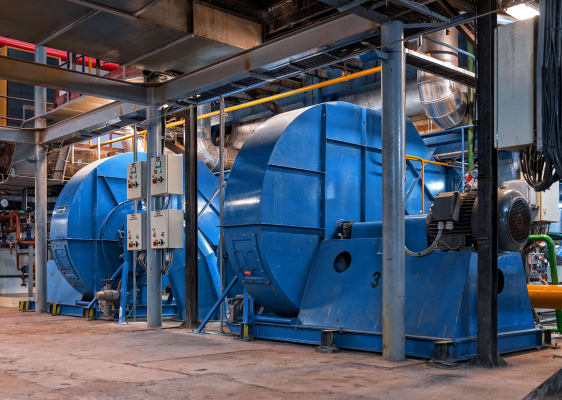 Unique capability, composite solution
Carrier offers composite solutions for commercial buildings with innovative product offerings alongside our legacy HVACR solutions.
Working on system selling approach with the capability to provide complete mechanical solutions to our valued customers, we offer an expansive range of Allied Equipment to complement our main offering.
We have a range of air curtains to cover following applications:
Commercial building entrance
Cold room doors
Refrigeration / cold room applications
Industrial applications
Warehouses (large height doors)
Features:
Manufactured in USA
Robust design
Competitive pricing
Products manufactured as per international standards
Technical support by Carrier Saudi Arabia
After sales support from Carrier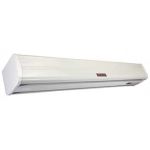 Totaline® Air Curtain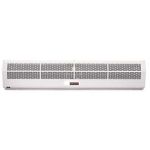 Totaline® Air Curtain
We offer Armstrong fire pumps systems. Armstrong fire pump systems are constructed in accordance with the requirements of Underwriters Laboratories Inc. (UL), Underwriters Laboratories of Canada (ULC), and Factory Mutual Research Corporation (FM). Armstrong fire pumps and packaged fire systems comply with Recommendations of the National Fire Production Association (NFPA) Pamphlet 20. System configurations are available with either horizontal end suction, horizontal split case or vertical pumps and with either an electric or diesel driver.
Armstrong Offers following fire systems:
Fire Packages:
Enclosed fire packages
Firepack horizontal split case
Firepack vertical inline
Fire Pumps:
UL/FM Vertical inline
UL/FM Horizontal end suction (electric & diesel)
UL/FM Horizontal split case (electric & diesel)
UL/FM Vertical turbine (electric & diesel)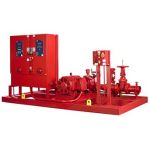 Armstrong fire pump
We offer Armstrong chilled water pumps & accessories. Armstrong chilled water pumps & accessories offer high-quality hardware, controls intelligence, and related services into fully integrated building energy solutions. These solutions offer you optimum lifetime building performance through maximum design-, build- and operating flexibility, lowest project and operating risks, and lowest installed and life cost.
Chilled Water Pumps & accessories offer:
Expansion tanks
Air separators
Heat exchangers (all Types & sizes)
Suction guides (suction diffusers) and Flo-trex (triple duty) valves
Complete range of factory assembled water supply booster systems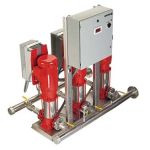 Armstrong chilled water booster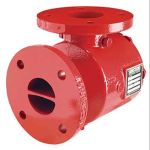 Armstrong Chilled water pump guide
Our offering includes fixed as well as variable speed control panels to be used with chilled water & water supply pumps. Our capability includes:
Complete range of controllers i.e.

Constant & variable speed CHW pump controllers
Constant & variable speed booster pump controllers
Fire pump controllers UL-listed

Robust design
Reliable delivery
Competitive pricing
Products manufactured as per international standards
Technical support by Carrier Saudi Arabia
After sales support from Carrier
We offer TECOFI valves & fittings from France. Tecofi is a well know designer and manufacturer of industrial valves having a comprehensive product range.
The product offering fully caters to following segments of the market & covers following fields of Applications:
Water conveyance and treatment - seawater desalination
HVAC
Paper industry
Chemical, petro chemical & energy production
Food processing, pharmaceutical & sugar industries
Cement plants
Mining industry
TECOFI design department is innovative and has patents with the World Intellectual Property Organization.
TECOFI teams are equipped with the best tools for design, manufacturing, testing, calculating the resistance of materials according to the highest European standards (EN1074 – EN12516.2). Our engineers ensure technical expertise in the context of new product designs, but also in the event of analyzing existing products on site.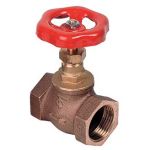 Tecofi valve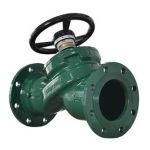 Tecofi valve
We offer Twin City Fan & Blower equipment. Twin City Fan & Blower is an industry leading designer and manufacturer of high quality commercial and industrial fans. Our extensive product line includes centrifugal fans and blowers, axial fans and power roof ventilators. Units range in size from 1/4 HP exhaust fans to 8000 HP heavy industrial units. For the commercial market, TCF supplies ventilation fans for retail and office buildings, restaurants, schools, hospitals and government buildings. Industrial fan applications include air and material handling, air cleaning, ventilation, cooling, heating, combustion air supply, air pollution control, filtration and drying systems, fume hoods, spray paint booths and exhaust systems. Special materials, construction, coatings and accessories are available to fit any application requirements.
Twin City Fan & Blower offers customers flexibility in fan design and construction, coupled with superior service before and after the sale. TCF's commitment to quality and dedication to customers has been our philosophy since the company started in the early 1970s. As a result, Twin City Fan & Blower continues to grow and provide fans throughout the world.
Twin City's product range thoroughly covers the complete ventilation requirements of Commercial buildings as well as industrial exhaust systems. Twin City Fans company offers large range of smoke & heat exhaust fans:
Centrifugal fans (UL-Listed)
Utility sets (UL-Listed)
Inline centrifugal fans (UL-Listed)
Centrifugal roof exhausters – downblast (UL-Listed)
Centrifugal roof and wall exhausters (UL-Listed)
Filtered supply fans
Ceiling and cabinet ventilators
Propeller wall fans
Tube & vane axial fans
Smoke and heat exhaust fans (UL-Listed)
Custom design fans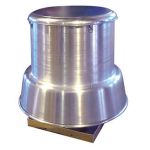 Twin City ventilator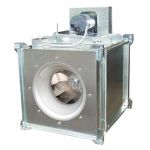 Twin City ventilator