Carrier Holds 'Act for Better Tomorrow' Seminar Recognizing Contributions to Environmental, Social and Governance Goals
Hong Kong -
To meet net zero emissions targets, Carrier is taking progressive steps towards its own ESG goals through sustainable practices and investments. Carrier is committed to addressing the planet's most urgent challenges while meeting the needs of customers as well as supporting communities and people. Carrier recently released its 2023 Environmental, Social and Governance (ESG) Report. For more information on Carrier's 2023 ESG Report, visit https://tinyurl.com/32y8rf9u.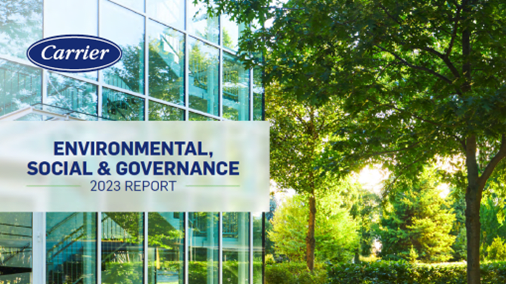 At the 'Act for Better Tomorrow' seminar, more than 100 building owners, facilities managers and property developers joined the discussion of how to adopt sustainable energy solutions into daily operations to assist businesses in achieving their corporate ESG goals.
Eric Chu, Managing Director, Hong Kong, Macau and Taiwan, Carrier Commercial HVAC, started the seminar by highlighting Carrier's commitment to its 2030 ESG goals including providing decarbonized solutions and operations, an inclusive and diverse workforce and a vibrant community. "Carrier has always been committed to creating a better world with its partners through innovative lifecycle solutions that deliver tangible benefits for building owners, operators and occupants," said Eric.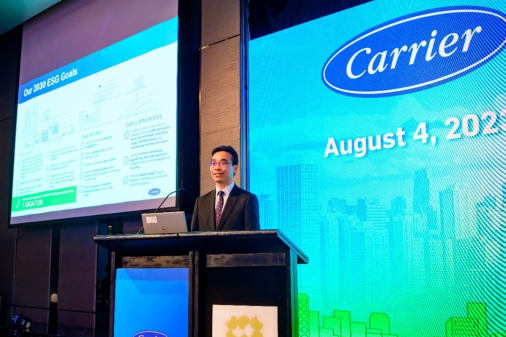 Guest speakers from different sectors shared ongoing efforts in their net zero journeys. Dr. Cary Chan, JP, Executive Director of the Hong Kong Green Building Council, reminded attendees to adopt best practices and performance benchmarks to help the construction sector transition to carbon neutrality and improve resiliency against climate change. Joseph Lam, Senior Manager of Technical Services, Hong Kong Infrastructure Department of Airport Authority, discussed chiller replacement and innovative energy management projects at the Hong Kong International Airport (HKIA). HKIA adopted Carrier's high efficiency AquaEdge® 19DV centrifugal chiller and smart service to meet HKIA's decarbonization goal, turning HKIA into one of the world's most environmentally-responsible airports. Environmental Market Solutions Inc. (EMSI), the sustainability consulting firm under Carrier, encouraged the industry to achieve building certifications such as the WELL™ Building Standard and participation in the Leadership in Energy and Environment Design (LEED)™ program from the U.S. Green Building Council. Through sharing several projects, EMSI demonstrated its outstanding performance in sustainability consulting.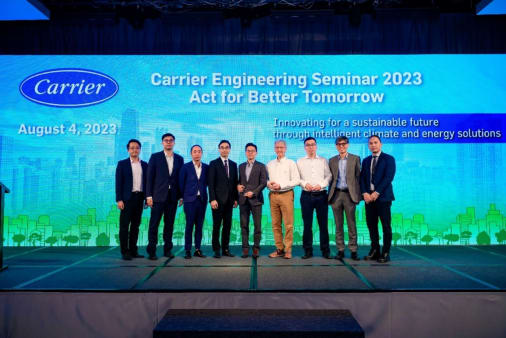 The building controls team showcased Carrier Abound™ digital platform, a suite of connected solutions that help building owners and managers see all aspects of their indoor air quality and building system's performance.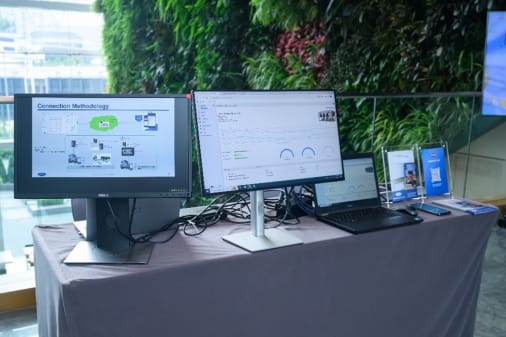 Antony Wu, Director of Service and Aftermarket, Hong Kong, Macau and Taiwan, Carrier Commercial HVAC, encouraged the attendees to realize that every building is unique and there are energy-efficient, environmentally-responsible and sustainable solutions to implement throughout a building's lifecycle. "Carrier strives to incorporate sustainable energy-efficient solutions with HVAC equipment with low global warming potential (GWP) and low toxicity A1 safety class refrigerants and leverage digitally enabled lifecycle solutions to help achieve ESG goals," Antony said.
Carrier will continue to help its customers meet their sustainability goals by providing innovative, energy-efficient solutions for a better tomorrow.