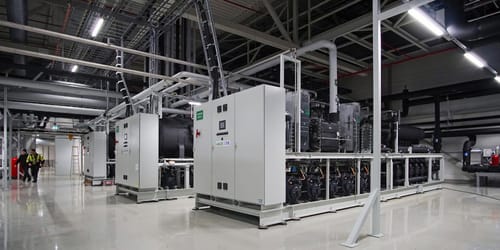 As the demand for stable and localized energy and heat security increases, district heating and localized heat networks are rapidly growing across Europe. Carrier is a leading expert in the field of district heating, having designed and delivered numerous systems ranging from hundreds of kilowatts to multiple megawatts in capacity. Our range of water and air source CO2 heat pump solutions, with capacities up to 2.2MW as a single unit, are equipped with our innovative and patented ejector technology that enhances system efficiency by up to 20%.
Carrier is dedicated to delivering sustainable and efficient solutions that meet the evolving needs of our customers. Our district heating systems are designed to ensure maximum efficiency, reliability, and performance. We work closely with our customers to design and deliver bespoke solutions that meet their specific requirements, and our experienced team is on hand to provide support throughout the lifecycle of the system.
If you are looking for a reliable and efficient district heating system, Contact Carrier today. Our team of specialists is ready to assist with the design, delivery, and operation of your system, ensuring that you have the most innovative and reliable solution for your heating needs.