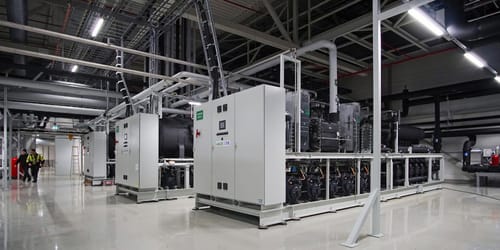 Carrier's CO2 chillers are a versatile and innovative solution for cooling needs in a wide range of applications, such as logistics, pharmaceuticals, and food manufacturing. With operational temperatures ranging from positive to negative temperatures down to as low as -40°C, our chillers deliver performance, efficiency, and reliability.
Our chillers utilize 100% heat recovery technology, maximizing system efficiency and performance. We use CO2, a natural refrigerant that has a low impact on the environment. Our technology is sustainable and future-proof, making it an ideal solution for customers who are committed to minimizing their carbon footprint while enjoying reliable and efficient cooling. We offer a range of chiller sizes from 30kW to 1.9MW in a single unit to meet our customers' specific needs.
At Carrier, innovation and sustainability are at the forefront of our values. We are constantly looking for ways to improve our technology, and our CO2 chillers are a prime example of this. Our chillers provide a sustainable and efficient solution, and we are dedicated to delivering superior performance and reliability to our customers. Carrier's CO2 chillers offer customers a sustainable, future-proof solution for their cooling needs while also contributing to global efforts to reduce environmental impact.
Contact Us today to learn more about how we can support your cooling needs.