Carrier Transicold Reaches Major Milestone in Natural Refrigerant Use for Road Transport Refrigeration
Hannover, Germany -
Stand E15, Hall 27 (25 September – 2 October, 2014)

Hannover, Germany, September 24th, 2014 — Carrier Transicold is showcasing a prototype of a natural refrigerant trailer unit at the International Motor Show (IAA) 2014. This marks an important milestone in the development of over-the-road refrigeration using a natural refrigerant. Carrier Transicold, which operates the UK as Carrier Transicold UK, helps improve global transport and shipping temperature-controlled cargoes with a complete line of equipment for refrigerated trucks, trailers and containers, and is a part of UTC Building & Industrial Systems, a unit of United Technologies Corp. (NYSE: UTX).



The prototype stands out for its use of carbon dioxide (CO2) R744, a natural refrigerant, in a closed-loop system; it is powered by the same patented E-Drive™ all-electric technology as Carrier Transicold's proven Vector™ unit range. CO2 is non-flammable, non-ozone depleting and has a Global Warming Potential (GWP) of one, lower than other natural refrigerants.
The unit will be shown inside an exclusive "innovation lab" built within Carrier Transicold's stand, where visitors will be able to experience the future of refrigerated transport, including new energy sources and refrigerants.

"Carrier Transicold is fully committed to the development of transport refrigeration systems that not only 'green the cold chain,' but also allow us to more effectively manage the global food supply cold chain to help reduce food waste, feed more people and protect natural resources," said David Appel, president, Carrier Transicold & Refrigeration Systems. "The IAA show represents the perfect opportunity to showcase Carrier innovation to the world."

This natural refrigerant system could replace conventional refrigerants, such as R-404A, a fluorinated gas (F-gas) with a GWP of 3,920. Recently passed F-gas legislation in Europe is driving the industry toward products that can operate with low-GWP refrigerants.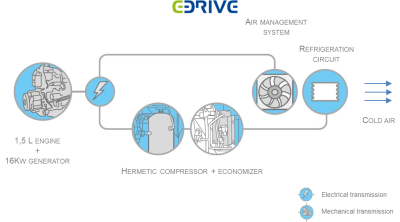 The multi-temp prototype was assembled inside a regular Vector unit chassis and uses advanced technology from Carrier's NaturaLINE™ refrigeration system, which was initially developed for deep-sea containers and completed sea trials in 2012. A modified example of the NaturaLINE unit is currently undertaking a two-year mono-temp field trial in London with Sainsbury's, a U.K. supermarket chain. This trial secured Carrier Transicold and Sainsbury's the prestigious Motor Transport Award for Innovation 2014 at an industry awards ceremony in July.
For more information visit www.carriertransicold.eu or follow Carrier on Twitter: @CarrierGreen.